Based on Pierre Lemaitre's Prix Goncourt-winning 2013 novel of the same name, Au revoir là-haut (See You Up There) is a French film about World War I that takes aim at a society more interested in commemorating the war's dead than in looking after its survivors. Albert Maillard (Albert Dupontel, who adapted the novel for screen and who also directs the film) is a humble former accountant who makes it to within days of the armistice, only to be caught in a battle uselessly reignited by the blood-hungry lieutenant Pradelle (Laurent Lafitte, best known for his role in the 2016 film Elle). Buried in an explosion, Albert takes his last breaths from the carcass of a horse entombed with him, but is hauled out by his friend, the young artist Edouard (Nahuel Pérez Biscayart). Edouard himself then suffers a hit that sees his lower jaw and throat blown to pieces, rendering him one of the gueules cassées ('broken faces') of the Great War.
It is a breathtaking opening. Dupontel, a one-time medical student, does not balk at showing the brutal nature of Edouard's injury, nor the clumsy attempts of the medical world to mask it. But Edouard – taken in by Albert, who prepares his food, steals morphine for him from other veterans, and reluctantly helps him to convince his wealthy family and despised father that he is dead – decides one day to use his artistic skills to create his own mask in preparation to take on the world that has cheated him.
Away from the battlefield, the film changes from serious drama to something more farcical. With the livewire urchin Louise (Héloïse Balster) acting as assistant and translator, Edouard launches a plan to sell to local councils designs for war memorials that he has no intention of ever building. He enlists the help of Albert, whose fundamental decency we see worn down by the daily humiliations that accompany his efforts to earn a living by more honest means. Edouard's plan is a success, and the fortune the friends make allows them to take up a champagne-fuelled residence in the Lutetia (a nifty piece of advertising for the soon-to-be-reopened Parisian hotel) while they prepare to flee the country. Throughout, Edouard designs an increasingly more elaborate series of masks that express emotions he can no longer voice and that allow him to try on alternative identities to counter the destruction of his own. Albert, meanwhile, keeps encountering the odious Pradelle, profiting from his own scam of filling the state's war cemeteries with coffins of dubious dimensions and even more dubious contents.
The film's change of tone, which exploits effectively the director's own background in comedy, helps brings something fresh to the subject of war. Watching Lafitte's Pradelle leap jauntily from coffin to coffin to avoid the mud, for example, only highlights the horror of the swindle he is effecting, while the ridiculousness of Albert's too-small hat or newly purchased canary-yellow suit displays the story's fundamental fury towards capitalism. The striking cinematography also deserves a mention, although Dupontel's penchant for inventive takes and quirky angles (of the type that seem to feature in any post-Amélie film wanting to signal its comedic intentions) can become slightly wearing.
A still from Au revoir là-haut (Alliance Française French Film Festival)
While the sets are sumptuous and the costumes outstanding, a few details jar. Louise's Gallic-inflected 'Wow!' is better suited to a young parisienne of the twenty-first century, as is the regular facepalming of an inept local mayor, which comes across as more smartphone emoji than bumptious dignitary. The masks worn by Edouard (designed by Cécile Kretschmar) are spectacular but distract with their implausibility: art lovers will notice that the masks tell their own story as they mimic the style of different artists of the period ranging from Brâncuşi to Picasso. Where the novel makes Edouard's homosexuality clear, the film creates a misleading ambiguity that could cause viewers to question his relationship with the young Louise. Audiences may also struggle with the narrative's many coincidences.
Yet it is difficult not to like this film. The casting is exceptional, with Argentinian actor Biscayart, star of another recent French film, the stunning 120 BPM, especially memorable as Edouard. It is no surprise that the film received thirteen nominations at this year's Césars (the French version of the Oscars). As we continue through the fourth year of commemorations of the hundredth anniversary of World War I, it is, moreover, refreshing to see a film that shows something of the anger and resentment felt by men shunted off to a war in which they discovered they could either expect to have their existence ended or have what was left of it changed irrevocably. Dupontel's adaptation takes a light-spirited approach to Lemaitre's winding rocambolesque, but beneath the humour – in Edouard's mutilated face, in the commodification of the war dead and their commemoration, and in the heart-rending attempts of survivors to go on surviving after the war – it offers an alternate, more poignant remembrance of wars past.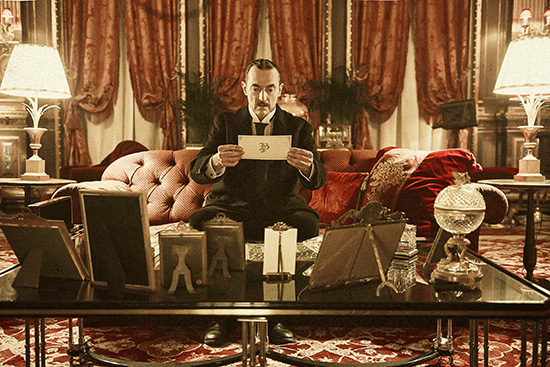 Albert Dupontel in Au revoir là-haut (Alliance Française French Film Festival)
Au revoir là-haut (See You Up There), 117 minutes, directed by Albert Dupontel, is showing at the 2018 Alliance Française French Film Festival at participating cinemas across Australia until 27 March 2018.
ABR Arts is generously supported by The Ian Potter Foundation and the ABR Patrons.