The fate of the duo at the centre of Brothers' Nest is inevitable from the start: the camera, with gloomy portent, looks up and idles toward their decrepit childhood home. Writer-director-actor Clayton Jacobson's new, largely housebound crime comedy hinges on a dark homecoming: Jeff (Jacobson) has hauled his younger brother Terry (Clayton's real-life sibling and collaborator Shane Jacobson) back to the country to murder their stepfather (Kym Gyngell) for house and inheritance. Their mother (Lynette Curran) is dying of cancer, and Jeff is convinced that Roger will 'sell the lot out from under us and fuck off back to Queensland'.
Unlike Kenny (2006), Jacobson's sweet, simple, character-driven début, the premise here is a classic one: ordinary people, in spells of ill judgement and moral weakness, out of their depth in a world of crime. The spin that Brothers' Nest offers isn't just its foggy Australian country setting, but the authenticity of two real-life brothers in a face-off of mutually assured destruction.
The film's first rather slow act is consumed with Jeff's pathetic, obsessive preparations. As audience members, we are well-versed in the genre's contrivances: the machinations will be deliberated on and rehearsed, one would-be criminal will be reluctant, an unexpected visitor will arrive, a dire family secret will emerge, one character won't be who they seem, a small mistake will mark the end of them all. In heavy exposition, we learn that staging their stepfather's suicide is karmic vengeance to honour their father's legacy. He ended his life following Roger's affair with their mother decades ago. 'Roger's got our dad's blood on his hands,' says Jeff, as if repeating a line from a bad movie. And yet, Terry points out, Jeff is also guilty of abandoning one family and starting another.
Originally titled Sibling Rivalry, the film's dramatic sensibility is freighted with the kind of terribly complicated dynamics between resentful family members that are only exacerbated by time. As Jeff, the elder Jacobson is a deftly unshowy performer; he crafts a character who, at first, seems as no-nonsense as any middle-aged working-class fellow, only to devolve into maniacal self-rationalising. Meanwhile, Terry's passivity – the way he loyally follows his mad older brother, even as his doubts creep up, until he doesn't – is enmeshed with the film's wider portrait of two blundering, rotund, oafish Aussie brothers who call each other mate. It's quite touching, in a demented way, despite the feeling that the script could have dug deeper and more drolly into the moral ambiguity of toxic bonds, family trauma, and parental failure.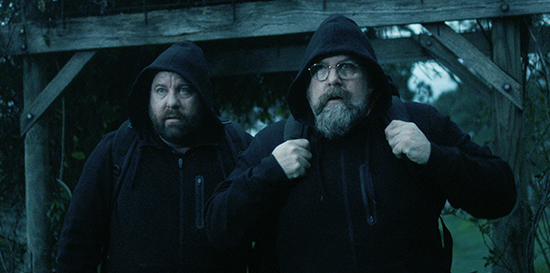 Shane Jacobson and Clayton Jacobson in Brothers' Nest (Label Distribution)
Screenwriter Jamie Brown traversed similar black-comedic territory in 2014's The Mule, about dopey underclass Australians trying to smuggle their way out of poverty. Though it seems that outback horrors and bush-set thrillers – bound for international DVD/streaming markets where audiences are primed to fear the Australian landscape and creepy-crawlies – are the films of the moment for local funding bodies, Brothers' Nest has a bleak view of rural life that's actually more human than horrific. Certainly, the film invests more in its characters' psychology than the most recent Australian genre film, Cargo, a rather flat, desert-set zombie film with an inauthentic Indigenous twist. While Robert Perkins's claustrophobic production design entraps you in the kind of dusty, carpeted, curtained family home that you know is inhabited by elderly people who can't maintain it.
Many have compared the Jacobsons' film, in its premise, genre, and atmosphere of confusion (small-time idiots struggling to get control of a messy, bloody situation), to the Coen Brothers' uber-crime offerings. But the comparison only goes so far: Brothers' Nest doesn't subvert the conventions of its genre or offer a meta-commentary. The difference is also moral. Here, Terry is the noble centre, where in Coen films, decency generally lies only with the omniscient audience watching over the clueless and reprehensible characters (which is why Frances McDormand's Margie is such an endearing exception in Fargo). Brothers' Nest shares more commonality with Joel Edgerton's directorial debut, The Gift (2015), a much tighter and darker genre piece of perverse psychology and obsession.
As an editor, Clayton Jacobson has a feel for rhythm, knowing when to flow and when to cut abruptly. The whole production is all very good and professional, but it's hard to budge the feeling that good isn't good enough. Like a lot of indie projects, digital production values now have the slickness of a high-end television commercial. Here, the tactful artistic decisions are too smooth for the subject matter and psychological trajectory. Though I wished that Jacobson pushed Brothers' Nest in an edgier direction, toward B-grade mania, lo-fi imagination, or arthouse experimentation – the hectic angles of the Coens' debut Blood Simple, for example – it's evident that Australia's rough-and-tumble days of independent filmmaking are over, at least for the minute.
This is a shame, as grimy stories of double-crossing, familial resentment, and criminal ineptitude make great fodder for low-budget storytelling. While there is nothing as visual and wild as Fargo's body in the woodchipper, the best moments of Brothers' Nest are its most outlandish: Lynette Curran's domineering mother figure flailing around, wide-eyed and frantic; a dynamic fight scene between the two Jacobsons staged on a car junkyard on the property; and a ghastly shallow dam shot from above.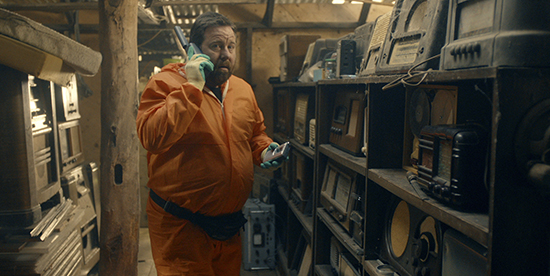 Shane Jacobson in Brothers' Nest (Label Distribution)
There is something profound, yet under-explored, in Brothers' Nest about what happens to a person's mind when a trauma so great occurs that their understanding of their life's narrative and their place in the world caves in completely. You can see this moment in Terry's eyes, when he registers the fact of his brother's lunacy – a testament to Shane Jacobson's skill as an actor. As the events – and the minds of Terry and Jeff – unravel, Brothers' Nest shifts gears from a black comedy to a full-out tragedy in a way that's tonally not fully coherent. Yet Clayton Jacobson's film has enough conviction and authenticity to bear out its premise of brothers grim who are architects of their own failure.
Brothers' Nest (Label Distribution), 97 minutes, directed by Clayton Jacobson. In cinemas 21 June 2018.
ABR Arts is generously supported by The Ian Potter Foundation and the ABR Patrons.