One of the key issues addressed by the twenty-first Melbourne International Jazz Festival (MIJF) is the role of women in jazz. In the wake of the #MeToo movement, there has been much debate around gender equality in jazz, including inevitable references to jazz as a 'boys' club'. While there has never been a shortage, historically, of renowned female singers, it is sadly the case that most of us would be left scrambling if asked to put together a comparable list of influential and high-profile female saxophonists, trumpeters, or drummers. Australia, to its credit, has been ahead of the curve with a long-standing annual Women's International Jazz Festival, to which we can add an increasing number of women musicians, composers and bandleaders making waves in the local jazz scene: Sandy Evans, Andrea Keller, Shannon Barnett, Linda Oh, Tamara Murphy, Angela Davis, Nat Bartsch, Zoe Hauptmann, Fiona Burnett, Belinda Moody, and others.
While this year's 2018 MIJF hosted several award-winning female singers, such as Madeleine Peyroux and Gretchen Parlato, it also scheduled a number of high-profile musicians, including American drummer and composer Terri-Lyne Carrington, and young London saxophonist Nubya Garcia, both of whom proved to be highlights of the Festival. Carrington brought along her new project Social Science, a sextet whose politically motivated music addresses issues of freedom, racism, and sexism. Featuring singer Débo Ray and rapper Kassa Overall, the ensemble's heavy blend of jazz and funk worked like a slow-burn fuse, with pieces building incrementally in intensity over thirty to forty minutes duration. Carrington, seated front and centre, anchored and drove the music, steering the band through what was, amazingly, only its sixth public performance. Pianist Aaron Parks, a bandleader in his own right with several albums on the ECM label, gaved an abstract quality to proceedings, while his compatriot Morgan Guerin alternated between bass and sax, broadening the musical palette. With its use of turntables and electronics, found recordings, vocals, hip hop, and deep funk, Carrington's music is at the vanguard of a particular strain of jazz, socially conscious and profoundly engaged with our world.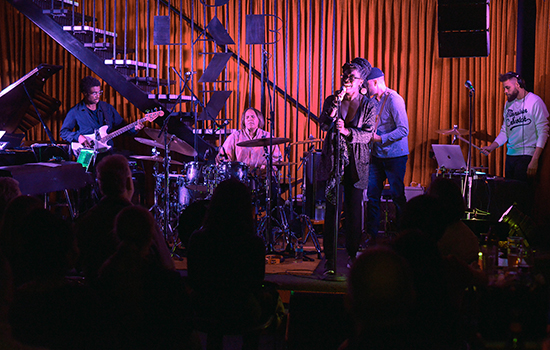 Terri-Lyne Carrington (drums) and Social Science perform at the 2018 Melbourne International Jazz Festival (photograph by David De Roach)
Saxophonist Nubya Garcia is a key figure in the new wave London jazz scene, along with players such as Shabaka Hutchings, Yazz Ahmed, and Moses Boyd. Reflecting varied Caribbean, African, and Middle-Eastern ancestries, these young musicians are fusing jazz with the musical environment they grew up in, whether drum n' bass, dub, electronica, or hip hop. As with American saxophonist Kamasi Washington, whose work with Kendrick Lamar cemented his reputation outside jazz circles, Hutchings, Garcia and others equally draw inspiration from the Afro-spiritual music of John Coltrane, Alice Coltrane, and Pharaoh Sanders. This latter influence was particularly on show during Garcia's two sold-out shows at Jazzlab in Brunswick. Fronting a quartet modelled on the classic Coltrane format – sax, piano, bass, drums – Garcia displayed a big, burly tone on tenor, recalling at times Sonny Rollins, as she improvised over the thundering chords of pianist Joe Armin-Jones. The band was pushed at every turn by drummer Femi Koleoso, whose polyrhythmic approach turned up the heat under the rest of the band. The quartet's music, never short on ideas, was mostly drawn from Garcia's 2017 début recording Nubya's 5ive (2017) and her recent vinyl EP When We Are (2018), rounded out with a beautiful rendition of McCoy Tyner's 'Contemplation'. Throughout, there was palpable excitement and energy in the room, a sense that we, as audience, were present at the creation of something unique.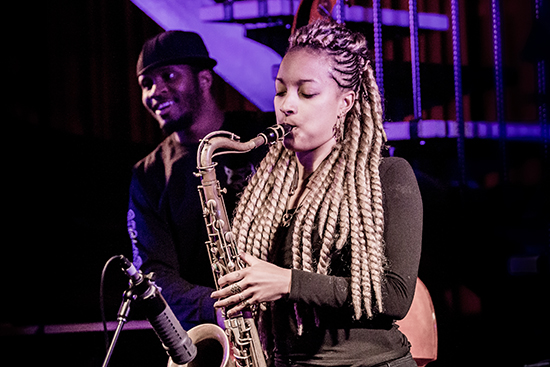 Nubya Garcia performs at the 2018 Melbourne International Jazz Festival (photgraph by Kevin Peterson)
The larger underground venue at 170 Russell Street provided a forum for a number of bands whose music is intent on pushing jazz into new terrains. Ravid Kahalani, a Jewish Yemenite vocalist and musician, led his band Yemen Blues through an unrestrained and wild performance that scrambled West African rhythms, Middle-Eastern melodies, jazz, blues, and funk. Kahalani's vocals took the form of chants and invocations, as he wailed above an eclectic mix of instruments: oud, gimbri, trumpet, electric keyboards, and percussion. Combining world rhythms with infectious and blues-drenched grooves, Kahalani, attired in robes, danced energetically and shaman-like across the stage, exhorting his band to heightened frenzy. A few nights later, American drummer Chris Dave, fresh from the success of his début Blue Note recording, led his band The Drumhedz through a loud and brash, funk-fuelled performance that was heavy on electric keyboards and drums. In this case, however, the somewhat limited palette of instrumentation eventually took its toll on the music, with extended tracks seemingly running short of ideas well before they reached a conclusion. Things were sporadically helped along by guest saxophonist Marcus Strickland, who stepped up to play several blistering solos, though sadly his talents never felt fully integrated with the Drumhedz music.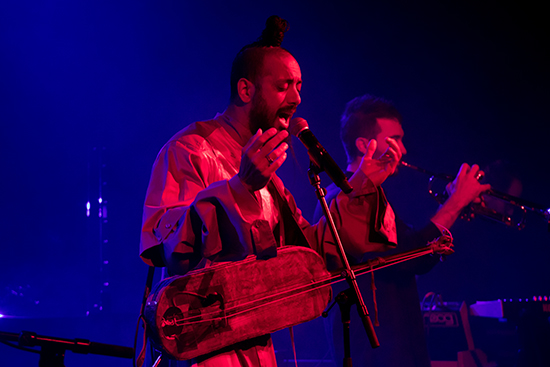 Ravid Kahalani and Yemen Blues perform at the 2018 Melbourne International Jazz Festival (photograph by Jai Lafferty)
The standout performance for me came on the Monday night with New York saxophonist Tony Malaby's towering performance at Jazzlab. The trio format has long been considered a difficult one for saxophone players – nowhere to run, nowhere to hide. Malaby's cohorts – the trio was billed as Malaby/Davis/Barker – comprised Canadian pianist Kris Davis and Sydney drummer Simon Barker, both creative spirits who pushed and tested Malaby's performance to the limit. Davis played in the spirit of the late Cecil Taylor, running her hands rapidly across the keys, generating torrents of notes, cascades, and flows. Barker drummed furiously, with sudden stop-start patterns that disrupted any thought of melody. Malaby's performance was a tour de force, it was as if he were intent on channelling the entire history of the saxophone, from Sonny Rollins to John Coltrane to Albert Ayler and beyond, squeezing every possible sound out of his instrument, pushing it to breaking-point. This was improvised music at its finest, full of intensity, drama and passion, played without a net by three masterful musicians.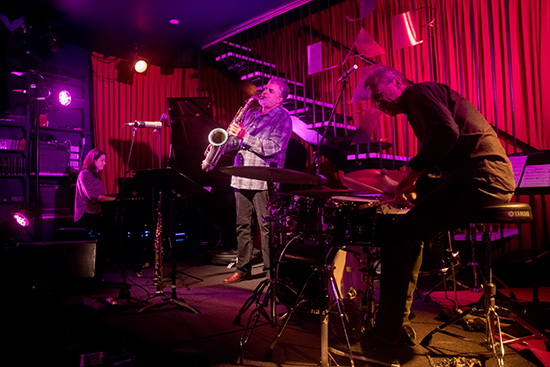 Kris Davis (piano), Tony Malaby (saxophone), and Simon Barker (drums) perform at the 2018 Melbourne International Jazz Festival (photograph by Jai Lafferty)
Australian performers, as could be expected, played a pivotal role in the Festival, perhaps none more impressively than Paul Grabowsky. On opening night, he premièred his new work The Gravity Project, a cross-cultural exchange with the Tokyo Jazz Festival that fused Australian musicians with their Japanese counterparts. Grabowsky noted, at the outset, that jazz is a universal language, and his extended suite drew upon traditions of Japanese court music, classical music, jazz improvisation, and contemporary beats. The versatility of jazz to seemingly incorporate unrelated musical forms into its orbit was on display at every turn, as Grabowsky's composition melded koto and shakuhachi with piano, sax, trumpet, laptop, and electronics. His composition 'Tokyo Overpass' was directly inspired by Haruki Murakami's 2010 novel IQ84, and 'Plum Rain' sought to imagine Burt Bacharach as a Manga character. The music frequently took on the strangeness of a Murakami novel, shifting between slow languid passages, otherworldly dreams, and moments of lyrical beauty.

Paul Grabowsky's The Gravity Project being performed at the 2018 Melbourne International Jazz Festival (photograph by Stuart Buchanan)
Following Grabowsky's performance, young pianist and singer Brenton Foster delivered the premiere of his seventy-minute song cycle Love, as We Know It, the outcome of his being awarded the 2018 PBS Young Elder Jazz Commission. This work, composed in collaboration with US poet Christopher Poindexter, explored enduring themes of love, at times summoning the stories of Raymond Carver. Foster was beautifully supported throughout by his quintet, including Tamara Murphy on bass, Gideon Brazil on sax, and drummer Aaron McCullough. The annual PBS Young Elder Commission, which provides $10,000 for a young composer, is becoming a key part of the Festival, and Foster's commission, the seventh to date, takes its place alongside previous compositions by Gian Slater, Tilman Robinson, Tamara Murphy, and Joe O'Connor. A further notable Australian performance came with Sam Anning's brief support spot at the Recital Centre, playing music from his new album Across a Field as Vast as One. Featuring an all-star sextet – Andrea Keller, Julien Wilson, Carl Mackey, Mat Jodrell, and Danny Fisher – Anning's music, carved from the simplest of melodies, attained a deep-seated and aching beauty.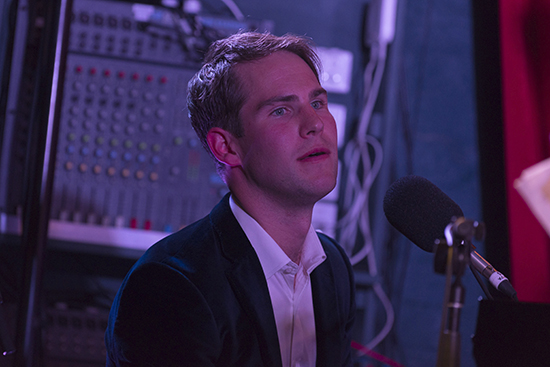 Brenton Foster performs Love, as We Know It at the 2018 Melbourne International Jazz Festival (photograph by Stuart Buchanan)
Newport's Substation was the scene of a special event on the final Saturday of the Festival, a unique collaboration between Norwegian experimental guitarist Kim Myhr, playing a twelve-string electric guitar, and the Australian Art Orchestra (AAO), led by trumpeter Peter Knight. The concert featured just three extended compositions by Myhr that seemed to traverse the minimalism of Steve Reich, the trance-like drones of La Monte Young, and the ambient improvisations of the Necks. Myhr's astonishing technique, which integrates repetitious rhythms with electronics, generated incremental layered patterns, into which members of the AAO variously inserted themselves, utilising a wide array of instrumental colours: violin, bass clarinet, trumpet, reel-to-reel tape, percussion, and zithers. From start to finish, the performance proved a sonic delight, leaving the audience mesmerised.
Any festival – especially one scheduling over 100 performances – necessitates personal choices, and this one was no exception, offering music fans a variety of paths to navigate, from popular singers to avant-garde extremes. Jazz, after all, is a broad church, and this review represents one such path. Many of the major international acts, including Branford Marsalis, Maceo Parker, Madeleine Peyroux, and Gretchen Parlato, performed at the larger venues, including the Recital Centre and Hamer Hall, while other acts played smaller spaces such as Dizzy's Jazz Club or the Lido Jazz Room. Competing schedules eventuated in the usual regrets – for me, it included missing US saxophonist Branford Marsalis; and the Sun Ra Arkestra, led by ninety-four-year old Marshall Allen, still playing strong a quarter century after its founder's death.
The final Sunday night performance saw prominent American bassist Christian McBride fronting his quartet New Jawn at Jazzlab. While there was nothing new about this music, the quartet's make-up – trumpet, sax, bass, drums – combined with their stellar musicianship, brought to mind Ornette Coleman's classic 1960s quartet. McBride's virtuosic playing never flagged, and the twin horn attack of trumpeter Josh Evans and saxophonist Marcus Strickland was brimming with invention. The high point came with McBride's composition 'Brother Malcolm', written for Malcolm X, which harked back to the passionate protest music Charles Mingus performed on his 1964 European tour with his legendary sextet featuring Eric Dolphy. It was fitting that Strickland, channelling Dolphy, played bass clarinet on this piece; and equally fitting that the band ended its set with Ornette Coleman's 'The Good Life' from his 1986 album Song X.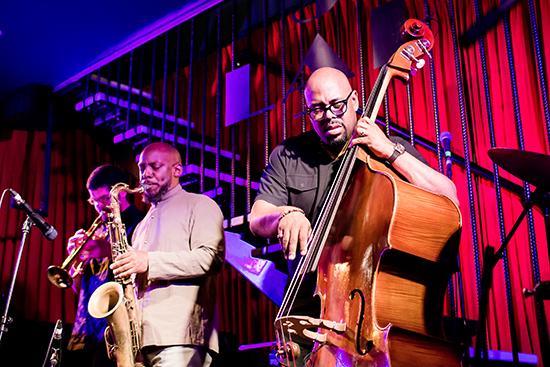 Christian McBride (right) and the New Jawn quartet at the 2018 Melbourne International Jazz Festival (photograph by Kevin Peterson)
The 2018 Festival demonstrated once again that the MIJF is a truly international event, challenging listeners with a mix of established performers and new voices. It also confirmed there is a genuine audience for this music, with many of the events sold out ahead well ahead of performance.
It seems surprising, today, to recall that jazz was considered a dying musical form a few decades ago. Its resurgence can clearly be linked to the improvised nature of the art, which fosters a flexible and adaptable approach, allowing jazz to morph and change as it comes into contact with other musical forms. This element was particularly on show during the 2018 Melbourne International Jazz Festival, which foregrounded jazz's engagement with blues, funk, electronica, classical, hip hop, and other musical influences, as well as its engagement with rhythms from around the globe, including Africa, the Middle East, and Asia. The 2018 Festival also stressed jazz's renewed engagement with social issues, as reflected in the performances of Terri-Lyne Carrington, Yemen Blues, Nubya Garcia, and Christian McBride. These artists draw inspiration from the strident music of Coltrane, Mingus, Archie Shepp and others, re-engineering it for a new millennium. In a world full of disparity, gender inequality, and social displacement, jazz appears to be increasingly taking its place as a voice of protest. Far from a dying art, it is becoming an essential soundtrack to the twenty-first century.
The 2018 Melbourne International Jazz Festival ran from 1–10 June.
ABR Arts is generously supported by The Ian Potter Foundation and the ABR Patrons.