In his preface to the play, George Bernard Shaw wrote, 'There are no villains in the piece. Crime, like disease, is not interesting: it is something to be done away with by general consent ... It is what men do at their best, with good intentions, and what normal men and women find that they must and will do in spite of their intentions, that really concern us.' What concerned Shaw in the 1923 première production of Saint Joan was some three and a half hours in the telling.
In 2018, director Imara Savage, with collaborators Emme Hoy (of the Sydney Theatre Company's young writers group) and title actor, Sarah Snook, has slashed it to an uninterrupted ninety-five minutes, while absorbing new material from trial transcripts and previous Joans by Mark Twain and Friedrich Schiller. Remarkably, this new Saint Joan retains the raw, condensed essence of Shaw's perceived 'good intentions' and what men do in their pursuit, while telling the tale from end to beginning. In doing this, Savage has committed a heresy fit to make a purist faint.
The production opens roughly midway through the Hundred Years War between France and England as the nineteen-year-old Joan is on trial for her life. That war, a typical stop-start seasonal conflict, which, to at least four generations – as Joan remarks – was a war without end, had delivered much of France to England and her various French allies. Joan herself had been delivered to the English by the French hierarchy, no longer able to countenance her success and her audacity, never mind her rude femaleness.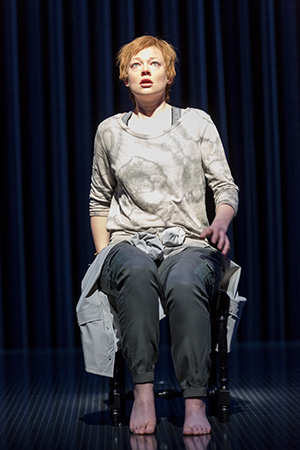 Sarah Snook in Sydney Theatre Company's production of Saint Joan (photograph by Brett Boardman)In an opening scene staged with chill monochromatic clarity, the black-gowned men of God, state, and military debate what's to be done. They are seemingly unaware of the silver armour-clad figure forming the motionless hub to their wheeling and dealing. Then Joan is relieved of her symbolic metal might and appears in a shapeless, rough garment which is neither white nor any other particular colour. It would be a humiliation for most, but Sarah Snook's physical presence simply doesn't allow that. She stands tall, sits tall, speaks deep and clear, and glows with inner conviction and the courage borne of comprehending neither fear nor failure.
At all times she is surrounded by the subtle, shifting grouping of men. They are choreographed to points of the compass, or points of control and observation; placed to prevent her escape, although they are the ones who want to escape her. And at all times they talk about her, across her, through her, and rarely is her presence acknowledged. Women, of all generations and classes, would recognise that situation. In the 1920s, when Shaw wrote the play, women were living it too. For today's #MeToo generation and the newly-emboldened 'yes I am a feminist' youngsters, it has to be a jolt to see their historic antecedent encircled and preyed upon.
Trading arguments and politely snaky insults, Sean O'Shea's bristling, pompous, limited Priest is no match for the Inquisitor/Archbishop, John Gaden, who manages the balancing act between unctuous and empathic in a riveting performance of malevolent sweetness. With assistance or hindrance from other righteous and riotous poobahs (Brandon McClelland, Socratis Otto, Anthony Taufa, David Whitney, and William Zappa), it is soon clear that neither Joan nor the snivelling dauphin (Gareth Davies, whose preferred position is fetal) have a chance.
Although much has been made in the past – and in this production's copious program material – of the fact that Joan was a teenager, it's not the point. Teenagers weren't invented until the 1930s: until then, human beings were either children or adults. Joan's main offence was not so much her youth – she was seventeen when she insisted on an audience with Robert de Baudricourt and persuaded him to give her horses, troops, and armour to lift the siege of Orleans – but that she was female, a country girl, and not remotely fazed by men or grandeur. Rather, she would defeat the English, revitalise the army and put the dauphin on the throne. Fin.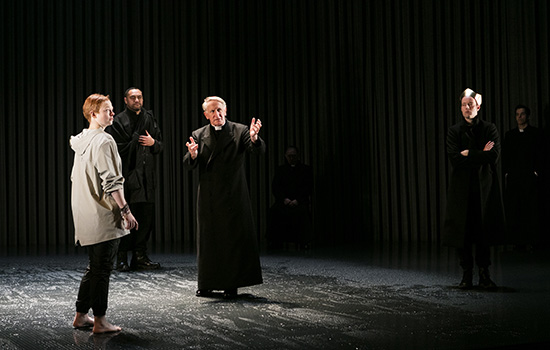 Sarah Snook, Anthony Taufa, John Gaden, and Gareth Davies in Sydney Theatre Company's production of Saint Joan (photograph by Brett Boardman)
Her voices are another matter. That the Archangel Michael and Saints Margaret and Catherine gave her instructions to rid France of the English is mildly interesting in our age, which is part secular and sceptical, part fundamentally religious and bonkers. And interesting too because of the underlying nationalism at a time when that sentiment is freshly toxic. But neither Shaw nor STC's current team appear to have thought much about why Joan's holy voices told her what to do but not how to do them: she has been compared to Napoleon in her strategic thinking and military nous, and it seems that Michael, Margaret, and Catherine imparted none of it.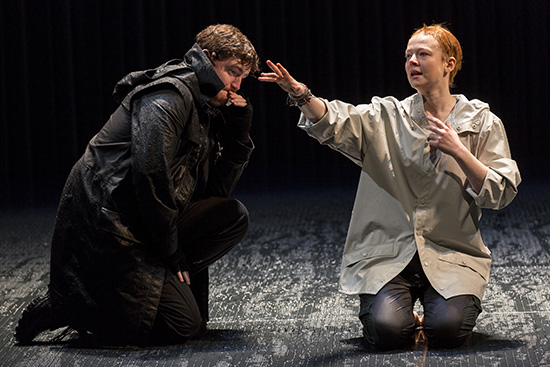 Brandon McClelland and Sarah Snook in Sydney Theatre Company's production of Saint Joan (photograph by Brett Boardman)
Nevertheless, this simple black and white and silver production, on a single half circle towering set by David Fleischer and Renée Mulder, ethereally lit by Nick Schlieper and relieved once and briefly by a length of red carpet, is engrossing from its opening moments: it packs in a world of pain and questions to take away and examine later. Sarah Snook is mesmerising throughout and is an even finer presence than one hoped for. Remarkable.
Saint Joan (Sydney Theatre Company) will be performed at the Roslyn Packer Theatre until 30 June 2018. Performance attended: 9 June.
ABR Arts is generously supported by The Ian Potter Foundation and the ABR Patrons.