Belgian theatre director Ivo Van Hove has an appetite for bringing cinema to the stage. As artistic director of the Toneelgroep Amsterdam since 2001, he has directed stage adaptations of three Ingmar Bergman films, made work inspired by Pier Paolo Pasolini and Michelangelo Antonioni, and staged a version of John Cassavetes' 1977 drama, Opening Night. In 2017, for the National Theatre, London, he directed Network, adapted for the stage by Lee Hall from the 1976 Academy Award-winning script by Paddy Chayefsky. Now he's turned his hand to that most enduring of cinematic tributes to the theatre, Joseph L. Mankiewicz's biting 1950 comedy, All About Eve.

The cast of All About Eve (photograph by Jan Versweyveld)
This All About Eve, also directed by Van Hove for the National Theatre, ran from February to May 2019 at the Noël Coward Theatre in London, and is now screening locally via National Theatre Live. There is something almost too recursive in this film about theatre being turned into theatre and then filmed again to be shown at the cinema. One feels, watching it, a certain unbridgeable distance from the action: whether this comes down to Van Hove's staging or to the filming is hard to say, especially given than Van Hove also uses cameras as part of his staging. His production opens, as does the original film, with critic Addison DeWitt ('I am essential to the theatre') telling us about Eve, 'all about Eve, in fact … Eve the Golden Girl, the Cover Girl, the Girl Next Door, the Girl on the Moon'. As he monologues, Addison strolls backstage, and one of Van Hove's camera operators follows him, so that the actual backstage of the Noël Coward becomes visible to the audience. It's a clever gesture, and the most effective piece of in-production camera work in the show.
Van Hove's adaption of Mankiewicz's screenplay stars Gillian Anderson in the central role of Broadway star Margo Channing, played so indelibly in Mankiewicz's film by Bette Davis. It takes a brave actor to go up against Davis, who played Margo like a languorous big cat, perfectly aware of her power but only impelled to use it under threat. She fights for a time against the young Eve, who schemes to take the older woman's place as the doyenne of Broadway, then turns away: she has better things to do. Anderson brings a brittler edge to the role, giving the sense that her Margo has fought too hard, and for too long, to give up what she has won, and that her main struggle has been against her own self-sabotaging tendencies. Her accent might be Southern and drawling – shades here of Anderson's turn as Blanche DuBois (also filmed), which won her a Laurence Olivier Award in 2014 – but her emotions are quick to rise. Offsetting this is Anderson's terrific comic timing; she lands the punchlines better than anyone else in the cast, and her wit is a boon in a production that is far more gothic than one might expect, given the source material.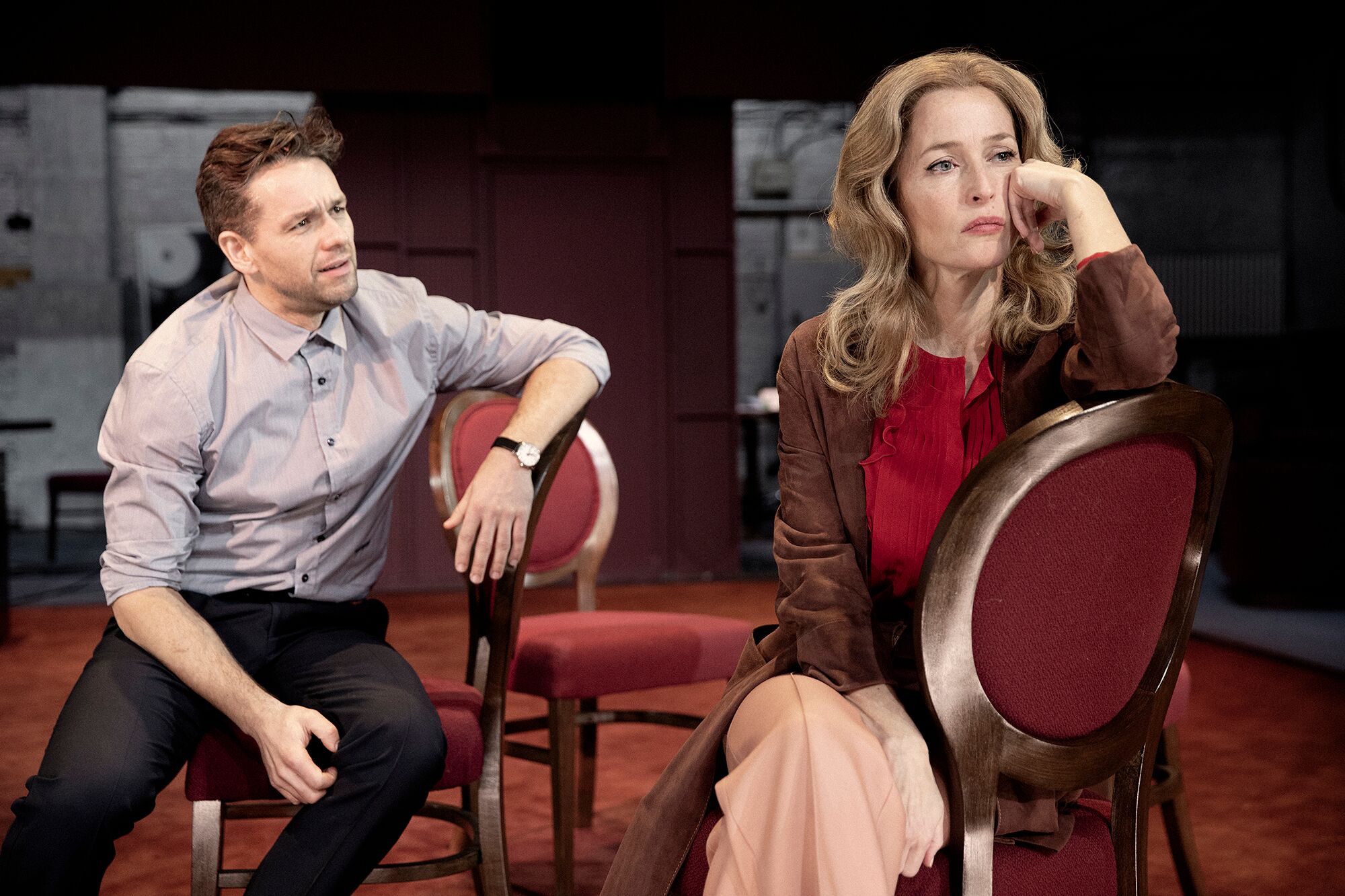 Julian Ovenden and Gillian Anderson in All About Eve (photograph by Jan Versweyveld)
The set, designed by Jan Versweyveld, is the colour of dried blood, and carpeted to give a sense of encroaching claustrophobia. (Anderson's outfits are red, too, driving the point home.) The video screen across the top half of the rear wall flickers to life periodically. As well as going backstage, we get to look inside bathrooms and kitchens, and a camera mounted inside the frame of an onstage dressing room mirror reveals the face of whoever looks into it. Van Hove has used screens before, including in Network, and here the conceit collapses the difference, spatially and psychologically, between on and offstage. This confusion isn't always beneficial. Sometimes it would better to know who is exactly where in a given scene, especially in a story much concerned with concealment and subterfuge. All of the characters act for one another, all of the time; the question is whose performance will gain them most advantage.
The winning act, in every sense, is Eve Harrington's. She is, in Margo's words, the 'lamb loose in our big stone jungle' who turns out to be a vulture, inveigling her way into Margo's life and career under the pretence of earnest admiration and flattery. From the moment that she first talks her way into Margo's dressing room, she's working to deceive, and nearly everyone in Margo's inner circle falls for it: Margo's director boyfriend Bill Sampson (Julian Ovenden), her best friend Karen Richards (Monica Dolan), and Karen's husband Lloyd (Rhashan Stone), an ambitious playwright. Only Margo's cynical assistant Birdie (Sheila Reid) and the even more cynical Addison (Stanley Townsend) see through her, as she moves rapidly to usurp her apparent idol.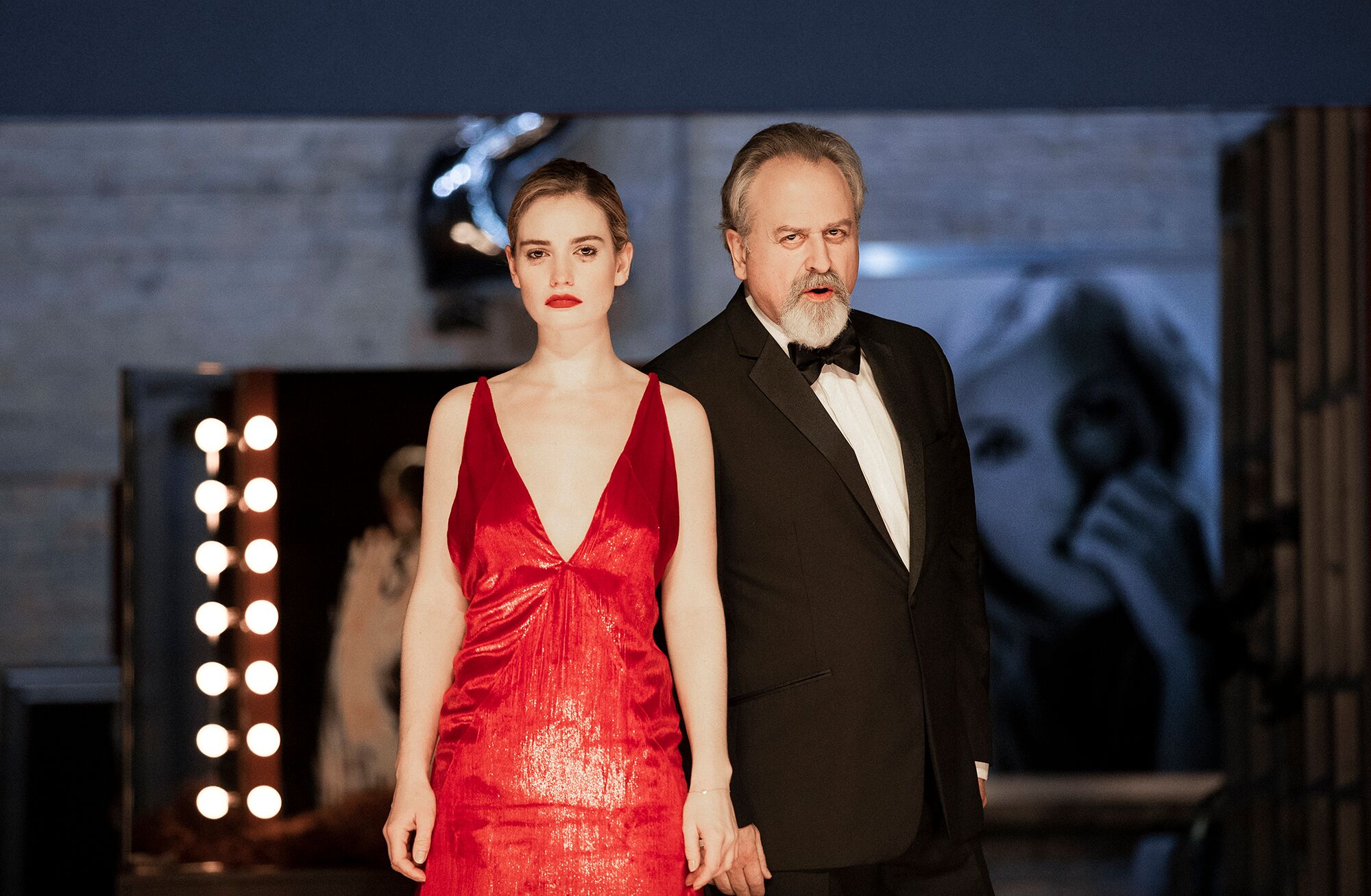 Lily James and Stanley Townsend in All About Eve (photograph by Jan Versweyveld)
Eve is a delicious part, a role for an actor who can play the ingenue but who isn't one. Anne Baxter, in Mankiewicz's film, did the job so smoothly that one could hardly tell where false modesty joined ruthless ambition. Lily James, taking the part here, is less convincing: too breathy and overawed at the beginning, and a shade too frantic by the end. In a crucial late scene between Karen and Eve, one feels that James might pull a weapon, such is her desperate mood. This atmosphere is hardly leavened by the aforementioned set, or by an insistent, doomy score by British musician PJ Harvey. The supporting cast – hampered by Van Hove's determination to weigh down the sparkle of the dialogue with melodrama – is decent but not outstanding. Townsend updates Addison for the era of Harvey Weinstein, playing the character with an overtly domineering air. Ovenden could have done more to give a sense of Bill's passion for Margo – the main impression he leaves is one of self-interest. And Dolan brings an anguish to her role as Karen that echoes Margo's volatility: she's fed up, not just with Margo's erratic behaviour but with the limitations that she sees being placed on both of them, as women growing older.
Mankiewicz's film was partly about the trouble of ageing, but only partly. Margo, who is forty in the film, is insecure about her age, and the condescensions she faces – Lloyd describes her casting in his plays as a 'compromise' – don't help her to feel any less so. (Davis herself was forty-two when she played the role.) But if ageing is an issue in the film, it's a problem that might be faced, given patience, and the kindness of friends; one might even come to welcome it. Van Hove's vision will not admit that kind of nuance: here, ageing is nothing but a cruelty, and the young feed on the waning energies of their predecessors with an almost cannibalistic fervour. (In the New York Times, Ben Brantley called this production 'a horror movie without a pulse', which is too damning but gives a sense of its atmosphere.) Margo is fifty in this version, which reflects Anderson's real age, and the addition of a decade increases the existential stakes. But in making age the central issue of his production, Van Hove rather misses the fun: All About Eve is an actor's showcase about acting, and a director's sly homage to the egotism that all performers, by dint of their job, must be able to harness. The real triumph here is Anderson's, in making the role of Margo Channing her own. Even Davis might have seen fit to admit her at the dressing room door.
---
All About Eve, by Joseph L. Mankiewicz, adapted and directed for the stage by Ivo Van Hove. 130 minutes, National Theatre Live is distributed by Sharmill Films. In cinemas from 25 May 2019.