Tessa Ensler is a criminal lawyer in her thirties. Alone on a minimalist stage, in a black suit and a crisp white shirt, she begins by narrating in the present tense a court drama about an unspecified crime. Narcissistically, she considers herself the star rather than the defendant whom she represents. The gallery, she imagines, thinks 'Wow. She's good' as she cross-examines a male witness in this 'game' of law. Tessa likens barristers to thoroughbreds, but soon she is reaching for more apt, blood-sport metaphors for her masculine skill set: 'I fire four questions like bullets … Utter annihilation.' She boasts she has 'destroyed' this witness, his emotional fallout failing to rouse her empathy as she quickly readies for the next case.
Sheridan Harbridge gives a bravura performance in Australian playwright Suzie Miller's one-woman play, sharply directed by Lee Lewis in its première production. Harbridge's performance, at first outrageously funny, turns dark as Tessa dismisses dinner-party probing about how she can justify representing people whom she knows are guilty. A good lawyer, she rationalises, 'just tells the best version of their client's story'. Her job as defence barrister is simply 'not to know' about guilt, and she extends this incuriosity to men accused of rape.
Inspired by Miller's days in law school, Prima Facie's deeply felt humanity takes a while to reveal itself. First, Tessa's blithe lack of consideration for victims of crime is magnified when we learn that her 'cab rank rule' of defendants – 'they choose me!' – specifically draws men accused of sexual assault to her combative courtroom style. 'I'll get them off,' she says confidently, seemingly unaware of her own cynicism: 'One of them has PTSD from Afghanistan, so I can milk that if he goes down.'
The play highlights the legal system putting victims on trial, with Miller suggesting that the law often gives a perpetrator of sexual assault – usually a man – the easy defence of saying that he held a reasonable belief that the accuser – usually a woman – was giving consent. The accuser, on the other hand, is forced to relive her trauma, and her motives for reporting the crime come under question. The woman's accusation is often doubted, by both men and women.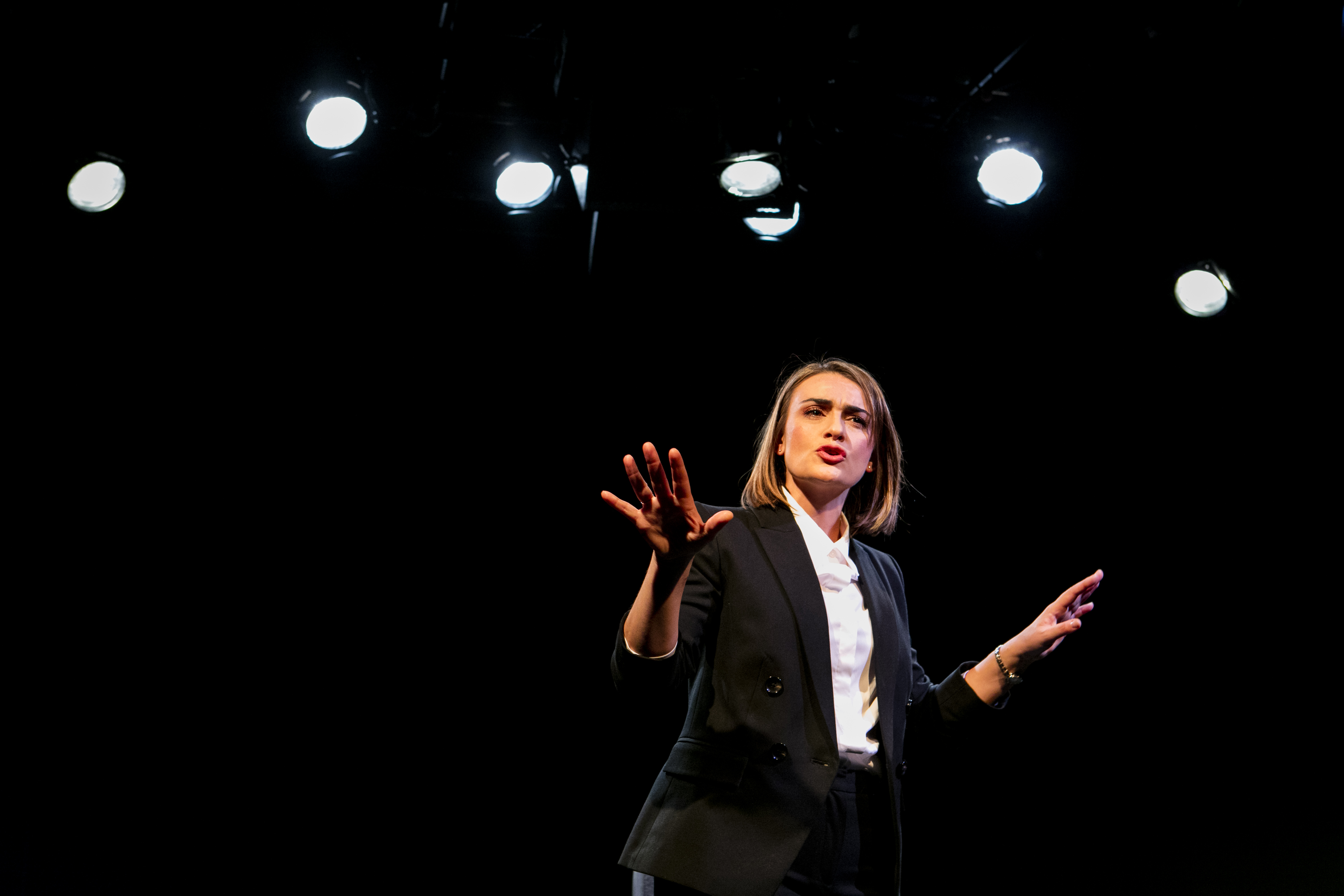 Sheridan Harbridge as Tessa in Prima Facie (photograph by Brett Boardman)
Perhaps class privilege feeds this male bias. At law school, Tessa was surrounded by future lawyers drawn from private schools, though Tessa briefly shows us her suburban, working-class roots. Since then she has successfully learned to simulate the entitled bearing of the over-confident young barristers with whom she graduated.
When Tessa herself is raped, 763 days of her life will be locked up just waiting for so-called justice, followed by a brutal cross-examination suggesting her consent in the violent sexual act against her by a man she knew and trusted. Through the traumatic stress of this incident, exacerbated by the legal 'due process' she once championed, Tessa eventually grasps that one in three women is sexually assaulted but often silenced. Through her prosecution of legal processes on stage, she will emerge as a survivor. A judge and jury might not believe her, but at least a theatre audience gains an understanding of the brutality with which a man disempowered her.
Harbridge is magnificent as she portrays a confident woman at the top of her professional game, one who is physically and emotional humiliated but determined to rise above the gender and legal odds stacked against her. The actor has a huge amount of text to master, with only a short break in speaking for more than ninety minutes alone on stage to accommodate a quick suit change as she switches from lawyer to witness–accuser. She never falters in delivering the grit and broad spectrum of emotions required.
The simple setting, with spotlighting and words occasionally projected onto the wall behind Harbridge, ensures that the audience maintains a concentrated focus on her performance, though the single-actor approach means that we must rely on Tessa entirely as the narrator. We never see a man speak for himself – you might more than reasonably argue men already have an array of institutional and historical supports for any violent, entitled behavior that cannot be proven beyond reasonable doubt – but the play's structure means that a man never reckons honestly with his behaviour or considers its impact.
This is not a work concerned with seeing or hearing a defendant speak for himself, however. Miller's play has a more powerful reform agenda in mind: breaking the silence that surrounds sexual assault. Miller has a gift for exploring the need for human connection – demonstrated in her 2015 play at Griffin's Stables theatre, Caress/Ache – and that is subtly on display here when Tessa feels the fleeting eye contact and tacit support of a female police officer: 'This young woman in a uniform usually worn by men.' As the #MeToo movement continues to build support via social media, this play reinforces the need for women to speak up in solidarity, and for men to start listening.
---
Prima Facie is being presented by Griffin Theatre Company at SBW Stables Theatre until 22 June 2019. Performance attended: May 23.