Andrey Zvyagintsev's Loveless is a cold, despairing film, befitting its title. It opens and closes in the depths of winter, with wide, lingering shots of an ice-bound river; in between, it delivers a portrait of a marriage that has hardened into estrangement, with a child lost to the void that exists between his parents. No character is improved by their trials, much less redeemed. No thaw ever comes.
In an outer district of contemporary Moscow, where unwelcoming streets are lined with identical-seeming apartment blocks, Zhenya (Maryana Spivak) and Boris (Aleksey Rozin) are preparing to divorce. Their marriage was hastily made, in consequence of Zhenya's unplanned pregnancy, and now, twelve years later, all that remains of their youthful ardour is an anxious, lonely son, Alyosha (Matvey Novikov), whom neither wants to be burdened with. Perhaps they will send him to boarding school, and from there he can go into the army. An early, heated argument between the ex-partners about their child's future culminates in a wrenching shot of the boy himself, hidden behind the kitchen door, silently devastated by what he has overheard.
Built interiors function in Loveless as both setting and metaphor. Boris's younger lover, Masha (Marina Vasileva), lives in a narrow, homely flat where the two of them frequently retreat to imagine their future. Her pregnancy seems to augur a revitalisation in Boris's life, as well as the fulfilment of Masha's own ambition as the very picture of a competent woman. In contrast, Zhenya's older lover, Anton (Andris Keyshs), resides in an apartment of sleek lines and floor-to-ceiling glass windows that make the couple's sensual trysts feel like acts of conspicuous, self-conscious gratification.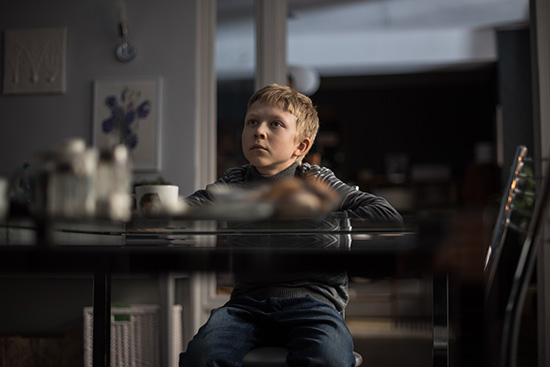 Matvey Novikov as Alyosha in Loveless (Palace Films)
These differing schemas are a touch too neatly laid out, and, when added to Zhenya's reflexive habit of browsing her phone, or Boris's unsubtle enquiries at work as to the potential penalties for divorce – his employer is a fundamentalist Christian – their respective new abodes demonstrate to a viewer what we have already deduced: that the husband is immature and hypocritical, and the wife vacuous. But Zvyagintsev clearly has an ongoing interest in property and its role in present-day Russian life. His previous, magnificent film, Leviathan (2014), was partly about land expropriation and corruption in a rural town.
More unsettling, because more ambiguous, are the many shots of literal ruin that follow when the overlooked Alyosha goes missing, or runs away. (Whether it's one or the other, or when one becomes the other, remains unresolved.) The task of finding him falls to a private, volunteer search party – the local police are too busy to care – who seem to specialise in the business, which raises the question of just how many other children are missing in Moscow, and where, if anywhere, they might be. Combing the district for any sign of Alyosha, the search party keep returning to an abandoned residential block, where any remaining objects of comfort – a common lounge area, a kitchen stove – have now decayed into a state beyond salvage. And yet this is just the kind of place that a child might find enchanting.
Zvyagintsev and his regular cinematographer, Mikhail Krichman, intersperse their austere, often frontal framing of these various interior locations – and the surrounding forest and river – with unnerving push-ins that threaten to reveal some terrible, explanatory detail, but never do. Also deferred is any sense that this crisis might bring Boris and Zhenya to a rapprochement. They feel for their missing child, but they cannot conceive of their grief as a shared burden. Instead, it only exacerbates the blame they locate in each other for their failed marriage.
Alhough these two are not monsters, there is nevertheless a moralising, fable-like undercurrent to this story of a child who vanishes because his parents are selfish. Spivak, playing the more abrasive character, strains against that quality in the script. Zhenya is deeply unsympathetic, but Spivak makes us feel her circumstances. She is a mother who never wanted to be a mother, and at least admits it, unlike her husband, whose fantasies of domestic bliss are only that. Also strong, in a smaller role, is Aleksey Fateev as the search party coordinator. This volunteer group is the only source of generosity in the film, but its ordinary selflessness seems like a futile gesture in an endemically uncaring place.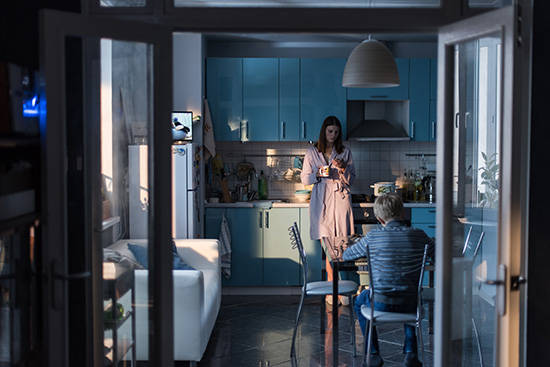 Maryana Spivak as Zhenya and Matvey Novikov as Alyosha in Loveless (Palace Films)
Loveless is mostly set in 2012, when, says Zvyagintsev, people in Russia 'were full of hope' in the aftermath of a presidential election that saw Vladimir Putin elected to a third term. By the film's conclusion in 2015, a kind of grim fatalism, hard to distinguish from indifference, has set in. In their respective homes, Zhenya and Boris watch the renewed conflict in Ukraine on the television, and turn away.
Zvyagintsev's feeling for Russia's past is never nostalgic, but it is mournful. In that decrepit building where the search party calls out for Alyosha, there also dwells, or so Zvyagintsev seems to suggest, a dangerously neglected national history, and by neglecting it, the people have made for themselves a barren future. Something vital, his films intimates, has been lost in Russia, and perhaps not only in Russia – some warmth of the soul, a sense of civic accountability. As with the child, no one even noticed it slipping away.
Loveless (Palace Films), 128 mins, directed by Andrey Zvyagintsev, written by Oleg Negin and Andrey Zvyagintsev. In cinemas from 25 April 2018.
ABR Arts is generously supported by The Ian Potter Foundation and the ABR Patrons.