It's easy to forget how young Edward Albee was when he wrote his first plays, The Zoo Story, Who's Afraid of Virginia Woolf? and A Delicate Balance. Perhaps it was his choice of subjects and types that obscured the New Yorker's precocity. In a way, Albee was always middle-aged – like his great characters (George, Tobias, Agnes), with their dashed hopes and jaded marriages. Think of Harry and Edna in A Delicate Balance, who crash at Tobias and Agnes's house one quiet, murderous Friday evening – The Friends Who Came To Stay Forever – and why? because they were frightened (frightened by something nameless). Terror, loathing, disaffection, in Albee's syntactically lethal world, were the norm. Yet Albee was in his early thirties when he created Martha (greatest of American monsters), with her brilliant zingers about the wreckage of a twenty-year marriage; and not much older when he drove Harry and Edna out into the night looking for more succour than you can find at a country club.
As B. remarks in Three Tall Women, currently being revived at the Golden Theatre in New York under Joe Mantello's direction, 'It's downhill from sixteen on! For all of us!' She goes on to fantasise about six-year-olds learning about death at the age of six ('Make 'em aware that they're dying from the minute they're alive'). It gets a laugh in the stalls, a queasy laugh.
After the early laurels, the epic seasons, Albee became box-office poison in the 1970s and 1980s. Broadway, where Martha had rampaged for 664 performances, wouldn't touch him. Audiences had changed, America had changed: it began to elect people like Ronald Reagan. (Here, an old vaudevillian's line springs to mind: 'Humankind cannot bear very much reality.')
Then came Three Tall Women, Albee's thirteenth full-length play. It would win him his third Pulitzer Prize for drama (with A Delicate Balance and Seascape). Like many of Albee's early plays, Three Tall Women had its première in Europe (Vienna, 1991). Then it opened Off Broadway in 1994 before moving to the Promenade Theatre, where it played for more than a year. Myra Carter was A in those first three seasons, and hers was a compelling performance. Later, Maggie Smith played A in the first two London seasons (1994 and 1995).
Three Tall Women came to Australia in 1995, an STC production directed by Wayne Harrison. Ruth Cracknell was a commanding A, and Pamela Rabe (eligibly tall) relished B's sarcasms and acidities ('Calm down; adjust; settle in. Men cheat; men cheat a lot. We cheat less, and we cheat because we're lonely; men cheat because they're men').
Now Glenda Jackson – returning to Broadway after a regrettably long career in British politics – assumes the celebrated role of A. At eighty-one, Jackson's voice is undimmed, almost explosive at times – and such diction.
This is Jackson's second Albee: in 1989 she played Martha in a Los Angeles production directed by the playwright himself. Albee was disappointed by her performance. Jackson, he said later, 'had retreated back to the thing she can do very well, that ice cold performance. I don't know whether she got scared, but in rehearsal she was being Martha, and the closer we got to opening the less Martha she was!'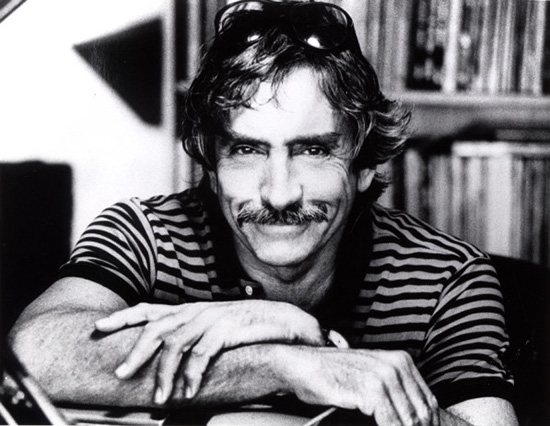 Edward Albee (Wikimedia Commons)

Albee, it must be remembered, was a severe critic of his many Marthas; he thought Elizabeth Taylor too young for the role in Mike Nichols' 1966 film, yet Taylor's performance is surely one of the finest by any actress. Jackson, too, has unfond memories of the collaboration with Albee. Interviewed for the current program, she recalls: 'He is as very, very good writer. Very good. Terrible director, in my opinion.'
Three Tall Women may not be as brilliant as Virginia Woolf or A Delicate Balance, but Joe Mantello's meticulous and beautifully acted production freshens our interest in the play and rivals Pam MacKinnon/Steppenwolf's celebrated 2012 revival of Virginia Woolf, with Tracy Letts in his Tony Award-winning performance as George (a re-imagined and much more menacing George than we are used to).
The story in Three Tall Women is a familiar one: old wars, stubborn hurts – a twenty-year sulk. It is based on Albee's well-known childhood: adopted by theatre-owning Reed Albee and his third wife, Frances; often expelled from tony schools; precociously homosexual; ultimately dismissive of his conventional, socially ambitious mother. The play is about fear, loss, abandonment. Always we hear George's bleak reminder, 'We regret everything' – the drumbeat in Albee's oeuvre.
There are three characters: A, B, and C. Pastelled and permed, irritable and incontinent, A – a ninety-two-year-old dowager – is seated on the right, nursing her incurably broken left arm. Glenda Jackson has perfected the old woman's tics, down to the slow, calming tapping of her right, slippered foot. A hectors B, her companion-carer and general mopper-up (Laurie Metcalf), and she torments C, the young lawyer who has been sent to sort out A's finances. C, bored and disapproving, is unamused by the old woman's capriciousness and decrepitude. The banter is delicious as A and B gang up on the disapproving C ('Miss Perfect over there'), just as George and Martha do in Virginia Woolf – getting the guests.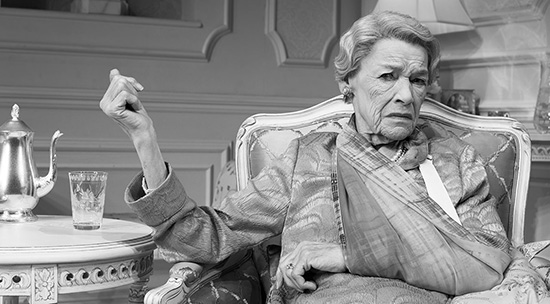 Glenda Jackson in Three Tall Women (photograph by Brigitte Lacombe)
A recalls her impoverished childhood, her marriage to a wealthier and much shorter man, her equestrian adventures, and her affairs with Earl and all the others (only lovers and lackeys are named in this world).
Nothing, refreshingly, is done to temper A's vicious and bigoted asides. There were gasps in the stalls at some of her audacities. (In cautious Australia, one suspects, producers would balk at her racist and anti-Semitic remarks.)
A's selectively muddled memory introduces some of the play's themes – class, business marriages, infidelity. Act One culminates in an almost bashful account of the night A's 'penguin' of a husband (aware of her penchant for jewellery) brought her a diamond bracelet on his 'little pee-pee' and let it slip into her lap when she, averse to fellatio, rejected his penile offering. A then has a stroke, and B summons the doctor – and the absent son.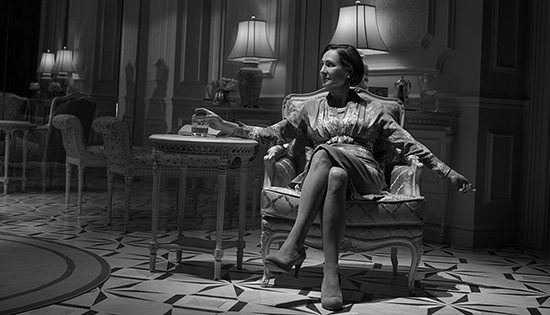 Laurie Metcalf in Three Tall Women (photograph by Brigitte Lacombe)
The two shortish acts (played here without a break) are fundamentally different. On paper, Act One is the more brilliant, because virtuosic in its repartee, but in the theatre Act Two acquires a gravity and poignancy that Act One lacks.
Miriam Butler's set is ornate and generic. Local references are few, but this feels like a five-star New York hotel – 'everything Louis', as Barbra Streisand once said of her décor. The set is reversed in Act Two, with a mirrored wall at the rear which rises at the end to reveal the supine A on her vast bed.
In a celebrated coup de théâtre early in Act Two, A returns to the stage, newly upright and unfractured, though still in her nineties. B and C become younger versions of A, fond now, sisterly, all in silk. The son appears, bearing freesias but always mute, as if Albee (even Albee) couldn't stomach one last clash with his adoptive mother. (Joseph Medeiros, as the Boy, looks eerily like the young Albee, it must be said.)
After the brisk interplay of Act One, the second ends with a series of extended monologues, often delivered at the front of the stage. Alison Pill, though vocally outshone by Metcalf and Jackson, is affecting in C.'s long speech towards the end of the play – a plea for reassurance ('Is it like this? What about the happy time … the happiest moments? I haven't had them yet, have I? All done at twenty six?').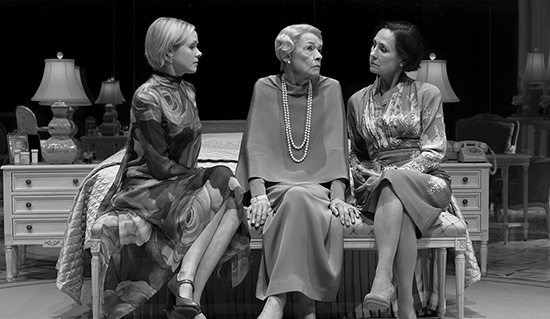 Alison Pill, Glenda Jackson, and Laurie Metcalf in Three Tall Women (photograph by Brigitte Lacombe)
Likewise, Metcalf – so fine as the bleak, abiding mother in Lady Bird, and last year's Tony Award winner in A Doll's House, Part 2 – makes the most of B's long stoic speech: 'What I like most about being where I am is that there's a lot I don't have to go through anymore … It opens up whole vistas – of decline, of obsolescence, peculiarity, but really interesting!'
Then it is Glenda Jackson's turn, and here she is compelling and profoundly moving. Again those inimitable cadences fill the theatre as A, beyond rancour now, welcomes death and thinks of herself in the third person, 'without being crazy'. Downstage she moves to apprise the audience of 'the happiest moment. When it's all done. When we stop. When we can stop.'
It is a moment of vindication and restoration, like seeing this greatest of actors in a new, sharp light.
Three Tall Women, directed by Joe Mantello, continues at the John Golden Theatre in New York City until 24 June 2018. Performance: 17 April.
ABR Arts is generously supported by The Ian Potter Foundation and the ABR Patrons.
Following Edward Albee's death in 2016, Peter Rose and ABR theatre critic Ian Dickson recorded a conversation about his life and work for the ABR Podcast: