Last year, Akram Khan, England's leading Asian dancer–choreographer, stunned the dance world community when he announced he would stop performing in 2018 and that his last show would be Xenos, meaning 'foreigner' or 'stranger'. It premièred at the Onassis Cultural Centre, Athens, on 21 February, and reached Australia for the closing days of the Adelaide Festival.
Khan's imminent departure from the stage, at the age of forty-three, is to be expected; he has been performing the rigorous Kathak technique since childhood. It will be a great loss audiences and luminaries such as ballerina Sylvia Guillem, actor Juliette Binoche, sculptor Amish Kapoor, and singer Kylie Minogue, who have collaborated with him in contemporary dance, a genre he rapidly colonised with his Bangaldeshi heritage.
Khan, born in England, has addressed questions of identity – migration, a sense of home, integrity – in his creative practice, not just in dance terms, but through philosophy, music, literature, and the visual arts. In a television documentary on the making of the brilliant autobiographical work Desh, he spoke of the need to investigate past generations of his family to fully comprehend his parents' lives and his roles as son, husband, and father. After discovering Bangladesh anew with some collaborators, creating Desh unleashed in Khan a sense of loss of that culture.
From such personal investigations Khan has jumped into the fire of war, as Ruth Little explains in a 'Message from the Dramaturg': 'Akram Khan's Xenos asks a question which first arose 100 years ago during the global cataclysm of the First World War, and has continued to haunt our civilization ever since: what is it to be human when man is as god on earth?'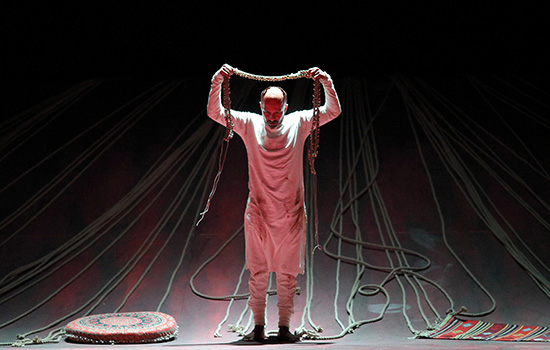 Khan asks the question from the viewpoint of a humble sepoy, one of the four million men of colour dragooned into war by colonial powers from the Indian subcontinent, Africa, and the Middle East. The show's first words come from a 'Letter from a wounded Indian sepoy' found in old archives:
This is not a war. It is the ending of the world.
This is just such a war as was related in the Mahabharata.
The scale of the archives prompted questions about the abuse of these men, their acute dislocation, deprivation, and damage of all kinds, and their being forgotten. These and other ethical questions drive Khan's telling of their story in sixty-five distilled minutes, through dreams of death and suffering, of lyrical song and play, and the piteous trauma of a man maimed by shrapnel, lying trapped in a dank trench.
As in all dreams, nothing is static. Dance, dark images, and random speaking voices fade in an out, then disappear. Songs sung by the honey-toned vocalist Aditya Prakash bring happy memories to the soldier, proud to dance after tying strings of bells (which will later hurt him) around his ankles. Percussionist B.C. Manjunath teasingly ups the tempo by repeatedly chanting tak-takataka-tak at a terrific pace as Khan's feet slap the floor and spin him around faster and faster. Other times, stilled, kneeling on the floor, he may be a child, perhaps a father, marching two fingers along the floor to tell a story. A male voice speaks, rather like Virginia's Woolf's Orlando, to describe his life as a father, mother, a daughter, a lover – many times – a soldier who has killed and is killed. In another scene, he appears like a raja, coiling heavy rope around his body until he appears like a sculpted god, perhaps the defiant Prometheus, who stole fire from the gods, and whom Zeus punished with a daily death. Other ropes, which have lain as if waiting on the wide angled floor, draw him over the precipice to a muddied death, from which he will return, like Prometheus, whom Heracles has rescued, from which he will return and restore himself.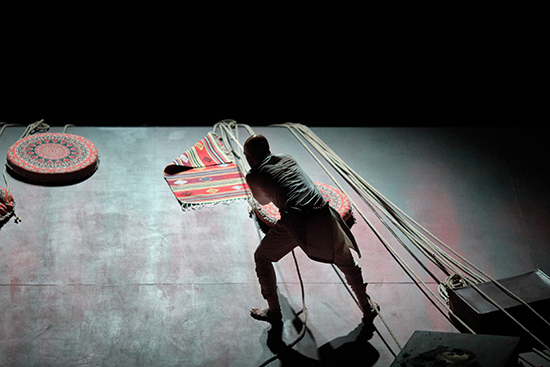 A mystical transfiguration unfolds as five musicians, standing like gilded saints in a high altar screen, witness the soldier's rebirth. Here, as much as in his cacophonies of battles, Vincenzo Lamagna's original music humanises the stage, as the soldier, surrounded by a rolling wave of pine cones, stares towards the future as choruses of 'Pie Jesu' from Mozart's Requiem in D minor fill the theatre.
Khan's Adelaide performance was exactly what we had expected: astonishing technique and voluptuous dramatic freedom, and the most sympathetic effects: Mirella Weingarten's design; Michael Hulls's lighting; Kimmi Nakano's costumes; Nina Harries' vocals and bass; Andrew Maddick's violin; Tamar Osborn's saxophone; and playwright Jordan Tanahill's moving text (regrettably much of it inaudible).
Xenos is an important piece of dance theatre, with the capacity to shame us. Making it has transformed Akram Kahn into an actor whose purpose is much more than art alone can deliver. He wants to change how humanity sees itself, and soon.
Xenos was presented by Akram Kahn Company at Her Majesty's Theatre, Adelaide on 16–18 March 2018 for the Adelaide Festival. Performance attended: 18 March.
ABR Arts is generously supported by The Ian Potter Foundation and the ABR Patrons.