It is a particular pleasure for an opera lover, even a hard-bitten critic, to watch a career develop and blossom. Nicole Car, making her role début as Violetta for Opera Australia, is one such singer. Audiences have enjoyed her in a series of important roles, among them Tatyana in Eugene Onegin, Micaëla in Carmen, Fiordiligi in Così fan tutte, Countess Almaviva in Le nozze di Figaro, Luisa in Verdi's Luisa Miller, and Thaïs in Massenet's opera. A recent Metropolitan Opera press release described her as the 'Mimì of our time', a role in which she makes her debut there next season. By any measure it has been a remarkable rise to the operatic élite since graduating from college some ten years ago.
Less helpfully, or indeed accurately, she has also been described as 'the new Joan Sutherland'. Apart from her Australian origins, there is no real comparison between them. Car is at the beginning of what one hopes will be an illustrious career, but she is a very different kind of singer. Sutherland had a sumptuous, awe-inspiring voice which she used with unparalleled facility and agility – La Stupenda an apt description. She was also an imposing physical presence on stage.
Car's voice is not huge, but tonally rich and perfectly focused, able to fill the largest theatre. It has a distinctively warm and limpid quality underpinned by musicality, imagination and textual facility. She has an attractively winsome stage presence and a histrionic ability that conveys honesty and sincerity in whatever role she sings. It is not flashy singing, drawing attention to itself, but always at the service of the composer. Violetta is probably Car's biggest vocal and histrionic challenge so far.
The choice of singers and their vocal and dramatic capacities was fundamental for Giuseppi Verdi. Late in his career, he railed against 'heavy' voices: 'In general, our singers only know how to produce a fat voice; they do not have vocal elasticity, nor clear and easy pronunciation, and they lack proper accent and breath.' Verdi admired singers who were trained in the 'old school' of Rossini and earlier composers, yet his music increasingly demanded dramatic declamation and less of the agility required to sing this kind of music though he fully recognised the importance of a thorough and all-round vocal training.
Many accounts of the 1853 première of La Traviata at La Fenice, including by Verdi himself, describe it as a fiasco. Verdi wondered: 'my fault or the singers? Time alone will tell'. Much blame was placed on the leading lady, Fanny Salvini-Donatelli, who, vocally and physically, did not fit the popular image of the dying consumptive. Violetta is one of Verdi's greatest creations, but also one of the most challenging. Based on a real character, Marie Duplessis, she was a 'type' that would have been recognisable to a contemporary audience, but she is operatically idealised and mythical. Requiring all the qualities of beauty, poise, energy, personality, the role famously requires 'three voices': the first act needs a very agile voice – there is extensive fioriture – with a secure top range; the second act a voice that can convey great depth of character with warmth and lyricism; while the final act needs the histrionic and vocal control and imagination to suggest imminent death, combining delicate vocal transparency with frequent plangent, death-laden soaring phrases.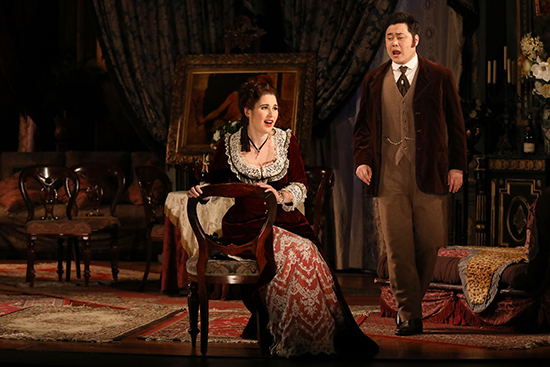 Nicole Car as Violetta Valéry and Ji-Min Park as Alfredo Germont in Opera Australia's La Traviata (photograph by Prudence Upton)
So did Nicole Car rise to this immense vocal and dramatic challenge. The audience's rapturous reception told its own story. Of course, Car's interpretation of the role will grow and deepen in different productions, but for a young singer to show such maturity as Violetta in her first essay of the role is remarkable. In recent years, the voice has gained a steely yet attractive edge to the tone, essential in negotiating the larger lyric soprano repertoire she will be singing in the future. This was a performance of vocal and dramatic subtlety and nuance. The hushed quality of Dite alla giovine in Act Two was breathtaking in its vocal beauty and emotional truth. Car is an innately musical and charismatic singer, with all the right instincts. The international opera world is her oyster.
Naturally, most of the attention is focused on Violetta, but the cast was uniformly strong in Elijah Moshinsky's well-oiled, effectively coherent production, first seen in 1994. Ji-Min Park's Alfredo revealed a ringing Italianate tone and appealing stage presence; his is a fine, robust instrument which occasionally lacks subtlety. Vitaliy Bilyy has a suave, attractive baritone, with good line and a sympathetic demeanour; his great scene with Violetta in Act Two was one of the musical highlights of the performance. The smaller parts are cast from strength with Anna Dowsley, Natalie Aroyan, and John Longmuir, frequently heard in major roles, particularly fine. The opera was conducted with real italianità and energy by Andrea Licata, far removed from a routine performance as often happens with this well-beloved opera. The Opera Australia chorus, always an important component of any performance, here distinguished themselves with powerful, yet subtle tone and varied characterisation. The performance was a triumph for Opera Australia.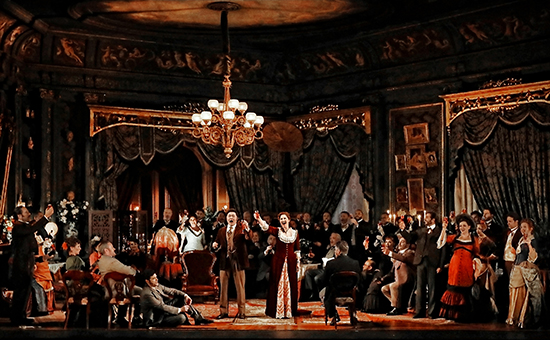 The cast of Opera Australia's La Traviata (photograph by Prudence Upton)
In the final analysis, it is Verdi's musical and dramatic genius that shines through. Arrigo Boito – Verdi's great librettist for both Otello and Falstaff – described the last scene in poetic terms, hearing:
... sad and frail sounds, almost disembodied, ethereal, sick with imminent death. Before that prelude was written, who would have thought that music was capable of portraying an ambience of a room completely closed to the dawn, in winter, where an invalid awakes. That silence, quiet and painful, created by sounds! The soul of a dying woman tied to her body by the subtlest thread of breath! Repeating a last remembrance of love before departing.
La Traviata (Opera Australia) continues at the Joan Sutherland Theatre, Sydney Opera House, until 27 March 2018, and will be showing at the State Theatre, Arts Centre, Melbourne from 17 April to 11 May: Performance attended: 1 March.
ABR Arts is generously supported by The Ian Potter Foundation and the ABR Patrons.