As a resident of Portland, Oregon in the 1980s and 1990s, director Gus Van Sant became used to the sight of the iconic and iconoclastic cartoonist John Callahan buzzing around the city in his wheelchair. 'He was a visible person on the street,' Van Sant said recently on Marc Maron's podcast, 'because of his wheelchair and his bright red hair.'
Eight years after Callahan's death, Van Sant has completed a project that was originally pitched to him two decades ago by Robin Williams, after Williams had bought the rights to Callahan's 1989 memoir which gives this film its name (and originates from one of his most famous sketches). Don't Worry, He Won't Get Far On Foot is a soulful, sincere, and flawed portrait of this most uncompromising and often uncouth of illustrators. It is a film about the process of achieving sobriety, making amends, and the nature of forgiveness more than it is a meditation on art or artistry.
Early in the piece, the film deals with the defining incident in Callahan's life, which occurred in 1972. After nearly a decade as a severe alcoholic, the twenty-one-year-old Callahan (a typically warped, addled Joaquin Phoenix) attends a party in Los Angeles where he meets fellow drunk Dexter (a lascivious Jack Black). The two leave for another party; driving Callahan's car, Dexter crashes into a light pole. The accident leaves Callahan a quadriplegic; Dexter emerges unscathed.
Van Sant shifts from one time period to another with almost as much velocity as Callahan in his wheelchair. The film flits between the day of the accident, its immediate aftermath, Callahan's long road to sobriety, and his attempts to grasp a pen so that he can create his macabre cartoons.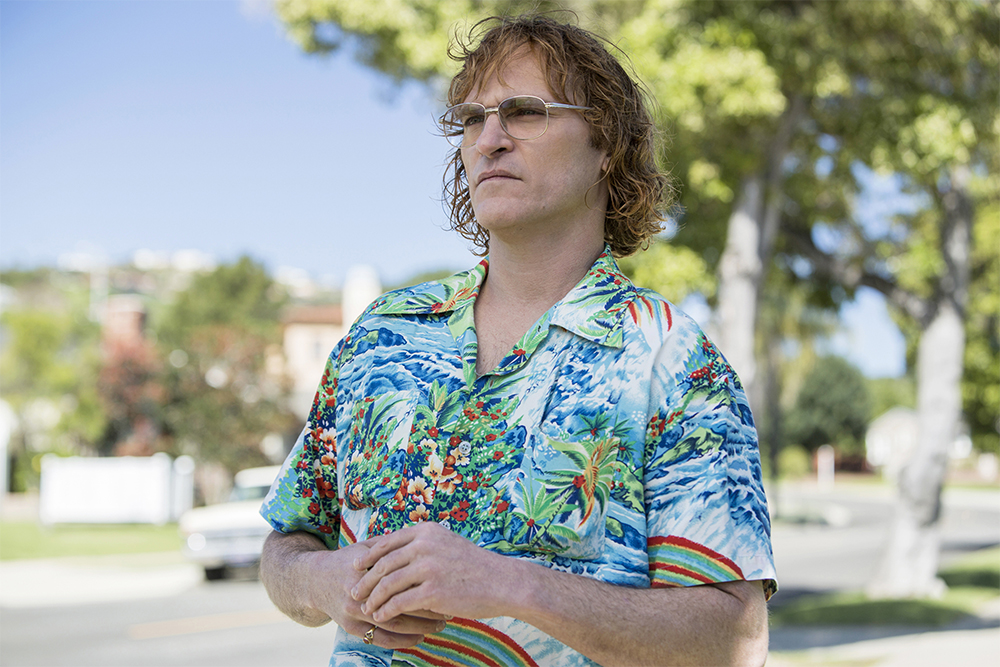 Joaquin Phoenix as John Callahan in Don't Worry, He Won't Get Far On Foot (Transmission Films)
Some of this narrative of redemption plods by with little momentum, such as Callahan's hospitalisation and his struggles at home. Other sections are marvellously constructed, ensuring that Don't Worry can be regarded as something of a return to form for Van Sant after some critical failures (such as Promised Land [2011] and Sea of Trees [2015]).
Chief among these are the riveting group sessions for Callahan and his fellow alcoholics, meeting under the guidance of Donnie (Jonah Hill), a quietly witty, firm, guru-ish sort of figure prone to jetting across the country to sample New York's gay night clubs. Van Sant shoots these scenes with a shakiness and graininess reminiscent of a fly-on-the-wall documentary, the camera lingering closely on quiet faces as well as tearful breakdowns. The mood becomes intense, helped also by a cast of addicts that includes musicians Beth Ditto (formerly of Gossip) and Kim Gordon (formerly of Sonic Youth). Hill, meanwhile, gives arguably the best performance of the film (and definitely the best of his career) as Donnie, a character bullish in his demands of the 'piglets' (as he calls them) in his group, yet openly vulnerable.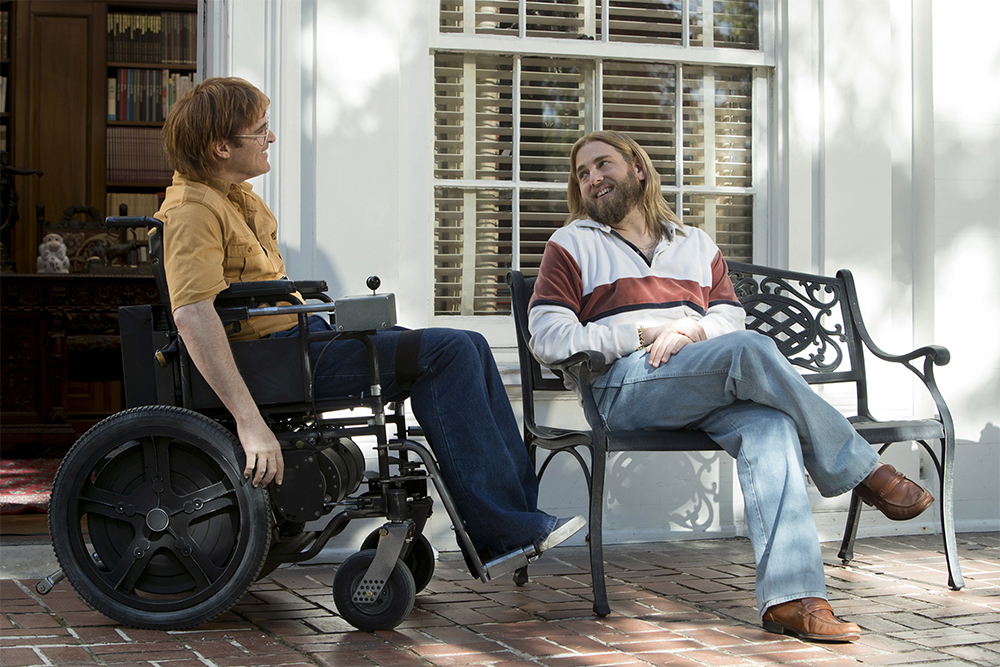 Joaquin Phoenix as John Callahan and Jonah Hill as Donny in Don't Worry, He Won't Get Far on Foot (Transmission Films)
Phoenix's performance is delivered with an expressive physicality (despite the obvious restrictions) that recalls his explosive turn in The Master (2012). Here he succeeds in bringing out the undoubted innocence and sadness in Callahan as he strives to make sense of his disability as well as his childhood traumas (his birth mother gave him up for adoption). Hardly ever cynical or even particularly angry, Phoenix's positively gentle Callahan makes for a contrast with the sharpness and, to some readers, the offensiveness of his cartoons.
That said, the film does not quite penetrate the history or complexities of Callahan's emotional turmoil regarding his upbringing in a satisfactory way, except for an abrupt and unearned 'epiphany' scene with the group. By the end of the film, one still feels at a distance from the protagonist, as if we've perceived the symptoms of his underlying heartbreak without exploring its roots.
Another obvious problem with Don't Worry is the fact that its relatively few female characters are flimsily constructed. Annu (Rooney Mara), Callahan's part-time girlfriend and apparent saviour, is given so little depth that she may as well not be in the film, while the considerable talents of Carrie Brownstein are wasted as she plays a fastidious bureaucrat haranguing Callahan about his benefits. Even Ditto and Gordon, though excellent in their small contributions in the group therapy scenes, seem peripheral to the dramatic breakdowns suffered by the group's men.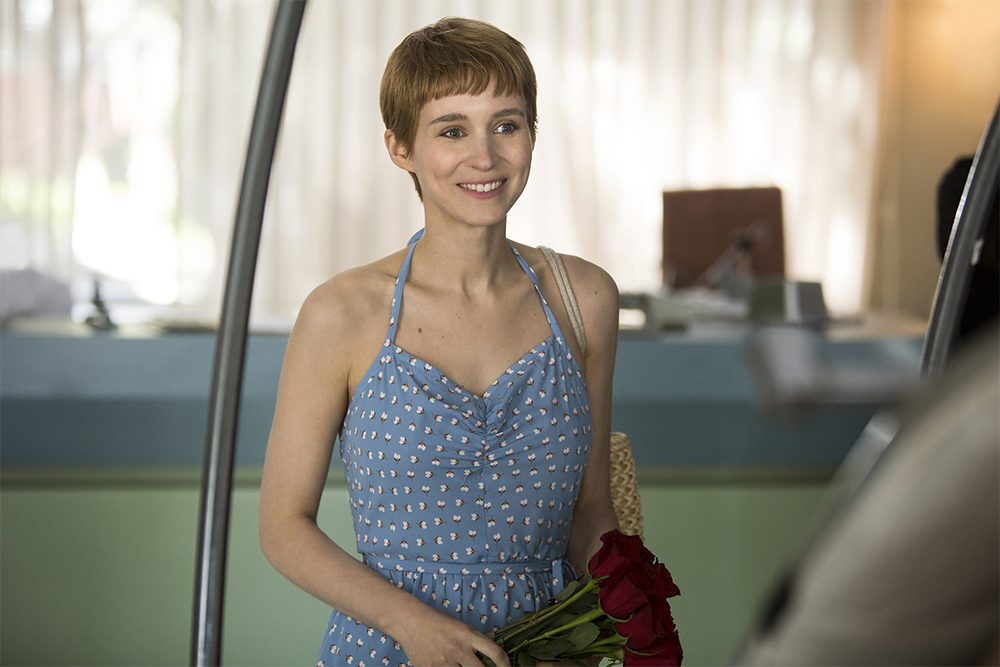 Rooney Mara as Annu in Don't Worry, He Won't Get Far on Foot (Transmission Films)
Because Callahan's life sprawled in many different directions, Van Sant (who also wrote the screenplay) undoubtedly had plenty to squeeze into this two-hour biopic. These oversights, therefore, may be understandable. However, at no point does the film take advantage of Callahan's work or his world view to address questions of political correctness and whether certain subjects are appropriate for mocking and amusement. To say these are contemporary themes would be an understatement. Callahan's work features the disabled, members of the Ku Klux Klan, nuns, religious figures, sexual intercourse, and other inflammatory subject matter. Callahan himself railed against political correctness during his later years, saying in an interview that it 'takes away all spontaneity and all truthfulness'. Furthermore, the film chooses not to look at how Callahan's deeply caustic take on society was informed by his consumption of culture and media, instead implying that it came solely from his troubled personal history.
Though these dubious aspects cannot be ignored, this is ultimately an extremely affecting study of atonement and fulfilment. 'Maybe you were weakened to become strong,' Donnie says to Callahan as they reflect on their struggles, which seems to be the overarching point that Van Sant, one of cinema's more mercurial auteurs, is making.
Don't Worry He Won't Get Far On Foot (Transmission Films) 114 minutes, directed by Gus Van Sant. In cinemas now. Screening courtesy of Home of the Arts, Gold Coast.
ABR Arts is generously supported by the Copyright Agency's Cultural Fund and the ABR Patrons.