Australian Book Review
The ABR Podcast
Wednesday, 08 April 2020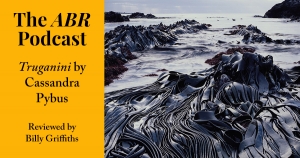 The extraordinary life of Truganini, an Aboriginal woman known as the 'last Tasmanian', is explored in this turbulent history by Cassandra Pybus. An inspiring and haunting story, Truganini's life spanned psychological and cultural shifts nearly beyond comprehension. In this episode of The ABR Podcast, Billy Griffiths, author of the award-winning Deep Time Dreaming, reviews Truganini, Pybus's history of a woman reclaimed by the Tasmanian Indigenous community as a symbol of 'rights, identity, ownership, and survival'.
...
(read more)
The ABR Podcast
Wednesday, 01 April 2020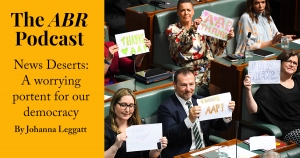 The imminent closure of Australian Associated Press, or AAP, has sounded alarm bells for many citizens and journalists already worried about the lack of media diversity in Australia. AAP has long played a fundamental role in investigative journalism, which we need more than ever in an age of government intrusion, evasion, and over-reach. Johanna Leggatt, a journalist who has worked for Fairfax, News Corp, and AAP, writes about this troubling threat to journalism.
...
(read more)