States of Poetry - Poets
States of Poetry 2016 - South Australia | About Jill Jones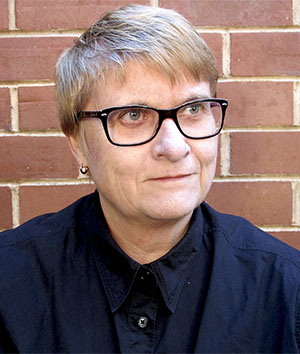 Jill Jones (photograph by Annette Willis)
Jill Jones has published nine books of poetry, and a number of chapbooks. In 1993 she won the Mary Gilmore Award for her first book, The Mask and the Jagged Star (Hazard Press). Her latest books are Breaking the Days (Whitmore Press), and The Beautiful Anxiety (Puncher and Wattmann), which won the 2015 Victorian Premier's Literary Award for Poetry. Her work is represented in a number of major anthologies including the Macquarie PEN Anthology of Australian Literature, The Turnrow Anthology of Contemporary Australian Poetry and The Penguin Anthology of Australian Poetry. She was poet-in-residence at Stockholm University for five months in 2014-15.
State Editor's notes
'Jill Jones has described her poems as "broken songs", but they somehow manage to break and reconnect and break again even as we read them. They are tapestries of the moving present: passing impressions, sensations, and feelings; things glimpsed or overheard both outside and within her head; reworked and rejuvenated clichés; deliberately dislocated sentences – all woven into poems that reveal both sides of their weaving.
Or perhaps more accurately they reveal the hidden stitching a micro-second before, or a microsecond after, they display the polished finish.
"The phrasal or line shifts in the poems," she writes, "are intended to call-up emotional or speculative shifts. Nonetheless, I try to compose a kind of order ... even within the disorder, and to persist with an idea of singing, however strange it may sound or look on the page. I aim for connection, even in the difficulties."
Well, yes. But the songs always contain within them a kind of anti-singing; the songbird is also, enigmatically, interested in the sound of one beak clapping. Currently working at the J. M. Coetzee Centre for Creative Practice at the University of Adelaide, Jones is a much sought-after teacher and exemplar,' writes ABR's States of Poetry - South Australian State Editor Peter Goldsworthy. Read his States of Poetry introduction here.
States of Poetry
'Bent'
'Temper'
'Memory Lapses and Clues, or 'Don't Forget to Remember''
Recordings
'Memory Lapses and Clues, or "Don't Forget to Remember"' and 'Bent' by Jill Jones
Further reading and links
Jill Jones's website
Jill Jones's blog