States of Poetry - Poets
States of Poetry 2016 - South Australia | About Jelena Dinic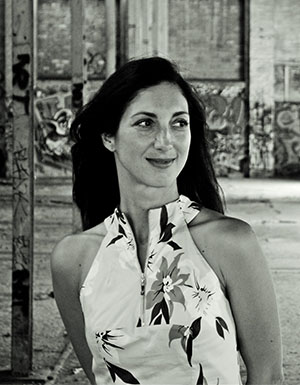 Jelena Dinic arrived in Australia in 1993 during the collapse of Yugoslavia. She writes in Serbian and in English. In 2014 she was a resident at the Eleanor Dark Foundation, Varuna Writers' Retreat in the Blue Mountains. The same year she co-edited the Friendly Street Poets Anthology The Infinite Dirt. Her chapbook Buttons On My Dress was published in spring 2015 by Garron publishing. She is currently the principal of the Serbian Ethnic School where she also teaches the language.
State Editor's notes
'Having migrated to Australia from Serbia in her teens, Dinic writes in both English and Serbian, but remains profoundly influenced by the minimalism of the postwar East European poets, none more so than the work of her great countryman, Vasko Popa. Her poems can range from the domestic sublime of life in her adopted home, to the tensions between the Australian present and the Serbian past, to nostalgia for the lost world of childhood, to explorations of the process of translation itself.
Some poems, she writes 'were conceived in Serbian language, therefore, in my poetry I occasionally practise translation.' She likes to 'explore how culture influences the meaning of words and how we attempt to translate words without losing their meaning, as well as how we experience and read translated literature.'
Like Popa, she can take mundane things, and with a few deft strokes supply several levels of depth. Even a little black dress, even a humble leather purse can suggest a deeper darkness. Of Popa she has written: 'The bones of his culture are also mine. In many of my poems there is a smell of the Balkans' other name: gunpowder barrel.'' writes ABR's States of Poetry - South Australian State Editor Peter Goldsworthy. Read his States of Poetry introduction here.
States of Poetry
'Alterations to the little black dress'
'Handbag'
'Back'
Recordings
#31 States of Poetry 2016 SA Podcast | 'Alterations to the little black dress' by Jelena Dinic
#32 States of Poetry 2016 SA Podcast | 'Handbag' by Jelena Dinic
#33 States of Poetry 2016 SA Podcast | 'Babysitting' by Jelena Dinic
#34 States of Poetry 2016 SA Podcast | 'The Silence of Siskins' by Jelena Dinic
Further reading and links
Selected recordings by Jelena Dinic at SBS
'Hotel Room Nightmare' by Jelena Dinic published by Australian Poetry Journal
'Sleep Walker' by Jelena Dinic published by InDaily
'Buttons and Songs' - Jelena Dinic speaks to Julia Wakefield about Buttons On My Dress (Radio Adelaide)
'Crossing Borders' by Jelena Dinic published in Transnational Literature Vol. 7 no. 2, May 2015

'Lost Way', 'The Last Summer', and 'Hide and Seek' by Jelena Dinic featured in 'Round the Nation' broadcast as part of ABC Radio National's Poetica on 28 September 2013