States of Poetry - Poets
States of Poetry - South Australia | About Kate Llewellyn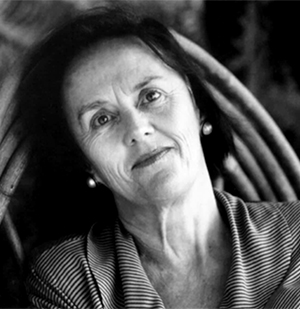 Kate Llewellyn is the author of twenty-four books comprising eight of poetry, five of travel, journals, memoirs, letters and essays. She is the co-editor of The Penguin Book of Australian Women Poets and is the author of the bestseller The Waterlily: A Blue Mountains Journal. Her most recent books are A Fig at the Gate, a book of nature writing and poems, published by Allen & Unwin, and First Things First, a book of her letters edited by Dr Ruth Bacchus and Dr Barbara Hill, published by Wakefield Press.
State Editor's notes
'South Australia's most loved writer is known for her memoirs as much as her poems, although the two can be nicely entangled, as in the recent superb A Fig at the Gate. She is also known – to her friends at least – for her legendary letters, a selection of which (First Things First) was recently published. However much she works at them, her poems feel as if they arise as spontaneously and naturally as those letters. Freshness is their particular quality, whether they offer the invigorating freshness of cold spring-water, or the warmth and balance of a freshly laid egg in the palm of a hand.
Many are justly famous, and not just widely read but widely recited by others – think of "Breasts".
In one of her letters she writes of her "topics": "mine are the weather, domesticity, love, art, gardening, the names of plants, a woman's simple daily tasks and her heart's thoughts ... Bucolic, pastoral, rural, domestic, modern, feminist, even hopefully at times poetic."
Delete "hopefully". Llewellyn is naturally poetic, naturally personal, and uniquely generous with it.' writes ABR's States of Poetry - South Australian State Editor Peter Goldsworthy. Read his States of Poetry introduction here.
States of Poetry
'Oxytocin'
'Possibly'
'Sleep'
Recordings
Further reading and links
An interview with Geraldine Doogue broadcast on Radio National on 2 February 2008.
'A poet and her garden age well together' by John Newton published in The Age January 10 2015.
'Kate Llewellyn sows a garden of letters and memories' by Ashley Hay published in the Australian March 28 2015
'Breasts' by Kate Llewellyn at Australian Poetry Library