States of Poetry - Poets
States of Poetry 2016 - South Australia | About Ken Bolton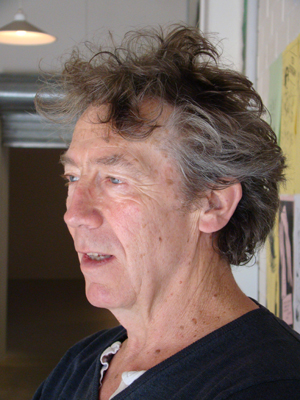 Ken Bolton (photograph by Michael Grimm)
Thoughtful –and yet forgetful, easily distracted, hardly there sometimes Ken Bolton's is a lyrical figure limned against the harsh outlines, the stark colours, of the Adelaide art world, adding a word here, a thought there, in the general flux of words and deeds around town, and something of a moodily romantic figure within the dun Australian literary landscape, his name inevitably conjuring that best known image of him, bow-tie askew, lipstick-smeared, grinning cheerfully, at the wheel of his 1957 Jaguar D-type, El Cid. Bolton works at Adelaide's Experimental Art Foundation running Dark Horsey bookshop & editing Little Esther books.
State Editor's notes
'Since his arrival from Sydney in 1982, Ken Bolton has been increasingly influential in the Adelaide poetry world, both through the readings and publications he organises, and his example as a poet: self-deprecating but hardworking, unobtrusively rigorous, undistracted by the usual vanities. He has simply got on with it for several decades in several venues, mostly in the Hindley Street precinct.
His own work is characterised by its zero-degrees cool; he seems to have taken his formative American influences – Koch, Schuyler, Padgett, but above all O'Hara – and refined them through an apparatus built from of French cinema, nouvelle roman, and contemporary art criticism. The resulting voice is coolly conversational but flexibly elastic: it can contain multitudes. Even those things Bolton tries to avoid – 'the cornily 'poetic', strong reliance on metaphor, and the supposedly ineffable and transcendent' in his own words – can be contained, at least ironically.
Many of these influences and obsessions can be found in his personally 'curated' catacomb: the Experimental Art Foundation Dark Horsey bookshop, an Aladdin's cave of poetry, literature, cinema, and art writings, in which the Lee Marvin readings also take place.
Browsing there can feel like a leisurely stroll through Bolton's mind, as does reading his poems.' writes ABR's States of Poetry - South Australian State Editor Peter Goldsworthy. Read his States of Poetry introduction here.
States of Poetry A note from Ken Bolton on his poems
'Gilbert Place - Cafe Boulevard'
'Salute'
Recordings
#61 States of Poetry 2016 SA Podcast | 'Gilbert Place - Cafe Boulevard' by Ken Bolton
#62 States of Poetry 2016 SA Podcast | 'Salute' by Ken Bolton
A note from Ken Bolton on his poems
The 'Gilbert Place - Cafe Boulevard' poem – was written, I discovered, a week or so before Lee Harwood died. The poem partly attempts his manner. At one stage the poem wonders what the Boulevard calls itself: in fact it claims 'Boulevard café', 'restaurant', Cafe bar', and 'internet café'. But no 'ristorante' or 'boulangerie'.
'What Do I Owe Them?'– is a kind of guilty supplement to the preceding poem. It arises from anxiety about having done 'justice' to the people chosen/images chosen. But of course one cannot – and in any case my projections and assumptions are just that. Individuals are taken as types. But it was interesting to have the poem kick on in that way, wrong-headed as it was.
Further reading and links
'30.11.12' by Ken Bolton (published in the June 2013 issue of Australian Book Review)
A collection of Ken Bolton's critical writings at Australian Experimental Art Foundation.
Gig Ryan reviews Selected Poems 1975–2010 and Four Poems by Ken Bolton in the October 2012 issue of Australian Book Review (subscribers only).
'Poet Maverick' - Ken Bolton in conversation with Rosanna Licari (published by Australian Poetry on 11 December 2013)