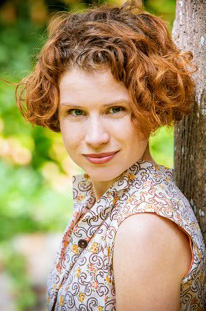 Fiona Wright is a writer, editor and critic from Sydney. Her poetry collection, Knuckled, won the 2012 Dame Mary Gilmore Award, and her book of essays Small Acts of Disappearance was published by Giramondo in 2015. She has recently completed a PhD at Western Sydney University's Writing & Society Research Centre.
State Editor's notes
'Fiona Wright's poems are open; I like that about them. Her voice – sometimes vulnerable – is often gentle and strong at the same time. Everyday images become quite surreal in her poems. For instance, in 'Crisis Poem', she takes a satirical look at gender stereotypes, which adds a strange twist to an otherwise 'normal' backyard barbeque' writes ABR's States of Poetry - New South Wales State Editor Elizabeth Allen. Read her States of Poetry introduction here.
States of Poetry
Recordings
States of Poetry 2016 - New South Wales Podcast | 'After Mutability' by Fiona Wright
States of Poetry 2016 - New South Wales Podcast | 'Crisis Poem' by Fiona Wright
States of Poetry 2016 - New South Wales Podcast | 'Potts Point' by Fiona Wright
States of Poetry 2016 - New South Wales Podcast | 'Set Piece' by Fiona Wright
States of Poetry 2016 - New South Wales Podcast | 'Smith's Lake' by Fiona Wright
Further reading and links
'Autumn Poem' by Fiona Wright in Overland (issue 220, Spring 2015)
'Vibrations' by Fiona Wright (published February 2014, Cordite Poetry Review)
Emily Laidlaw reviews Small Acts of Disappearance by Fiona Wright
Fiona Wright reviews Thirty Australian Poets by Felicity Plunket (ed.)
Rose Lucas reviews Knuckled by Fiona Wright