States of Poetry - Poets
States of Poetry 2016 - New South Wales | About Pam Brown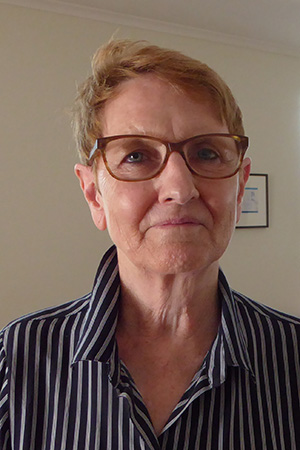 Pam Brown is a dedicated professional amateur who has published many books, chapbooks and an e-book. She has been actively involved in a diverse gamut of poetic activity since the 1970s. Pam is a contributing editor for several magazines and independent publishers, most recently, for Cordite Poetry Review. In 2014 she edited ten booklets of new transnational poetry, the deciBels series, for Vagabond Press. Vagabond published her new collection, Missing up, in December 2015. A bilingual edition of her poems, Alibis, translated into French by Jane Zemiro, was published by Société Jamais-Jamais in 2014. She lives in Alexandria in Sydney.
State Editor's notes
'Reading Pam Brown's poems is a bit like watching jazz; it can feel like she is going off on long solo improvisations. Things from the outside world – a train announcement, a sign she passes – interweave themselves with her inner melodies, and she seems to play with the sounds and rhythm of words as much as with sense and nonsense, as in this passage: "rain taxi / book thug / I ate all your bees".' writes ABR's States of Poetry - New South Wales State Editor Elizabeth Allen. Read her States of Poetry introduction here.
States of Poetry
Further reading and links
Pam Brown's Blog
Writers' Series: Pam Brown
'THE END' - editorial by Pam Brown, published in Cordite Poetry Review
Gig Ryan reviews Home by Dark by Pam Brown, published in the July-August 2013 issue of Australian Book Review
Nathaniel Pree reviews Missing upin Cordite Poetry Review, January 2016