States of Poetry 2017 - ACT | 'Mark, Pauline and me' by John Foulcher
Mark, Pauline and Me
1970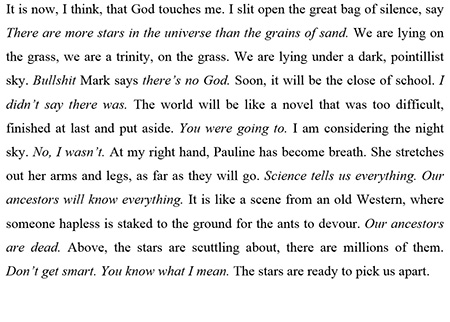 John Foulcher

John Foulcher has published ten books of poetry. The first was Light Pressure (Angus & Robertson, 1983); the most recent, a selection of the previous nine volumes, was 101 Poems (Pitt Street Poetry, 2015). His work has been published in magazines, newspapers, and anthologies for the past thirty-five years. In 2010 he was the Literature Board's resident at the Keesing Studio in Paris; his book, The Sunset Assumption (Pitt Street Poetry, 2012), was a reflection on that experience. He is at present completing his next book, titled A Casual Penance. He has also been also a secondary school teacher in New South Wales, Victoria, and the ACT.
Leave a comment
Please note that all comments must be approved by ABR and comply with our Terms & Conditions.
NB: If you are an ABR Online subscriber or contributor, you will need to login to ABR Online in order to post a comment. If you have forgotten your login details, or if you receive an error message when trying to submit your comment, please email your comment (and the name of the article to which it relates) to comments@australianbookreview.com.au. We will review your comment and, subject to approval, we will post it under your name.