States of Poetry - Poets
States of Poetry 2017 - ACT | About Melinda Smith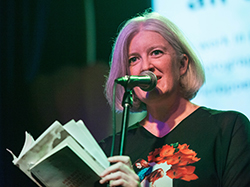 M
elinda Smith won the 2014 Prime Minister's Literary Award for her fourth poetry collection,
Drag down to unlock or place an emergency call
(2013). Her poems have appeared in publications such as
Antipodes
,
Axon
,
Cordite
,
foam
:
e
,
Island
,
Quadrant
, and
Verity
La
. Her work has been widely anthologised, including in the United States, the United Kingdom, and New Zealand, has been translated into Italian, Chinese, and Burmese, and has appeared multiple times in
The Best Australian Poems
series and on ABC Radio National's
PoeticA
. She frequently collaborates with visual artists, and her poetry has appeared in gallery and museum spaces, in artists' books, and as ceiling projections, among other things.
Melinda Smith will be a featured writer at the 2016 Rose Scott Women Writers' Festival, and will be one of this year's four international guest poets at the annual
Voci Lontane Voci Sorelle
poetry festival in Florence. She has just returned from a Bundanon Trust residency where she completed the manuscript for her fifth collection (working title
Goodbye Cruel
, Pitt Street Poetry). She has lived in the ACT on and off for over twenty-five years, and is currently poetry editor of
The Canberra Times
.
State Editor Jen Webb's notes
Melinda Smith is a long-term Canberra poet who came to national prominence when she won the 2014 Prime Minister's Literary Award. Since that point she has been even more visible in the creative community, and is a catalyst for poetry in the region. Not only is she very involved in writing and presenting her own poetry, but she also enriches the creative ecology of our region, collaborating with visual artists, and shaping the field in her role as the poetry editor of The Canberra Times.
Poems
'What you get when you search for silence'
'Hammam'
Recording
Melinda Smith reads 'some trees' and 'The Undiscovered Country'
Further reading and links
Melinda Smith's website
Wikipedia – Melinda Smith
'Canberra Close Up: Melinda Smith', 666 ABC Canberra, 15 September 2016