Book Talk
'Poetry and Australian Book Review'
John Hawke – poet, academic, and poetry editor of ABR – chaired the judging panel for the 2020 Peter Porter Poetry Prize. At the Porter Prize ceremony held at the Boyd Community Hub on January 16, he addressed various themes in his opening remarks. Following readings of the five shortlisted poems, Morag Fraser then named A. Frances Johnson as the overall winner of the Porter Prize.
As we celebrate the Peter Porter Poetry Prize, I would like to pay specific tribute to Australian Book Review, and to Peter Rose and his dedicated team, for the support they give to poetry – and not just through the management of this important award.
We're all aware that this is a time when the institutions that support culture are being tested. Poetry – always the most marginal of literary forms, when judged in relation to the market – is especially vulnerable in this climate. So the threat to UWA Publishing, and especially the removal of the Chair of Australian Literature at Sydney University, are particularly difficult for poetry, as is the major reduction in research funding over recent years within the area of literary studies. And the kind of funding pressure that's being exerted on literary journals, which have always been the lifeblood of our poetry culture, obviously exacerbates this further. So I'm very appreciative of the space that ABR finds for poetry in every issue. The number of poems they manage to include over the course of each year is impressive. This includes not only the best local work across the remarkable range of styles that are currently being pursued by Australian poets, but also significant international figures, thus creating a genuinely representative national forum.
At the centre of this activity, of course, is the annual Porter Prize, so generously supported by Morag Fraser and Andrew Taylor. It attracts the very best poets and the most significant individual poems being produced in Australia. As I remarked in a previous speech, the longlisted poems from which we select the official shortlist are all potential winners, and the overall standard is beyond 'competition'. So this shortlist is only a representation of the quality of work we were privileged to read over so many substantial and skilled entries.
John Hawke speaks at the 2020 Porter Prize ceremony (photograph by David Johns)
Beyond this, of course, are the thousand submissions we receive, which is an indication in itself of the seriousness and the value with which people regard poetry as a form of artistic communication. You have the sense when reading through the large number of entries for a competition of this kind that you're listening in to a national conversation, overhearing what people are really thinking and feeling about the issues that are most important to them. But this is very different from the discourse one receives through the incessant, dubious channels of social media or the staged discourse of panel debates. There is certainly an evident attention to pressing social issues, but the approach is deeper. It's not just polemic, although there is a role for didacticism in poetry. People use poetry to address issues in a different way.
That's because, in the best poems we received, every detail is saturated with lived experience, and convincingly framed through technique. And in an era of carelessly automatic speech, words themselves are centrally valued. We also don't get 'bots': the experiences of these poems are always genuine. Those emotions can often be quite naïvely expressed, but the poems we have here are masterfully formed – to the extent, in fact, that we have not one but two intricately woven sequences of sonnets.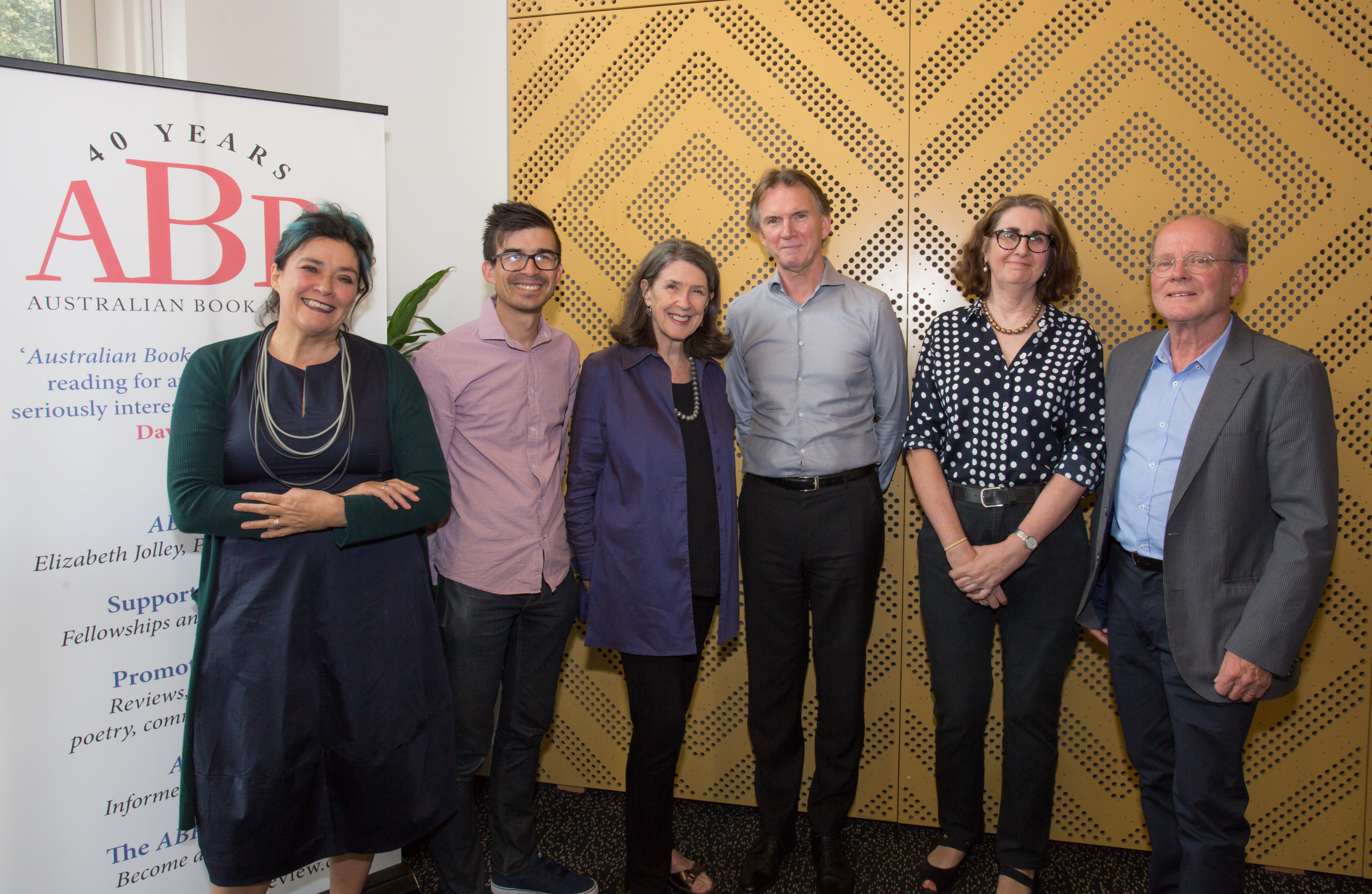 A. Frances Johnson, Lachlan Brown, Morag Fraser, Peter Rose, Julie Manning, and Ross Gillett at the 2020 Porter Prize ceremony. Claire G. Coleman was in Sydney and was represented by Jane Harrison (photograph by David Johns)
Claire G. Coleman's 'That Wadjela Tongue', the outstanding poem of many we received on Indigenous issues, is a protest poem, but one which is highly sophisticated in its structure and argument. As Philip Mead noted in his judge's comments, 'the poem is about English and the way it can be armed for protest, but with the consciousness of the loss of Noongar speech': it's a 'risky table-turning kind of rhetoric'.
Lachlan Brown's 'Precision Signs' also reverses expectations of language from within: in this case, it is utilising the specialised registers of internet memes and corporate-speak, ironically reshaping these around the traditional form of the sonnet.
Read in the wake of the nightly reporting of cruelties from the Aged Care Royal Commission, A. Frances Johnson's 'My Father's Thesaurus' couldn't seem more current, but this very moving evocation of caring for an ageing parent suffering from dementia is once again, as its title suggests, focused on language – as what Judith Wright called 'the human tool' for our orientation in the world, even in face of encroaching neurological deficit.
The beautifully written poem 'Constellation of Bees' by Julie Manning impressed all the judges with its attentive observational approach to the natural world: it's a didactic poem about bees (echoing the most famous didactic poem, Virgil's Georgics IV), but approached with a keen ecological consciousness, foregrounding the catastrophic effects of insecticide.
Finally, because you need one in these times, a love poem: but a very fresh one that makes us see a familiar coastal landscape in a new way: Ross Gillett's 'South Coast Sonnets'.
ABR subscribers can read the 2020 Peter Porter Poetry Prize shortlist here.