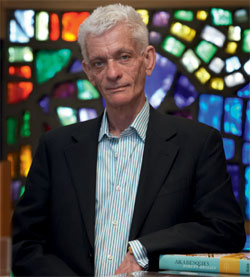 To Adelaide for the last day of Writers' Week, now an annual affair (ambitiously, some think) under the guidance of Laura Kroetsch (Director). Ms Kroetsch, an American, joins Adelaide from Wellington, where she ran the literary festival for many years. The removal of long-time director Rose Wight created some heat in certain quarters, but I didn't share the forebodings about what Ms Kroetsch might do to Writers' Week, now more than fifty years old, and still based in the Pioneer Women's Memorial Garden. Change was clearly overdue.
The weather was perfect, ideal for an outdoor literary jamboree. I liked the new configuration. Those cramped, airless, claustrophic white tents have been replaced by huge stylish blue shades, offering cover for most of the audience (though any unseasonable early-March rain will test this arrangement in future years). The sight-lines are much better, and there is now cross-ventilation. When there's a westerly there are minor noise problems, but today was fine. The plastic seats, all linked by cords, seem uncomfortably close, but I heard of ingenious methods to achieve a little distance. 'Would you like my scissors?' ladies were overheard asking their neighbours.
Word has it that publishers stayed away en masse. There wasn't a single party, a blow for the hedonists. But I suspect this is reparable.
While I waited for the midday session, I checked out the Imprints bookshop (further away from the stages this year, like the catering tent) and chatted to Peter Goldsworthy (Chair of the Advisory Committee). He told me about a rather mixed because acoustically challenged session on Tuesday night at the Adelaide Town Hall. Peter chaired a heavyweight line-up: Alan Hollinghurst, Dionne Brand, Caryl Phillips, and Les Murray. This year, pairs of signers appeared on stage during many of the sessions. On Tuesday night, someone moved one of the PA speakers to assist the signers. As a result half the audience couldn't hear properly.
Crowds were substantial, and writers such as Barbara Santich and Fiona McGregor drew large, attentive audiences. I wondered what was delaying George Megalogenis at midday until I realised I'd forgotten to adjust my watch (I must be rusty). Megalogenis, one of the stars of ABC TV's Insiders program, drew a capacity crowd. I was impressed by his crisp summaries of complex historical and political ideas. He was droll about the methodology in his new book, The Australian Moment, in which he invites the former prime ministers (Graham Freudenberg represents Gough Whitlam) to reflect on their successors' greatest achievements, notwithstanding their political affiliations.
I lunched al fresco with Claudia Hyles at Cath Kerry's reliably excellent Gallery Café. Claudia was in Jaipur recently during the recent festival. She writes about the Salman Rushdie brouhaha cum fiasco in our March issue ('A Big Tamasha').
Then I joined Robert Dessaix in the Green Room and we signed the necessary forms. Robert joked that they would get much more money for Jo Nesbo's signature than they would for ours. Mr Nesbo, of whom I'd never heard, comes from Norway. His crime novels sell in the hundreds of thousands, Robert informed me. The festival program describes him as 'among the very finest writers on the planet and certainly one of the most popular'.
Robert is always entertaining, even in a green room. He was amusing about one stellar guest from overseas who, in the lead-up to his own session, instructed his chairperson to go on stage ahead of him and generally 'warm up the audience' so that he could make an appropriately triumphant entrance – only to be informed that we don't do things like that in Australia – well, not in Adelaide anyway. Things apparently became quite tense, but they went onstage together.
Laura Kroetsch joined us, pleased with the way her first festival had gone, and possibly glad it was almost over. Robert's was the last session, but everyone had stayed for this repeat of the Seymour Biography Lecture, which he first delivered in Canberra in October 2011, soon after the heart attacks that nearly killed him in Sydney. A large crowd fanned around the raised platform. It was like a rock concert.
We met our two young female signers and wished them luck with the many foreign names sprinkled throughout Robert's lecture. Robert wondered how they would cope with Gogol. When he mentioned Bobchinsky and Dobschinky (characters in Gogol's The Government Inspector, who help to introduce some of the themes in Robert's Lecture), the signers asked it they could shorten to 'Bob' and 'Dob'.
Introducing Robert briefly, I spoke about ABR's involvement with the Seymour Biography Lecture and told the crowd that they could read this one in our April 2012 issue.
The Lecture was even better this time – tighter, funnier. The audience loved it, and there was an impressive silence in the closing minutes, when Robert comes full circle and speaks of wanting to 'push against the dark' in his writings – 'not just the dark that certain hidden selves were crouched in, but a more powerful dark, the dark that, as we grow older, we all feel stealing over us, blotting out inch by inch what we have loved and who we have been'. Slowly, quietly, clearly moved, he described the act of writing as 'an act of resistance against the mortal condition – not mortality, but the mortal condition'.
The audience was stirred too, with many on their feet. I've only seen two standing ovations at literary gatherings, and both were for Robert. The first was twenty years ago, after a speech of his at the Victorian Premier's Literary Awards.
After a long ovation, Laura Kroetsch briefly closed the festival and received flowers from a colleague. Robert went off to sign books, I chatted with UWA Publishing director Terri-ann White and former literary agent Frank Bryson, now based here (which I didn't know) and doing a PhD at Adelaide University. Terri-ann and I took Robert to the old Hyatt (not its name now) and we sat in the bar where Roddy meets publisher Julia Collis early in my novel Roddy Parr, which opens in Adelaide. Julia, flirting with the handsome barman, tells him how to make a Whisky Sour. 'Not too much eggwhite, handsome. We're not making a pav.' When I said much the same to our young barman, he proudly told me they don't use eggwhite in Whisky Sours. Someone in management must have read the novel.
Robert, buoyed by the response, was in excellent form. He told us about Raoul's extraordinary performance during the festival. He hadn't realised that Raoul is Chaplin's grandson. Raoul's artistry reduced him to tears. At the end he stood and applauded like everyone else – something he never does, almost on principle, he told us. I recalled a concert in Amsterdam in 1992 – an amazing Shostakovich Fifth from the visiting St Petersburg Philharmonic, under Mariss Jansons – when Robert was the only person – the only person – in the entire Concertgebuow who was not on his feet.
Robert's theatre-going is impressively catholic. In Melbourne recently he saw Mary Poppins. Next to him was a blind man with his guide dog. Robert said to the man that his was the first dog he'd even seen in a theatre. 'Oh, he loves musicals,' said the blind man.
Peter Rose
Editor
Australian Book Review