There is at least one bravura performance in Melbourne right now, and it warranted a much larger house than we saw last week (February 1), when Southbank Theatre was only half full. The Royal Shakespeare Company's production of William Shakespeare's long poem The Rape of Lucrece was first seen in Australia during the recent Sydney Festival, but it was premièred almost two years ago, at the Swan Theatre in Stratford-upon-Avon.
On a sharp triangular stage – mostly gloomy, sometimes lit, with tall, distressed pictures hanging on the walls – Camille O'Sullivan recites and sings most of the 1855 lines (the performance lasts eighty minutes). Irishman Feargal Murray, her sympathetic accompanist on piano, helped to adapt the poem for the stage; Elizabeth Freestone is the director.
O'Sullivan – part French, part Irish, a former architect and painter who now devotes much of her career to music – bounds onto the stage in a dark fascist overcoat and introduces the poem (rarely performed, rarely listed as one of Shakespeare's major works) so urgently and accessibly that it takes a moment before we recognise the verse. Lucrece (1594) and the earlier Venus and Adonis (1593) were conceived as a pair (both are dedicated to Henry Wriothesley, Earl of Southampton). The Lucrece stanza has an additional rhyme (ababbcc): Venus and Adonis is ababcc.
The scene itself, unlike that of the al fresco Venus and Adonis, is claustrophobic: a tent in 'the besieged Ardea' of the opening line. Brilliantly, with her excellent vocal resources, O'Sullivan introduces her three characters: the cavalier Collatine, who boasts of his wife's beauty and virtue, and rashly leaves her alone; the visiting Tarquin, who listens and resolves to have her; and Lucrece herself, 'Lucrece the chaste', a phrase which tells us everything until after the rape, when notions of honour and shame rouse her.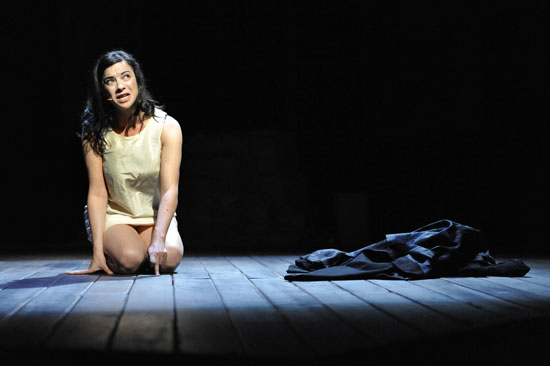 Camille O'Sullivan as Lucrece (photograph by Keith Pattison)
Tarquin's lengthy approach to the tent is most suspenseful (the lighting is deft), and the rape itself generates colossal tension; rarely is an audience so attentive, so respectful. O'Sullivan – throwing off Tarquin's brute coat and becoming the supine victim in her slip – conveys Lucrece's terror and outrage. When she sings the verses, as she often does, O'Sullivan's vast cabaret experience is evident; the voice is strong but flexible, and highly emotive.
Rape done, Tarquin ('this faultful lord of Rome'), sickly sated, makes his exit:
He like a thievish dog creeps sadly thence;
She like a wearied lamb lies panting there;
He scowls and hates himself for his offence;
She, desperate, with her nails her flesh doth tear;
He faintly flies, sweating with guilty fear;
She stays, exclaiming on the direful night;
He runs and chides his vanished, loathed delight.
Lucrece – left a 'hopeless castaway' – summons Collatine, intent on revenge, only to stab herself on his arrival, a cue to two of the most vivid stanzas in the poem:
Stone-still, astonished with this deadly deed,
Stood Collatine and all his lordly crew;
Till Lucrece's father that beholds her bleed,
Himself on her self-slaughtered body threw;
And from the purple fountain Brutus drew
The murderous knife and as it left the place,
Her blood, in pure revenge, held it in chase;

And bubbling from her breast, it doth divide
In two slow rivers, that the crimson blood
Circles her body in on every side,
Who like a late-sacked island vastly stood
Bare and unpeopled, in this fearful flood.
Some of her blood still pure and red remained,
And some looked black and that false Tarquin stained.
O'Sullivan – weary after this virtuoso reading and performance – is clearly moved at the end, as is the audience. No one interested in innovative theatre or Shakespeare's poetry should miss this unforgettable performance.
The Royal Shakespeare Company production of The Rape of the Lucrece is presented at the Sumner Theatre, Melbourne Theatre Company, 6–10 February 2013.