Anthony Lawrence is the winner of the 2022 Peter Porter Poetry Prize worth a total of $10,000. This was announced at an online ceremony on January 19.
Anthony receives $6,000 for his winning poem, 'In the Shadows of Our Heads', while the four other shortlisted poets – Chris Arnold, Dan Disney, Michael Farrell, and Debbie Lim – each receive $1,000. The full shortlist, including the winning poem, is available to read online and is published in the January–February issue of ABR.
This year's judges – Sarah Holland-Batt, Jaya Savige, and Anders Villani – shortlisted five poems from 1,328 entries, from 34 countries.
Congratulations to Anthony Lawrence and to all the poets shortlisted and longlisted in the 2022 Peter Porter Poetry Prize!
---
In their report the judges noted:
Brimming with surprise, supple, pitch-perfect imagery, linguistic energy and wit, 'In the Shadows of Our Heads' is a stunningly vibrant poem by a masterful technician at the top of his game. This unusual love poem revels in the unpredictability of those connections, intellectual and physical, forged between simpatico minds and damaged bodies across space and time. A vivid, potent reminder of love's dance of proximity and distance – at a time when these fundamental bases of human intimacy have been thrown into fraught relief – it is a work deftly attuned to our present moment.
---
In the Shadows of Our Heads



by Anthony Lawrence
I'd called the Humane Society to report the neglect
of a neighbour's dogs. A woman assured me there
would be an investigation, took my details, then asked
if I needed more assistance. I mentioned the flightless
swans of Malta, and she said Imagine, ten thousand years,
then added They were the size of the pygmy elephants
that also roamed the island. To test her liability
to respond in a capering manner, I described the pattern
of my sleep and how, after drinking Akvavit, my cells
become part of the dust of the Horse Head Nebula.
Your astral projection is world class, she said. I could
see a swivel chair, the noise-cancelling headset, a light
blue blouse embroidered with a hook or claw symbol,
the windows of light on her shoes. Are your projections
always so peregrinatory? I'm curious, as I sense I'm far
too fond of the regional. Satisfied, I felt compelled to ask
if Spring, in the mountains, had ever crossed her radar
as a good season and reason for marriage, but chose
instead to invite her for a drink. I don't date, but we
could drive, as long as you're partial to Elgar's
'Nimrod', anything by Wagner, and my minder, Karl,
who, depending on his mood, likes to follow at a clip
or respectful distance in his Beamer. I laughed. Alright,
she said, His name is Bob, he's either a serial tail-gater,
or he moves like a tortoise in his Triumph Mayflower.
On Sunday morning, her music darkening the speakers,
we passed the wreckage of housing estates, then onto
a road lined with trees that cast flickering lines
of light and shade like a view through the arrow-slit
of a zoetrope. We opened the past and found things
worth sharing. As a child she'd been orphaned when,
escaping a forest fire, the family car had come adrift
in smoke and driven off a bridge. She had lost an eye
and her spine had been broken. The monocular vision
and limp had ended her ribbon-floor exercise routine.
When we met, she had approached like someone
leaning into wind. I told her I'd stolen meteor samples
from an observatory on a school excursion. This had led
to frequent stealing, and when I said kleptomania,
I lowered my voice and concluded the confession
with the words illness, serial, and the eight-point-turn
of psychopharmacological. When we stopped for lunch,
I sat across from her by a river whose patchwork surface
she described as snake skins sewn haphazardly together.
I saw the glass eye, and she said Ocular. Three perfect
syllables, then they ruined everything with Prosthesis.
Her hand hovered briefly over mine before moving on.
I said nothing and she took a long time to answer it.
We discussed rescue dogs and how certain bats would
make good pets if only their bites weren't potentially
lethal, causing fever and delirium. At fifteen, she had
run away to live in a trilogy of Mervyn Peake novels.
I suggested we return via a pub where the Guinness
is collared velvet, the music live. As we stood, the flame
of a kingfisher fluttered on like a pilot light and went out
in the shadows of our heads.
_____________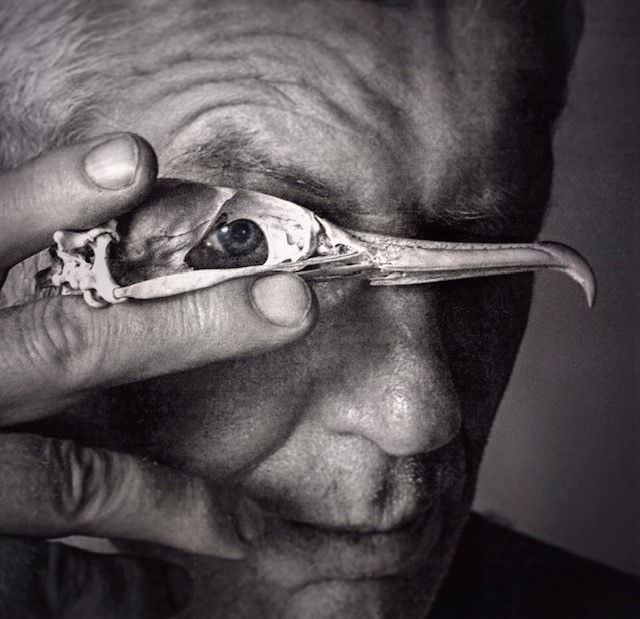 Anthony Lawrence has published sixteen books of poems, the most recent being Ken (Life Before Man, 2020). His books and individual poems have won a number of awards, including the Peter Porter Poetry Prize, the Prime Minister's Literary Award for Poetry, the Philip Hodgins Memorial Medal, and the Blake Poetry Prize. A new book of poems, Ordinary Time, a collaboration with the poet Audrey Molloy, is to be published in 2022. He teaches Creative Writing at Griffith University, Queensland, and lives on Moreton Bay.

---
Further information
The Peter Porter Poetry Prize is one of Australia's most prestigious poetry awards.
Subscribe to ABR to gain access to this issue online, plus the ABR archive.
Click here for more information about past winners.
We gratefully acknowledge the long-standing support of Morag Fraser AM and Andrew Taylor AM.