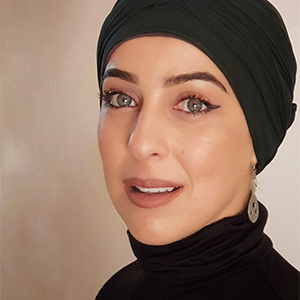 Australian Book Review is pleased to announce Sara M. Saleh as the winner of the 2021 Peter Porter Poetry Prize, worth $10,000, for their poem 'A Poetics of Fo(u)rgetting'. Sara receives $6,000, and each fellow shortlisted poet receives $1,000.
This year's judges – John Hawke, Lachlan Brown, A. Frances Johnson, and John Kinsella – shortlisted five poems from 1,329 entries, from 33 countries. The shortlisted poets were Danielle Blau (USA), Y.S. Lee (Canada), Jazz Money (NSW), Sara M. Saleh (NSW), and Raisa Tolchinsky (USA). To read the shortlisted poems, please click here.
At the event, A. Frances Johnson spoke on behalf of the judges:
It's a big pleasure to speak on behalf of my fellow judges: Lachlan Brown, John Hawke, and John Kinsella.

While I know we're all Zoom weary, I hope this summer ceremony is well timed, an antidote to yesterday's Invasion Day with its colonial ra-ra-ra and official eclipse of possibilities for national mourning: '… in the New World, happiness is enforced,' Peter Porter notably said.

I am speaking from unceded Gadabanud country at Cape Otway, population twenty-two – a villagey-sounding statistic but one that conceals the unspeakable loss that occurred with settler administrative determination to build a lighthouse in the mid to late 1840s. So, on the back of January 26th, I pay sombre and sincere respects to Gunditj Maar elders past, present and future.

In the year of pandemic, vile Trumpist trumpeting, and when disgraceful Australian politicians (many of them arts graduates) increased humanities course fees by 113%, poets did not lay down and rest. This year's huge volume of submissions – a bumper crop in the history of the Porter Prize – points to a renewed desire to contest the crushing political and bureaucratic language of our times. This upswing in poetic energy is reason for cheer. Peter Porter's witty definition of a poem applies more than ever: 'A poem is a form of refrigeration that stops language going bad'.

We congratulate all twelve longlistees, Australian and international. Unsurprisingly, themes of ruined ecologies and mortality feature. Many poems demonstrated great imaginative fealty with histories of language, poetry, and culture; these stood out, as did poems resisting easy closure, easy language fixes. Elsewhere, outstanding poems tackled themes of race, displacement, environment, and feminism, but without virtue-signalling or over-burdened visions of endtimes.

Determining the shortlist was the most difficult part of proceedings. Each longlisted poem was a potential winner. We read, re-read, and re-read some more. Happily, thoughtful, logical correspondences in our final judgements prevailed. I'll now talk briefly to the final shortlist of five.

Wiradjuri poet Jazz Money's 'bila: A river cycle' is an epically beautiful free-verse poem of bila and bilabang, rivers and riverine drybeds. This poem explores toxic poetics, linking it with the great postcolonial environmental writing of Alexis Wright, Oodgeroo, Lionel Fogarty, Jeanine Leane, and Tara June Winch. Both lamentation and reclamation, this poem reflects ancient and continuous Aboriginal ecological knowledge held within the sacredness of place. The poem's formal range moves from vernacular free verse to open-field poetic, and finally to language- and ecology-rich creation story. The poem concludes with images of resilience. Bila, all bila, survive, even if degraded.

'The poetics of fo(u)rgetting' by Arab-Australian poet Sara M. Saleh tells the story a resettled Lebanese refugee family from a daughter's point of view. 'I forget tradition,' the narrator opens, passing around a tray of sticky dates. Chewing and spitting back the date pits enables the women to 'break the dusk'. The poet deploys searing lines of diasporic alienation: 'I forget how our Lebanon made its way to Lakemba … We pretend not to notice, this neighborhood is an obituary'. The double shellshock of a family displaced by war is evoked with quiet pathos. But cultural observances mean one thing to the older generation and another to the next. These ruptures were sensitively observed across this lush, cinematic poem.

'Vernal equinox story' is a brilliant time-travelling language poem by American poet Danielle Blau. The poem's experimental heft and wildly imaginative ecocritical wit drive the poem home to a bodily coda ('we silt – we water & sand – we muck – we here – we filth – we / Matter. Yes. Behold!/ our forms!'). A marvellous collective incantatory voice informs this poem of vibrant matter. But the chant suggests that humans may not matter very much at all! If matter can be read backwards and forwards, so too can language, as with the palindrome. The poem and its palindromes evoke archaic superstitious language, but also a threatening absurdity, for the palindrome tribe belong nowhere. Blau's parodic language cleverly places words, humans, and time under pressure.

'Before dawn, with the Streetlamp's beam across your face' by American poet Raisa Tolchinsky may be a poem of the #MeToo Zeitgeist. This dramatic, unidealised depiction of a woman boxer has little to do with a two-dimensional Wonder Woman fighting her way through mean streets. The second-person vernacular boldly interpellates the reader. This voice is offset by a doubting inner monologue. 'You choose this don't you', the narrator opines. But seasoned by months of training, the protagonist asserts in quiet feminist desperation, 'Now you are not a girl walking through the park/but a myth of inbetween …', as if gender might be transcended. The imaging of the city, the grimy, macho gym and the protagonist's hardened transactions with casual sexism are variously vivid, ironic and visceral. The poem itself is a clever, moving fight, shadow boxing ideas of female assertion.

'Would you Rather' by Singaporean–Canadian poet Y.S. Lee is a moving work in which a parent figure, discussing their 'white passing kid' with a friend, reflects on the ways racism constrains identity: 'I squandered half my life in the quest / to be good …. / Later I grasped that good meant White. / By then my body was the shape of apology.' This poem splices dialogue and inner monologue to reveal intercultural and intergenerational complexities. The poem has a laudable wit and restraint, restraint itself being part of the 'tiny tragedy' of the poem, a metaphor for self-imposed invisibility. This poem moves us precisely because it deftly sums up an experience that is important for people who aren't from Anglo-Celtic backgrounds.

Congratulations again to all our featured poets. Your work was much admired and we, the judges, are still properly haunted by the many wonderful lines and images supporting and driving your ideas.

Thank you.
---
The five shortlisted poems were: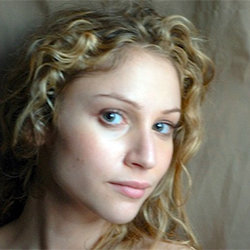 Danielle Blau's Rhyme or Reason: Poets, philosophers, and the problem of being here now is forthcoming from W.W. Norton. Her chapbook mere eye was selected for a Poetry Society of America Chapbook Award and published with an introduction by poet D.A. Powell, and her poems won first place in the multi-genre Narrative 30 Below Contest. Poetry, short stories, articles, and interviews by Blau appear in various publications. A graduate of Brown University with an honours degree in philosophy, and of New York University with an MFA in poetry, she curates and hosts the monthly Gavagai Music + Reading Series in Brooklyn, teaches at Hunter College in Manhattan, and lives in Queens. You can learn more about her at danielleblau.com.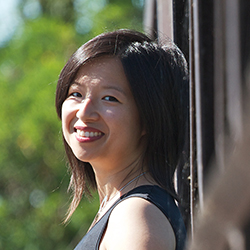 Y.S. Lee's fiction includes the young adult mystery series The Agency (Candlewick Press/Walker Books), which was translated into six languages and has either won or been shortlisted for various prizes. In July 2020, her poem 'Mr. T in Your Pocket' won Arc Poetry Magazine's monthly Award of Awesomeness. She lives in Kingston, Ontario, Canada, within traditional Anishinaabe and Haudenosaunee territory.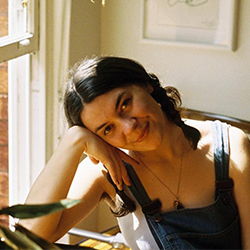 Jazz Money is a poet and filmmaker of Wiradjuri heritage, currently based on the beautiful sovereign lands of the Darug and Gundungurra nations. Her poetry has been published widely and reimagined as murals, installation, and film. Jazz is the 2020 winner of the David Unaipon Award from the State Library of Queensland, and her début collection of poetry is forthcoming from University of Queensland Press in 2021.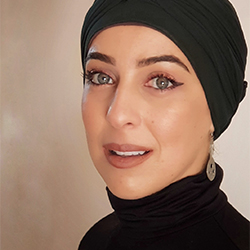 Sara M. Saleh is the daughter of migrants from Palestine, Egypt, and Lebanon, living and learning on Gadigal land. A human rights activist, community organiser, and campaigner for refugee rights and racial justice, she has spent over a decade in grassroots and international organisations in Australia and the Middle East. Her poetry and writing has been published in English and Arabic in various places. She is co-editor of the recently released anthology, Arab-Australian-Other: Stories on Race and Identity. She is currently developing her first novel as a recipient of the inaugural Affirm Press Mentorship for Sweatshop Western Sydney.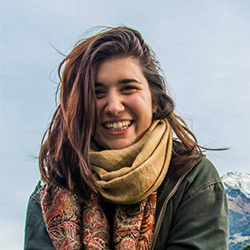 Raisa Tolchinsky is a poet, editor, and teacher. She has previously lived and worked in Chicago, New York, Italy, and Iceland, and she is trained as an amateur boxer. Raisa received her BA in English Literature and Italian Studies from Bowdoin College and the University of Bologna. Currently, Raisa is a Poe/Faulkner fellow in poetry at the University of Virginia. More of her work can be found at www.raisatolchinsky.com
---
Congratulations to the full longlist:
Danielle Blau (USA), 'The Vernal Equinox Story' – Shortlisted
Bonny Cassidy (Vic.), 'Title' – Longlisted
Suzanne Cleary (USA), 'For the Poet Who Writes to Me While Standing in Line at CVS, Waiting for His Mother's Prescription' – Longlisted
Justin Clemens (Vic.), 'Thus Spuke Zerothruster' – Longlisted
Kristen Lang (Tas.), 'framing the mirror' – Longlisted
Anthony Lawrence (QLD), 'Levitation' – Longlisted
Y.S. Lee (Canada), 'Would You Rather' – Shortlisted
Fiona Lynch (Vic.), 'The Audit' – Longlisted
Damen O'Brien (QLD), 'Carpool' – Longlisted
Jazz Money (NSW), 'bila, a river cycle' – Shortlisted
Sara M. Saleh (NSW), 'A Poetics of Fo(u)rgetting' – Shortlisted
Raisa Tolchinsky (USA), 'before dawn, with the street lamp's beam across your face'– Shortlisted
---
Click here for more information about past winners and to read their poems.
We gratefully acknowledge the long-standing support of Morag Fraser AM and Andrew Taylor AM.