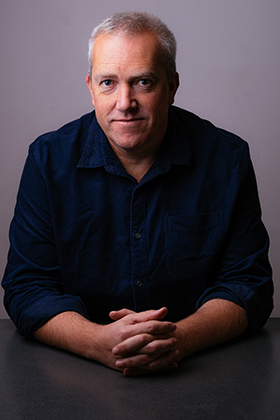 Michael Winkler (photograph by Chris Riordan)Michael Winkler is the winner of the 2016 Calibre Prize for an Outstanding Essay. The judges – Sophie Cunningham (winner of the 2015 Calibre Prize) and Peter Rose – chose Mr Winkler's essay 'The Great Red Whale' from a field of almost 200 entries submitted from thirteen different countries. Michael Winkler receives $5,000 and his essay appears in the June–July 2016 issue of ABR.
'The Great Red Whale' is an essay about fractures, overlaying the ruptures within the author's psyche with the fissure between Indigenous and non-Indigenous Australians, something he believes keeps us 'heartsore as a nation'. This excoriating yet remarkably subtle meditation is also a tribute to consolations: landscape, specifically the desert of Central Australia, and literature, notably Moby-Dick.
On learning that he had won the Calibre Prize, Michael Winkler – a Melbourne author – told Advances: 'Reading ABR every month gives me access to sophisticated and important ideas in accessible form. The Calibre Prize essays are not only an annual ABR highlight but notable events in our national life. I remember reading the first Calibre Prize-winning essay by Elisabeth Holdsworth (2007), her pungent masterwork about memory and return. I never see the name Slavoj Žižek without thinking of Kevin Brophy's astonishing account (2009) of living near an abusive neighbour. When I worked with children with autism, I sought insights from rereading Rachel Robertson's 'Reaching One Thousand' (2008). I feel simultaneously completely unworthy and utterly overjoyed to have any proximity to this stellar list of past winners.'
The judges have commended two other essays: Joshua Barnes's 'Terra Australis Incognita' and Sarah Viren's 'Dear Julie'.
This is the tenth Calibre Prize, which is intended to advance the essay form. We look forward to offering Calibre again in 2017.
Michael Winklers's winning essay is published in the June–July 2016 issue of ABR.

Click here to download the media release
Subscribe to ABR Online to gain access to this issue online, plus the ABR archive (containing all Calibre Prize essays published from 2011).
Click here for more information about past winners.
Click here for more information about the judges.
We gratefully acknowledge the generous support of Mr Colin Golvan QC.