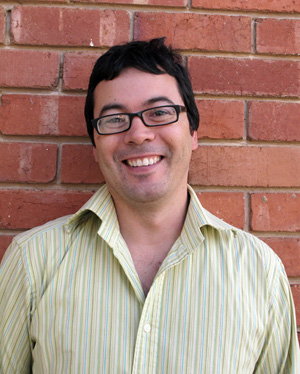 Patrick Allington was the recipient of the inaugural ABR Patrons' Fellowship, worth $5000. His novel, Figurehead (Black Inc. 2009) was longlisted for the Miles Franklin Literary Award. His short fiction and book criticism appears in Australian newspapers, magazines, and journals, including ABR.

The June 2011 issue of Australian Book Review includes Allington's major critique of the Miles Franklin Literary Award, 'What is Australia Anyway?: The Glorious Limitations of the Miles Franklin Literary Award'. This long, nuanced article examines the controversy surrounding the Award's dual terms: 'awarded for the Novel of the year which is of the highest literary merit and which must present Australian Life in any of its phases.'

Allington spent several weeks reflecting on the Award's history, strengths, quirks, and past controversies. Drawing on extensive research, including interviews with key writers and judges involved in the Award's fifty-four year history, Allington challenges notions of what makes a book sufficiently 'Australian' to fulfil the Award's criteria, and discovers that the 'line between ineligible and eligible is increasingly nebulous and subject to case-by-case examination'.
'To be a true believer in 2011, I believe, involves recognising how diverse Australian literature has become, but not in a way that avoids or simplifies the debate about what our best books are ...'

This provocative essay casts the nation's most prestigious prize for novelists in a new light.
READ 'What is Australia Anyway?: The Glorious Limitations of the Miles Franklin Literary Award'
Some of the writers interviewed
David Malouf, Brian Castro, Peter Carey, Delia Falconer, Nicholas Jose, and Christopher Koch.
Some of the novels examined
Christopher Koch's The Year of Living Dangerously (1979), Frank Moorhouse's Grand Days (1994), Elizabeth Jolley's The Georges' Wife (1994), Delia Falconer's The Lost Thoughts of Soldiers (2006), Peter Carey's Parrot and Olivier in America (2010), Steven Amsterdam'sThings We Didn't See Coming (2010), and Jon Bauer's Rocks in the Belly (2011).
About the ABR Patrons' Fellowship
The Fellowship scheme is intended to reward outstanding Australian writers, to enhance ABR through the publication of major works of literary journalism, and to advance the magazine's commitment to critical debates and literary values.
The ABR Patrons' Fellowship is funded by our Patrons. We gratefully acknowledge the generosity of our Patrons, who have supported the magazine through tax-deductible donations of $250 or more.
These donations are vital for the magazine's future.
'The best journal of words and ideas. Supporters can be proud of their judgement.'
John Bryson, author and ABR Patron