Theatre
Things I Know To Be True (State Theatre Company of South Australia and Frantic Assembly) ★★★★
At least as far back as 2002, playwright Andrew Bovell was advocating for more diversity on Australia's main stages: 'I see the same actors,' he told Hilary Glow in an interview for her book Power Plays (2007), '[and] they are invariably white and Anglo-Saxon, and I am not satisfied with that as a portrayal of our culture.'
Fourteen years later, in his new play – his first original stage work, discounting his adaptation of Kate Grenville's The Secret River for the 2013 Sydney Festival, since When the Rain Stops Falling (2008) – one more predominately white, Anglo-Saxon family populates the stage.
To note this is not to indulge in snarkiness, nor to single out Bovell from his peers, but to lament the enduring gulf between words and actions that characterises the dearth of cultural and ethnic diversity on Australian stages. You would be hard-pressed to find a playwright – or director or critic for that matter –in Australia who would disavow the need for greater plurality of faces and bodies in our theatre. But there they are again, you think as the house lights go down and another group of white, middle-class characters enumerate their familiar woes. Nobody's really to blame, you think, and anyway it's a universal story so it applies to everybody, no matter where they come from, or what they look like.
You tell yourself all this, half-believing it, half-numb with the wish that everybody would stop talking about diversity and just start bloody doing it. Then the play snaps you out of it like a happy dream flooding into a nightmare (or should that be the other way about?). It's good. It's really good. Of course it is – Bovell is unquestionably one of our best writers for the stage, an architect whose impeccably wrought plays hum with truth and compassion, shadowed by the melancholia of regret and stifled feeling. In their unsparing, darkly glossed domestic detail and psychological focus, they reproduce for the stage the impression left by the paintings of Edward Hopper and photographs of Gregory Crewdson (a debt acknowledged by Bovell in his program note). You would say he achieves these things with the close precision of a surgeon wielding a scalpel, except that there is nothing, even at its bitterest, remotely steely about the way Bovell writes – always with warmth, and generously rather than exactingly – and more consistently than almost any other living Australian playwright; with Things I Know To Be True, you might even say more fully than in any play he has written to date.
It begins, more or less, with twenty-five-year-old Rosie Price (Tilda Cobham-Hervey) alone on a train station platform in Berlin. A boy has broken her heart, and she is returning home to her family in Adelaide's southern suburbs. 'Instead of falling apart,' she says, 'I make a list of things I know to be true.' Rosie is young and naïve; the list, she bemoans, is not very long. She may have travelled halfway around the world on her own, but she has a lot of maturing to do, and, as it turns out, quickly: on her return, each of her three siblings has a bombshell to drop, and it's not at all clear that the relationship of Rosie's parents – bored retiree and worn-out nurse and matriarch – will survive the rain of shrapnel.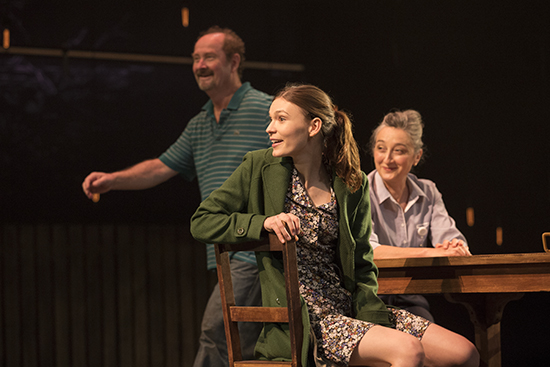 Tilda Cobham-Hervey, Paul Blackwell, and Eugenia Fragos in Things I Know To Be True (photograph by Shane Reid)
After her opening monologue, Rosie, sensitively portrayed in this production by screen actor Tilda Cobham-Hervey, is defocused for much of the rest of the play, her parents Bob (Paul Blackwell) and Fran (Eugenia Fragos) shifting to the foreground. Joint directors Geordie Brookman and Scott Graham elicit huge performances from both, copiously alive in their complexity and heart. Of the other players, Georgia Adamson as Rosie's older sister Pip – desperate not to re-enact what she sees as her mother's resignation to a compromised, unhappy life – is the stand-out. As the more thinly drawn brothers Ben and Mark, an unscrupulous investment banker and the family's deeply conflicted black sheep respectively, Nathan O'Keefe and Tim Walter are solid.
With the exception of the ingénue-like Rosie, there is nothing especially likeable about any of the Prices – they all exhibit the same infuriating, paradoxical blend of self-centeredness and lack of self-awareness – but each one lives and breathes, and that's enough. Overly neat and faintly implausible when lined up like ducks in a sideshow though they may be, their personal crises exert an irresistible emotional pull, especially in the play's second, authentically cathartic second half. Bovell's themes – how to move on in the face of vicious disappointment, the search for meaning and place inside and out of families that never stop changing – snake out of these mini-tragedies and wrap around you, drawing you inexorably in even as they squeeze the breath out of you. Some will, perhaps correctly, baulk at their issue du jour quality, but dry eyes were few and far between on opening night.
The play is well served by Geoff Cobham's set and lighting design, which strips away the Playhouse stage's wings to create a vertiginous, near-edgeless space that in its economy focuses the mind on Bovell's interiorised world. Its exaggerated white picket fence and slashes of neon evoke Crewdson's hyperreal suburbia. Nils Frahm's music, gorgeous and gossamer, swirls above it all, its rhythmic, looping prepared piano as affecting as anything in Brookman and Graham's restrained but incisive production. Graham's company, the UK-based, co-commissioning Frantic Assembly, makes its presence felt through subtle physical theatre flourishes that, while unobtrusive and occasionally fine-looking, are dramaturgically superfluous.
So the wait goes on for Bovell's long-dreamed of diverse Australian main stage. It is easy to forget all about it when faced with a play as riveting and well-crafted as this one. Maybe this is the real danger: that we get so good at telling these kinds of stories – white, Anglo-Saxon, middle-class – that the thought simply never occurs to us that they might not speak to everybody, that the character's faces might not look like those we see every day in our streets and parks and shopping malls. This is always our burden, it seems, just never our problem. Maybe next time.
Things I Know To Be True, written by Andrew Bovell and directed by Geordie Brookman and Scott Graham, is presented by the State Theatre Company of South Australia and Frantic Assembly. The production continues at the Dunstan Playhouse until 4 June 2016, and then tours to London and regional UK with a British cast. Performance attended: 17 May.
Arts Update is generously supported by the Ian Potter Foundation