Opera
Aida (Opera Australia) and Madama Butterfly (Opera Australia)
Aida (

) is one of the great contradictory operas: grandiose in effect yet intimate in emotional content. How such an imperial chamber piece would translate onto a harbour in front of thousands of people and sundry camels remained to be seen. It was an ambitious but possibly inevitable choice for the fourth of the Handa Operas on Sydney Harbour, presented by Opera Australia.
Aida was Giuseppe Verdi's first opera after Don Carlos (1867). The gestation was unusual: it's not every day that a Khedive commissions an opera. This was to mark the opening of the Suez Canal and the Cairo Opera House (though the première followed both these milestones). The Khedive of Egypt wanted Verdi; but would have settled on Gounod or Wagner, in that order. Verdi, soon persuaded, wrote the opera in four months. Antonio Ghislanzoni based his libretto on a draft by Camille du Locle (the librettist of Don Carlos), which was in turn based on a story by French Egyptologist Auguste Mariette. Verdi, single-minded as ever, knew how to get what he wanted, and, in the words of the great Australian Verdian, Charles Osborne: '[Ghislanzoni] was the kind of librettist Verdi liked; the kind he could bully.' Verdi was not in Cairo for the première on 24 December 1871, but he directed the triumphant La Scala production that followed. Of all his operas, it is one of the most popular.
Gale Edwards, directing the Handa opera, had suggested that this would be one of Opera Australia's most political productions. At times the politics on the vast, temporary stage were hard to determine and of the James Bond variety (full of postures and AK47s). But camp is a cause and has its acolytes. The costumes (ranging from black suits to Hellenic shifts to crinoline to Carmen Miranda-like garb) were bewildering, and the general concept nebulous in the extreme. Intimate moments were marred by the ubiquitous strutting supernumeraries, none more so than in Amonasro's long scene with Aida (one of the greatest moments in Italian opera) when Amonasro forces (usually in conditions of great secrecy) Aida to inveigle her lover, Radamès, into betraying his country.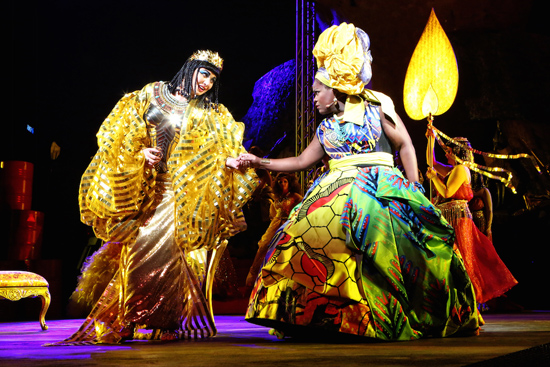 Milijana Nikolic as Amneris and Latonia Moore as Aida in Handa Opera on Sydney Harbour - Aida (photograph by Prudence Upton)
There was much colour, much ostentation, on the wide stage. Some audiences will enjoy the opulence (members of this one duly applauded the fireworks that followed the Triumphal March); others will miss the moral and emotional intensities of Verdi's antepenultimate opera.
In a remarkable excision, the opening bars of the final scene (when the condemned Radamès broods in his crypt) went missing, which neutered Radamès's appalled discovery that Aida elects to die with him and joins him in the crypt. It is a brave production that cuts some of Verdi's most expressive and deliberate music.
The singing was varied. Walter Fraccaro (Ramadès) was not in good voice. He rallied for the final moments of the excruciatingly demanding 'Celeste Aida', and he held his high notes with the same tenacity that characterised some of the other performances, but the recitatives were very uncertain in pitch, and Fraccaro's singing in the big duet with Aida in Act III was very unfortunate.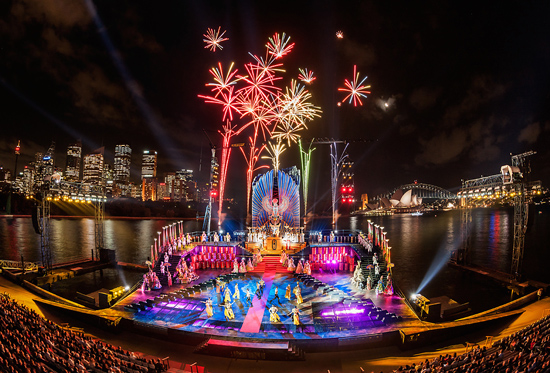 Handa Opera on Sydney Harbour - Aida (photograph by Hamilton Lund)
Happily, the two women were in brilliant form. Latonia Moore (Aida), bringing pathos and vulnerability to the role of Amneris's slave, sang beautifully throughout, with a glorious tone and subtle shadings. The soaring, prayer-like 'O patria mia' was wonderfully done, and her singing in the incomparable duet that closes the opera ('O terra addio') was truly refined. The most exciting moment came during the finale to Act II, when Moore interpolated a high note in 'Gloria all' Egitto' – not quite as phenomenal as Maria Callas's top E-Flat in Mexico City in 1951, but thrilling nonetheless.
Milijana Nikolic (Amneris) was in magnificent vocal form all night, and her portrayal of Radamès's fanatical admirer (one of Verdi's finest mezzo-characters) was inspired throughout, especially during the first scene of Act IV.
Latonia Moora and Milijana Nikolic will return for Opera Australia's new production of Don Carlos, opposite Diego Torre in the title role and José Carbó/Ferruccio Furlanetto as Philip II – a production that no lover of Italian opera should miss when it opens in Melbourne in May and moves to Sydney in July.
It was a perfect night for the première, relatively windless; but the amplification, it must be said, was worrying. It was far too pronounced in section H, where Arts Update was seated. Any comments on the orchestra must, as a consequence, be cautious.
Clearly, the Handa operas are here to stay: this one will be performed twenty-six times before it closes on 26 April.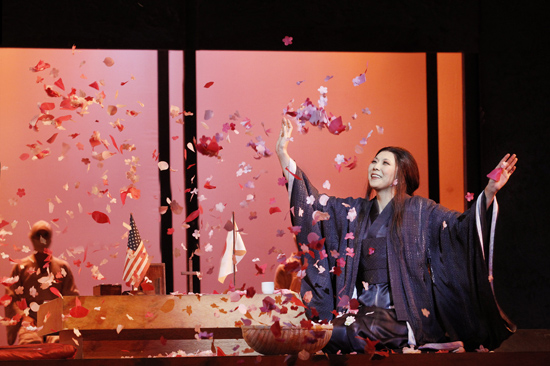 Hiromi Omura as Cio-Cio-San in Opera Australia's Madama Butterfly (photograph by Jeff Busby)
The following night, Arts Update returned to the Joan Sutherland Theatre for the final performance in a long run of Madama Butterfly (

) (twenty-three performances since late February). We are by now very familiar with Moffatt Oxenbould's intelligent and stylised production, which dates back to 1997; it must be one of the most bankable things in OA's current repertoire.
Arts Update was there mainly for the auspicious pairing of Hiromi Omura and Diego Torre. Neither of them disappointed: this was an evening of emotive singing in the grand style. Omura has performed the role of Cio-Cio-San many times around the world. She did so beautifully in Melbourne three years ago, but this Sydney performance was even greater: alive to every nuance, worthy of Puccini's countless melodies, and utterly at ease in making the transition from the fifteen-year-old dupe to the eighteen-year-old desperado. Omura was at her best in the duet, 'Un bel dì', the great scene with Sharpless (Barry Ryan), the balletic dream scene, and the long ceremonial suicide when all is lost. As the lights went up at the end, most of the audience gave Omura that rarest of things, a spontaneous standing ovation. It was a triumphant performance.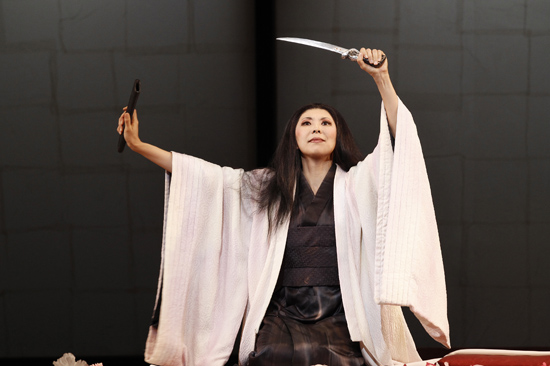 Hiromi Omura as Cio-Cio-San in Opera Australia's Madama Butterfly (photograph by Jeff Busby)
Diego Torre, following his brilliant Cavaradossi in Melbourne, was in lustrous voice. This was probably his most assured dramatic performance for the company. The glorious duets with, first, Sharpless, then Butterfly were memorable.
Barry Ryan, Sian Pendry (Suzuki), and Samuel Dundas (Yamadori) have sung these roles many times, as during the 2012 Melbourne season. Suzuki can be a coiled and deferential character, but Pendry brought real humanity and anguish to the role, and she was in magnificent voice. Dundas was moving as the love-sick, bedizened suitor.
The Australian Opera Orchestra, conducted by Anthony Legge, played superbly.
Aida, directed by Gale Edwards, for Opera Australia. Performances continue on Sydney Harbour until 26 April 2015. Performance attended 27 March.
Madama Butterfly, directed by Moffatt Oxenbould for Opera Australia. This season at the Joan Sutherland Theatre, Sydney Opera House, ran from 25 February to 28 March 2015. The production moves to Arts Centre Melbourne on 4 May 2015. Performance attended 28 March.
Arts Update is generously supported by The Ian Potter Foundation.