Theatre
Maureen: Harbinger of Death
Myth and memory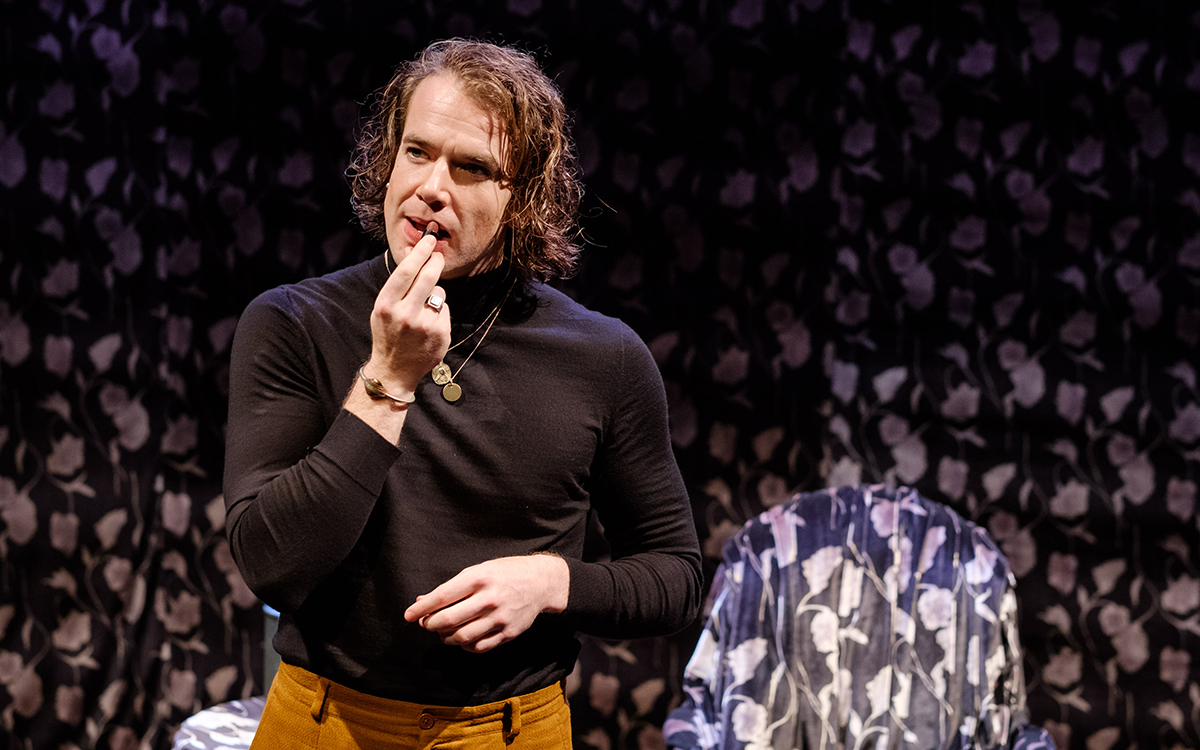 Early on in Jonny Hawkins's Maureen: Harbinger of Death, Maureen invites an audience member to light her cigarette. The man she chooses, like most audience participants, hesitates. She beckons him with a wry smile. As he wanders on stage, she immediately notices his bare face. She presents him with a mask – coordinated perfectly to the colour of her room and attire – and remarks: 'He has a chin that could have sunk the Titanic.'
It's a vintage reference, teasingly flirtatious – characteristic of the eponymous centre of this one-person show. With lacey threads of smoke creeping up from her cigarette, she strikes an arresting tableau: the 'middle class glamour queen' of Sydney's Kings Cross. In her mid-eighties, she refuses to be relegated to the obscurity that so often characterises our treatment of the elderly. She demands attention. As the now masked participant retreats to his seat, the theatre fills with the distinct smell of her herbal cigarettes. Some audience members in the front row, maskless, begin to cough.
There was a stage in the pandemic when people seemed anxious to nominate the piece of theatre that would speak best to our Covidic experience. Now you'd be hard-pressed to find any stage interested in commissioning a mask-wearing character study or lockdown-centred plot. 'What kind of works do [producers] believe audiences will want to see?' asked theatre critic Tim Byrne in ABR in April 2021. Even Byrne could not have predicted the lockdowns that would follow his essay. The prospect of seeing pandemic experience represented on stage is enough to make us roll our eyes and run. Yet this recent history haunts theatres and theatre-goers all the same. And so, when a young man offers an ageing woman a cigarette from behind a mask, we might remember locked nursing homes, our isolated elderly, and visitations marred by PPE and the fear that a tickle in the lungs could be more than smoke induced.
It has been over a year since Jonny Hawkin's Maureen: Harbinger of Death was last performed at the Sydney Festival, and nearly three since it premièred as part of Jackrabbit Theatre's Hijacked season at Kings Cross Theatre. Its performance history straddles both sides of the pandemic and, within that, numerous snap lockdowns. With co-creator and director Nell Raney, it arrives at Malthouse's Beckett Theatre as part of Rising Festival – itself back after last year's cancellation – with the weight of these years on its shoulders.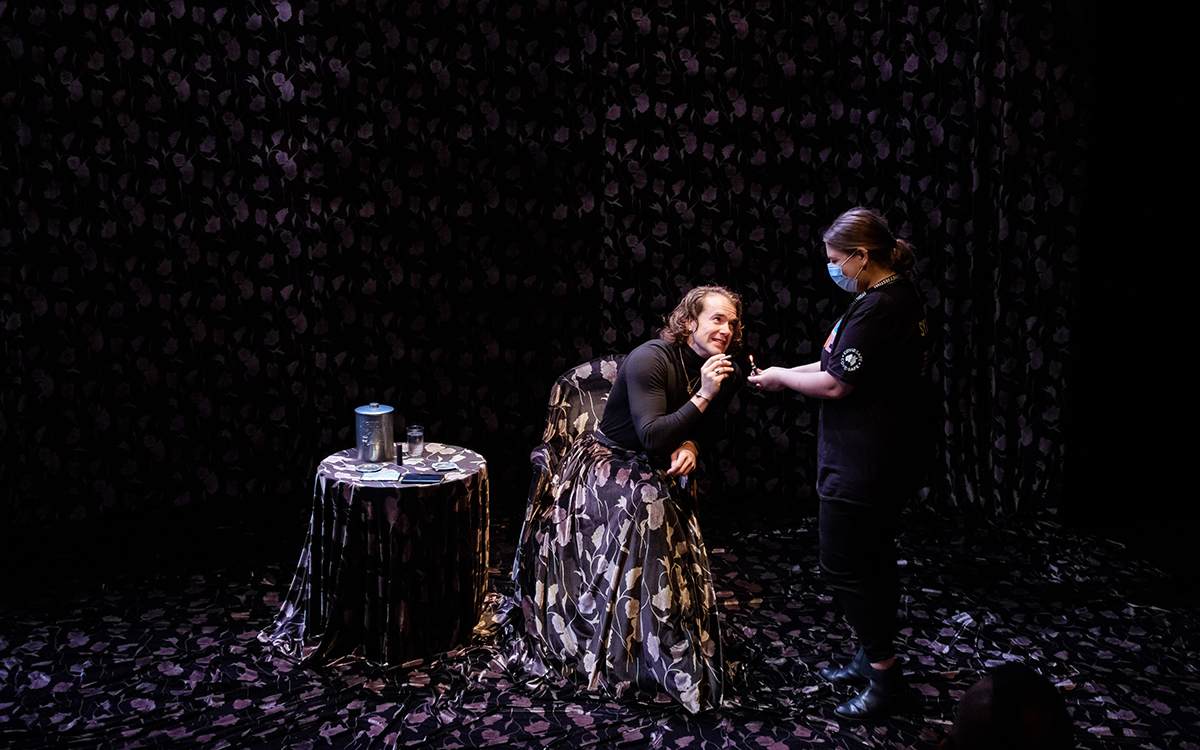 Jonny Hawkins as Maureen in Maureen: Harbinger of Death (photo credit: Clare Hawley)
We're in an apartment in Sydney's Kings Cross. Maureen (Jonny Hawkins) sits on a chair draped in rose-dappled velvet matching her skirt. The curtains fall to the ground to become a ruffled carpet bearing similar gold foliage. 'I am my things,' Maureen tells us, reaching for an ornamental cigarette lighter with a shaking hand. That designer Isabel Hudson evokes the depths of this enigmatic matriarch with minimal set and costume is testament to the incredible care she takes in her choices. This is Maureen's world drawn with depth and subtlety, and we are transported into it almost instantly. Hawkins handles each item with the care one might afford a spiritual totem. When the show begins, they don Maureen's necklace, earrings, and red lipstick with the measured movements of a religious ceremony. It's a knowingly metatheatrical flourish, the kind of stylistic embellishment that Maureen demands of those remembering her. Hawkins's performance is masterful. My temptation to write of Maureen as if she existed independently of their rendering of her is testament to the effectiveness of their subtle changes in physicality, tone, and cadence.
For the next seventy-five minutes, we watch Hawkins transform into Maureen as she remembers those she has lost. Maureen has earned her mythic title by successfully predicting the time of death of many of her friends. A notebook containing her predictions beneath a title that reads 'The Farewell Tour' is passed around the audience. For every name on it there is a story, and as audiences read them out, Maureen evokes memories with vivid detail. There's Tenille with 'cheekbones you'd pay entry to see'; Bunny who falls into the arms of a shirtless Hugh Jackman amid a heart attack; and Dennis, who faces a fatal AIDS diagnosis with the declaration to Maureen: 'stay away from my stuff, you bitch!' It's a queer community lovingly rendered, and Hawkins's writing, while dense, is clearly anchored by intimate knowledge. When Maureen is struck by bouts of forgetfulness, her incoherent, even surreal, tangents offer glimpses into a complex inner life. Every image or nonsensical titbit bears the weight of specific memories, even if Maureen is increasingly unable to name them. There is a tragic clarity afforded audience members; we are offered ways to remember a character who is beginning to forget.
Lighting and sound are minimalistic. The lights, by Nick Schlieper, favour gradual transitions and Steve Toulmin's sound design is used sparingly, though to great effect. Together, they represent the similarly slow-moving restraint that characterises Maureen's body language. The individual elements in this production converge to mark the stage in Maureen's likeness just as the curtains bear the roses on her skirt. The production team works together so effectively to ensure that each element strengthens our knowledge of this character. The show's tragic end depends on its ability to foster such familiarity from all sides.
This year, more people have died in Australia from COVID-19 than was the case in 2020–21. For Americans sixty-five years and older, the Omicron Wave was more fatal than any preceding strain. These facts may have lost their sting following two years of statistical glut. 'We are fatigued by our own fatigue,' writes Marion Renault. 'We are deadened to death itself.' Maureen: Harbinger of Death is a show that refuses the anonymity afforded by purely statistical accounts of life, and of lives lost. In a leatherbound notebook full of names, an ageing queen of Kings Cross remembers 'the thing, the truth, the story that surrounds them'. There are incredible depths behind names and numbers; vivid and complicated lives just beneath the surface. Maureen demands we remember them. These lives are mythic, and like any myth, attention must be paid; mournfully, perhaps, but attention nonetheless.
To a Maureen of my own: Marie Bourke. A name worthy of myth.
---
Maureen: Harbinger of Death is being performed at the Malthouse Theatre in Melbourne from 1–12 June. Performance attended: 1 June.
This article is generously supported by the Copyright Agency's Cultural Fund.