Opera
Orontea
A brisk serving of baroque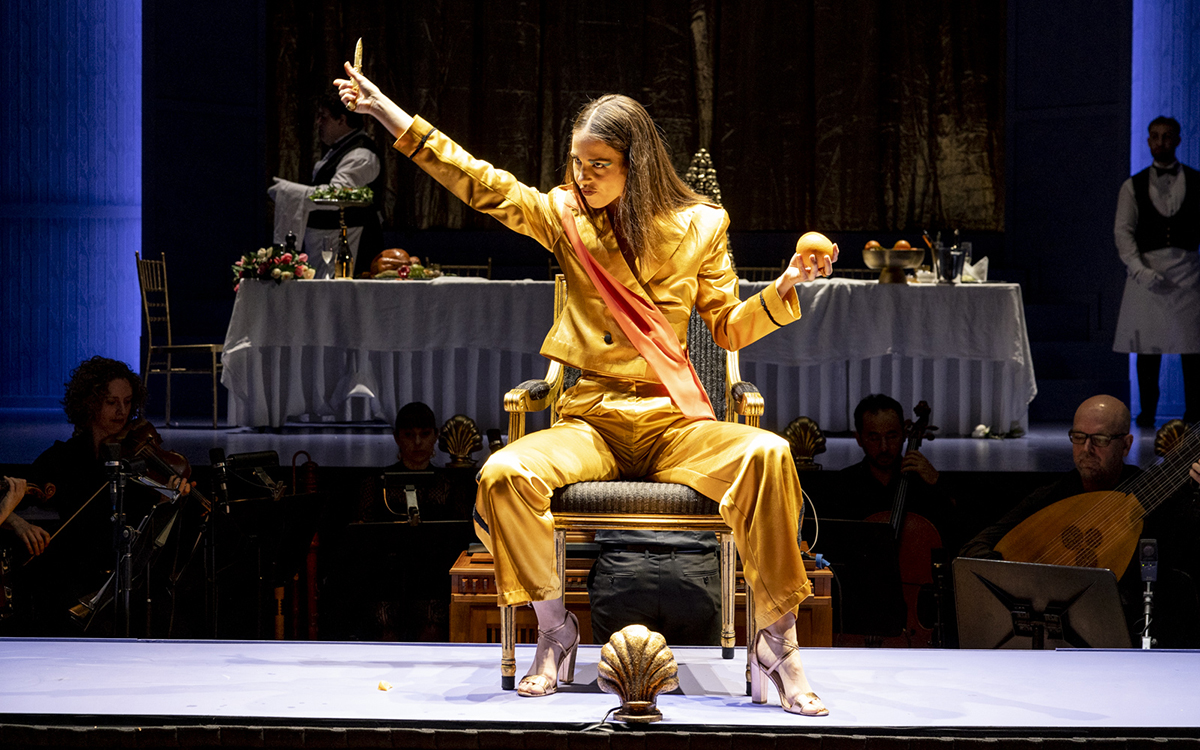 Antonio Cesti and Giacinto Cicognini's frisky opera, Orontea, begins with an argument between philosophy and love as to who is the stronger. Love heads off to Egypt to create havoc chez the Egyptian Queen Orontea, but at her steamy court the contest seems to be more between the opposing delights of lust and alcohol. Orontea's determination to remain a virgin queen dedicated to her subjects quickly crumbles on the sudden appearance of the painter Alidoro, a man who, it appears, has the ability to reduce any woman he meets to jelly in a way that would send Don Giovanni into paroxysms of jealousy. Every woman, that is, except for the ageing Aristea, who claims to be his mother and who, in turn, has the hots for the pretty young boy Ismero, who is in fact the girl Giacinta. How different, how very different, from the home life of our own dear queen.
Cesti's life was in many ways as dramatic as his operas. He was born into a poor family in 1623, and his musical abilities were discovered and fostered by the church. He joined the Franciscans, thereby setting up a struggle with church authorities that lasted his whole career. Gifted with a superb tenor voice, he both sang in and composed operas while conducting open affairs with various singers, all of which infuriated his superiors. It was only through the protection of powerful patrons that he managed to stay out of trouble. One of these patrons was the operamane Archduke Ferdinand Karl, who lured Cesti to Innsbruck, where Orontea had its first performance in 1656, going on to become one of the most successful works of its era.
At a time when most operas concerned themselves with gods, goddesses, and mythical heroes, Orontea was unusual in that it presented a mix of characters from differing social backgrounds. In addition to the four already mentioned, Cicognini introduces the young courtiers Corindo and Silantra, who fall in and out of love with each other with alarming alacrity. Creonte, the court philosopher, vainly attempts to control the chaos, while the servant Gelone lurches from bottle to bottle, occasionally accompanied by the page Tibrino.
Unlike the static nature of many works of the period, Orontea scampers along energetically. Too often with operas of the seventeenth and eighteenth centuries one staggers across vast deserts of recitative only occasionally being refreshed by the odd oases of arias. But Cesti's inventive settings of Cicognini's amusing libretto keep things moving at a cracking pace and they positively race through the culminating revelations that lead to the inevitable lieto-fine.
Judiciously, Erin Helyard has pruned the opera to a length acceptable to modern audiences and has added music from other composers. This is absolutely in accord with the conventions of the time. There exists a note from Cesti to the impresario Marco Faustini in which he gives Faustini suggestions as to whom to approach 'should it be necessary to delete, add, change or do anything else with the music'.
Once again Pinchgut has assembled a uniformly strong cast. Anna Dowsley is a suitably regal Orontea. She makes the character both strong and vulnerable, and sings her famous aria 'Intorno all'idol mio' with such tenderness and glorious tone as to make it a highlight of the evening.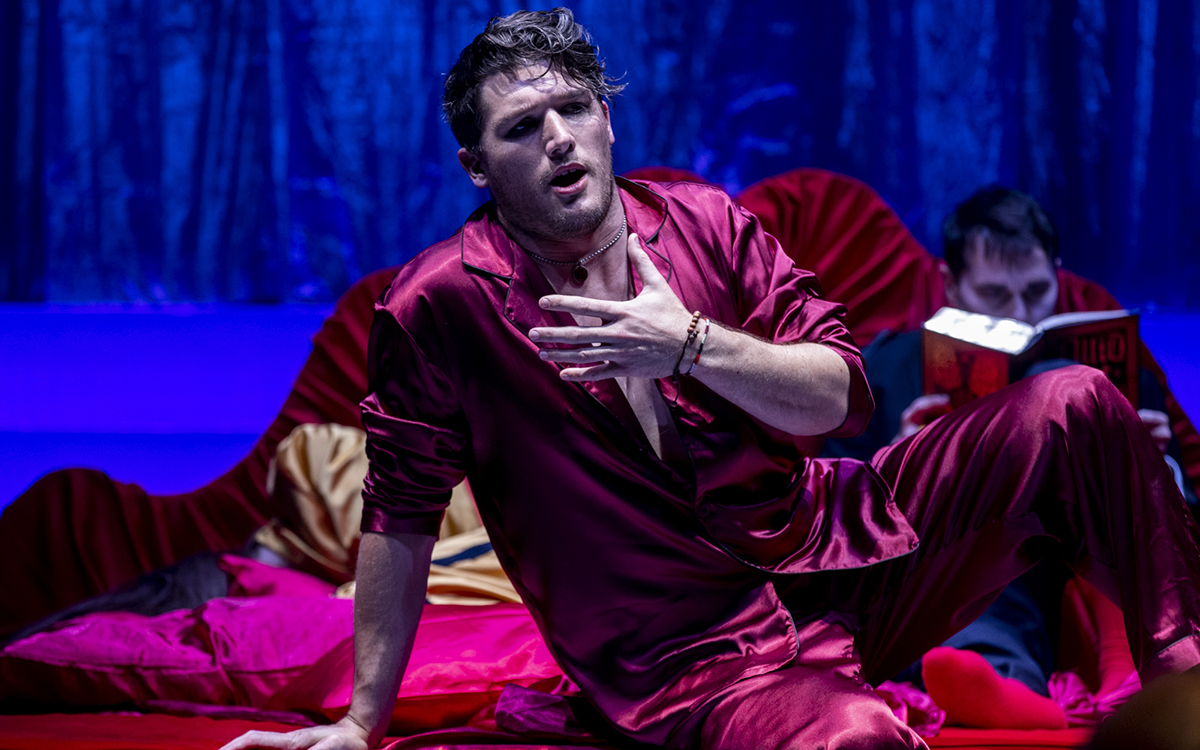 Jonanthan Abernethy as Alidoro (photo credit: Brett Boardman)
Jonathan Abernethy plays Alidoro with a jaunty, energetic charm which somewhat alleviates the fact that the painter is a cynical opportunist willing to use his physical appeal to benefit himself. His honeyed singing to Silantra as he paints her portrait makes her jettisoning of Corindo, which Sofia Troncoso announces in a decisive version of her aria 'Addio, Corindo', understandable. Douglas Kelly's Corindo, less romantically adaptable than the others, sings his lament 'O Cielo' with a beautiful, hushed melancholy.
The pleasures of alcohol are enthusiastically proclaimed by Gelone. Since Helyard has based this performance on the Roman versions of the score and not the Cambridge one, Gelone is here performed by the bass Andrew O'Connor, thus avoiding the necessity of finding a bass-alla-batarda who could sing in both the bass and alto ranges. O'Connor at first seemed a bit vocally underpowered, but once sung in he made the most of a role considered to be the first basso buffo in the history of opera.
Director Constantine Costi's determination to keep things moving has generated an inventive production that would work better if he had allowed for more moments when the piece was permitted to speak for itself. Still it is better to have a slightly overactive production than the concert in costume versions to which operas of this period used to be condemned.
Jeremy Allen's colourful sets allow for some spectacular moments, but perhaps it's time for Pinchgut to declare a moratorium on banqueting tables, which feature so prominently in their productions.
Pinchgut has developed over the years a strong commitment to the performers who appear with the company regularly and it is both moving and appropriate that these performances are dedicated to the memory of that wonderful singer Max Riebl.
---
Orontea (Pinchgut Opera) is being performed at City Recital Hall, Sydney until 1 June 2022. Performance attended: 26 May.
Correction: In the original version, we incorrectly listed Geronte rather than Gelone (sung by Andrew O'Connor).