Theatre
The Sound Inside
Textual healing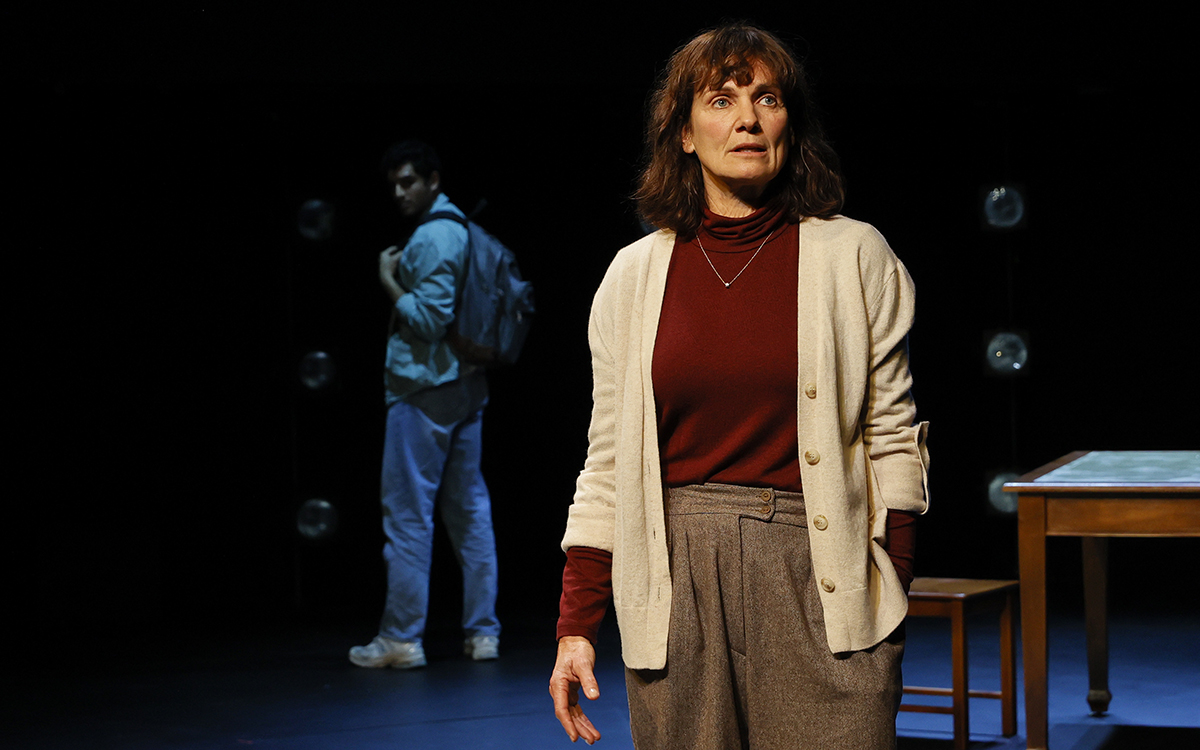 On paper, American playwright Adam Rapp's The Sound Inside is an intriguing piece of writing. Bella Baird, a professor of creative writing at Yale University, 'emerges from the darkness' onto a nondescript stage and introduces herself. She speaks in the 'heavily embroidered, figurative' sentences that she dissuades her students from using, a liberty she allows herself standing here, alone in a park, '[talking] things out'.
Bella reveals the particulars of her life – that she is fifty-three-years old, unmarried and childless. She lives a reasonably healthy life, apart from 'a bottle of red wine now and then' and an occasional 'six-ounce fillet' from a local steakhouse. She loves books, both the physical objects (she collects first editions) and the words within them. Three of her own books have been published, the last, a novel, almost twenty years ago. She has just been diagnosed with cancer.
Introduction over, we move to Bella's office. She explains that the first novel her students study is a particular translation of Dostoevsky's Crime and Punishment. What she wants the class to glean from the novel is how Dostoevsky 'renders his anti-hero', Raskolnikov. When the class analyses the scene where Raskolnikov murders two women to position himself among Nietzsche's 'extraordinary men', one of Bella's students, Christopher Dunn, offers his first unsolicited contribution. One day, he says, 'I'm going to write a moment like that.'
What follows is a series of scenes – predominantly narrated by Bella – in which the relationship between Bella and Christopher becomes more complex and ambiguous. He is writing a novel and wants to tell her about it, to get her honest feedback. He has sought out her books from an independent bookshop. He recounts the plot of her novel, reads aloud to her its concluding paragraphs, flatters her with his praise.
Bella finds Christopher a challenging, stimulating presence, someone with whom she can talk about literature and the craft of writing. The discussions move beyond her office. She invites him to dinner, lets him stay over.
The question of whether their relationship will become sexual is quickly dismissed. There is a brief gesture of intimacy, but it passes in a moment. Theirs is a connection born of mutual loneliness and need, of a profound faith in the power of stories.
Rapp plays nimble games with the blurring of fiction and reality, the stories within stories operating like a wall of mirrors adding the illusion of depth and forcing us to question whether Bella is 'writing' Christopher, or whether Christopher is writing himself.
Utilising tropes that pit the has-been professor against the talented and demanding young student, as well as those that proffer cancer as an agent of spiritual redemption, The Sound Inside is, essentially, a deft example of American prose fiction masquerading as a play. It is wordy, provides little by way of action, and (as Bella and Christopher occasionally chide each other) 'sounds like writing'. As such, it places an enormous burden on the two actors who must bring to dramatic life a text more suited to the eye than the ear.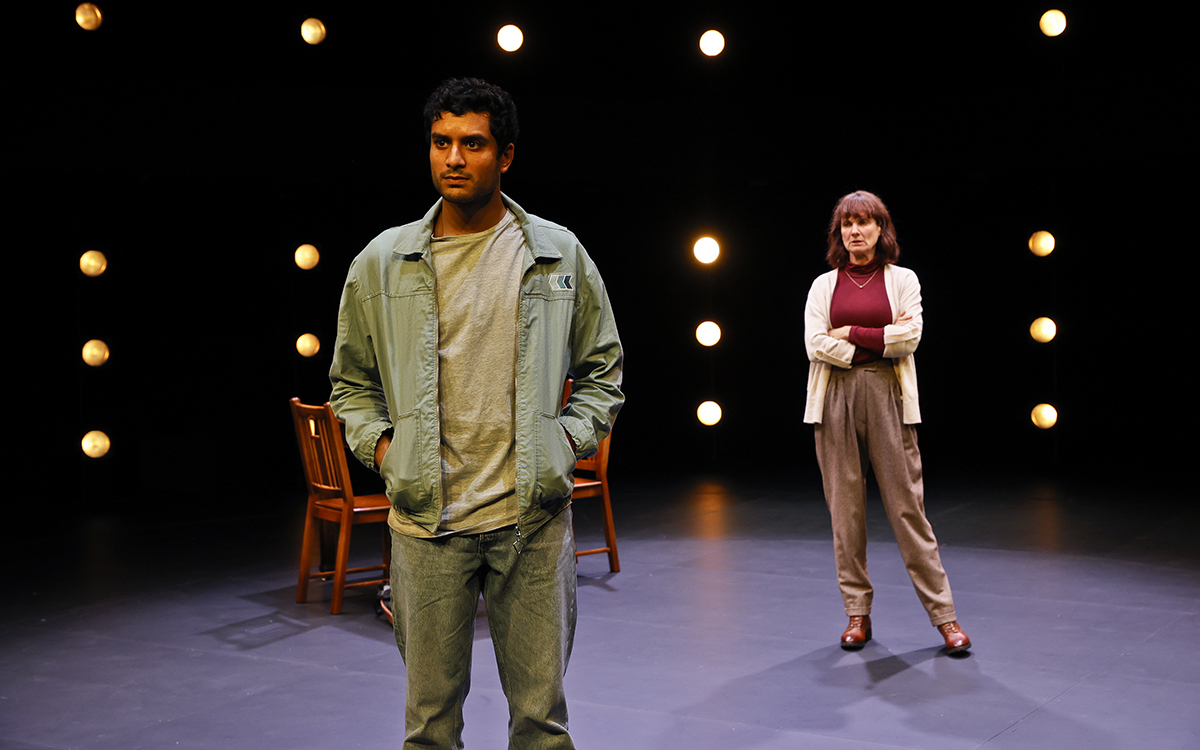 Catherine McClements and Shiv Palekar in The Sound Inside (photo credit: Jeff Busby)
Catherine McClements – warm, wry, and every bit the eminent academic – very nearly manages to scale the Everest that is the character of Bella, and Shiv Palekar brings a sense of detachment and unpredictability to Christopher, a character who is given few chances to escape the confines of Bella's monologue. Neither, however, succeeds in injecting much needed vitality into lengthy discussions about writing and writers. The result is long flat passages that almost succeed in engulfing the play entirely. It's perhaps a weakness in Sarah Goode's otherwise capable direction that when Christopher narrates in detail the plot of his novella, he sounds as though he is reciting street directions rather than revealing the secret heart of himself.
The production is rescued by a handful of scenes where the action, such as it is, moves away from its ivory tower and the constant name-dropping of American writers, both well known and obscure. A scene in a hospital offers a fleeting glimpse of Bella's dread of the cancer and its treatment. And McClements excels when Bella describes a one-night stand with a builder in a rundown motel (a man whose orgasm sounds like 'a woman running from a killer in a horror movie'). For a moment, you can feel a pulse beating again in both the play and the audience.
What Melbourne Theatre Company thought The Sound Inside, with its narrow American context, might have to say to Australian audiences is difficult to fathom. For me, it succeeded in bringing into sharp relief the finer theatrical qualities of Melbourne playwright Aidan Fennessy's The Heartbreak Choir, which MTC is offering in a (partly) concurrent run just down the road. Both plays underline the healing capacity of the arts, one focusing on a communion deriving from words and stories, the other on communion through music. Yet, where The Sound Inside is earnest to a fault, The Heartbreak Choir not only vibrantly enacts its themes, it also manages to embed a sincere and acutely realised portrayal of grief and rebirth within a play that doesn't take itself quite so seriously.
---
The Sound Inside (Melbourne Theatre Company) is being performed at the Arts Centre Melbourne from 20 May to 2 July 2022. Performance attended: 27 May.
This review is generously supported by the Copyright Agency's Cultural Fund.