Film
A Stasi Comedy
The absurdity of life under the Stasi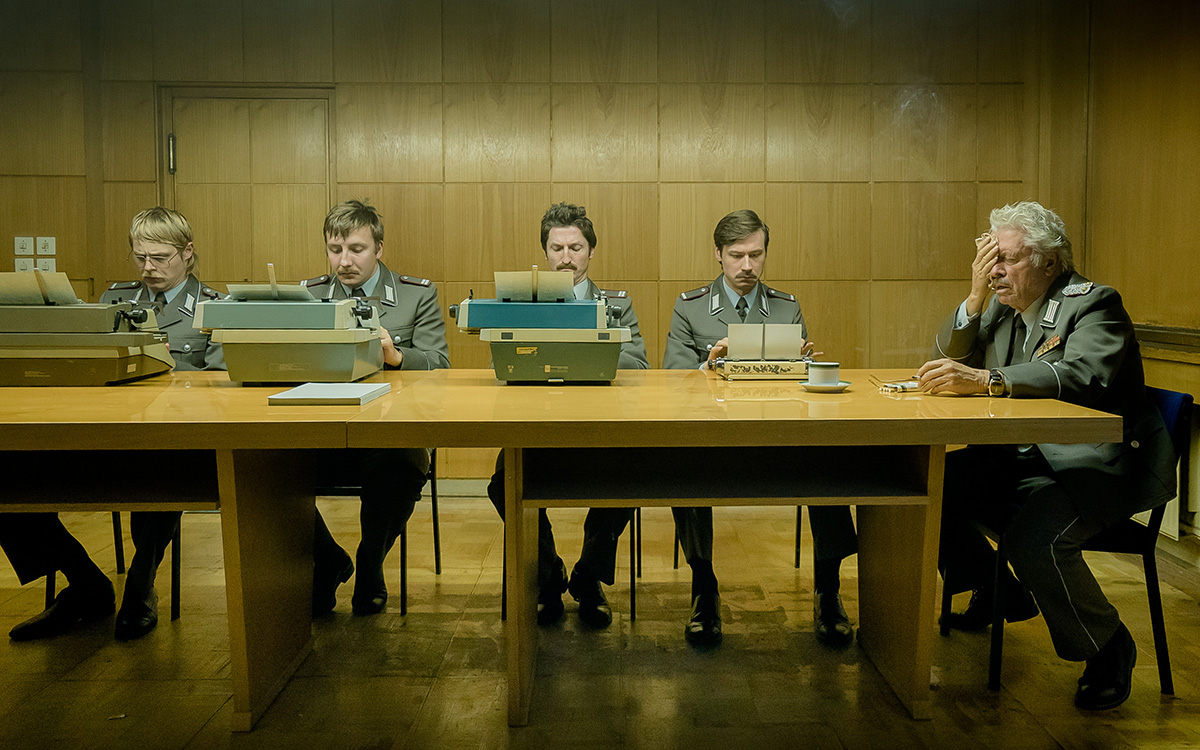 A Stasi Comedy bundles its explorations of truth, desire, morality, and freedom into an exuberant coming-of-age story. In Melbourne, the Palace Cinema Como was humming in anticipation at the opening night of the German Film Festival. Christoph Mücher, director of the Goethe Institut, invited us to celebrate the joy of a shared film experience; we raised our glasses and toasted our fellow-cinemagoers – a nice touch.
Director Leander Haußmann is back on familiar ground with A Stasi Comedy (Stasikomödie, 2022). The film's title hides nothing. Haußmann's conclusion to his trilogy of East German comedies asks us whether the dictatorship's most notorious institution might, in a way, be a joke. At this year's festival, A Stasi Comedy is but one of six films that depict the former German Democratic Republic – an indication that filmmakers continue to be attracted to the subject.
We meet our (anti)-hero at a literal crossroads in 1980s East Berlin. The young Ludger Fuchs (David Kross) is not a rebellious character, despite the copy of On the Road in his hand. Rather than commit a crime against German nature by crossing against the red man, Fuchs waits. Cut scene, and we are now with the Stasi in a distant location, observing Ludger on a small screen. He unwittingly passes their moral test, involving a kitten, an oncoming vehicle, and the remote-controlled Ampelmännchen (the East Berlin pedestrian crossing man who has become something of an icon), and he is selected to work for them. Ludger's superior, the Oberstleutnant Siemens (Henry Hübchen), informs him of his mission: to infiltrate and 'decompose' the Prenzlauer Berg bohemian community of poets, dissidents, and free spirits.
The film's comedic framework is established skilfully through a sudden flash-forward to the present day. An older Ludger Fuchs (Jörg Schüttauf), now a successful author, is on his way home, carrying his Stasi-file in a plastic bag, having reluctantly retrieved it from the archives at the request of his family. He finds them waiting for him in his apartment. But his hopes of a quiet, Proustian journey into his youth are dashed when his wife Corinna (Margarita Broich) announces the imminent arrival of an archivist, keen to document the Stasi's observations of a prominent East German dissident writer. 'Don't I have a right to privacy?' he asks, seemingly oblivious to any irony.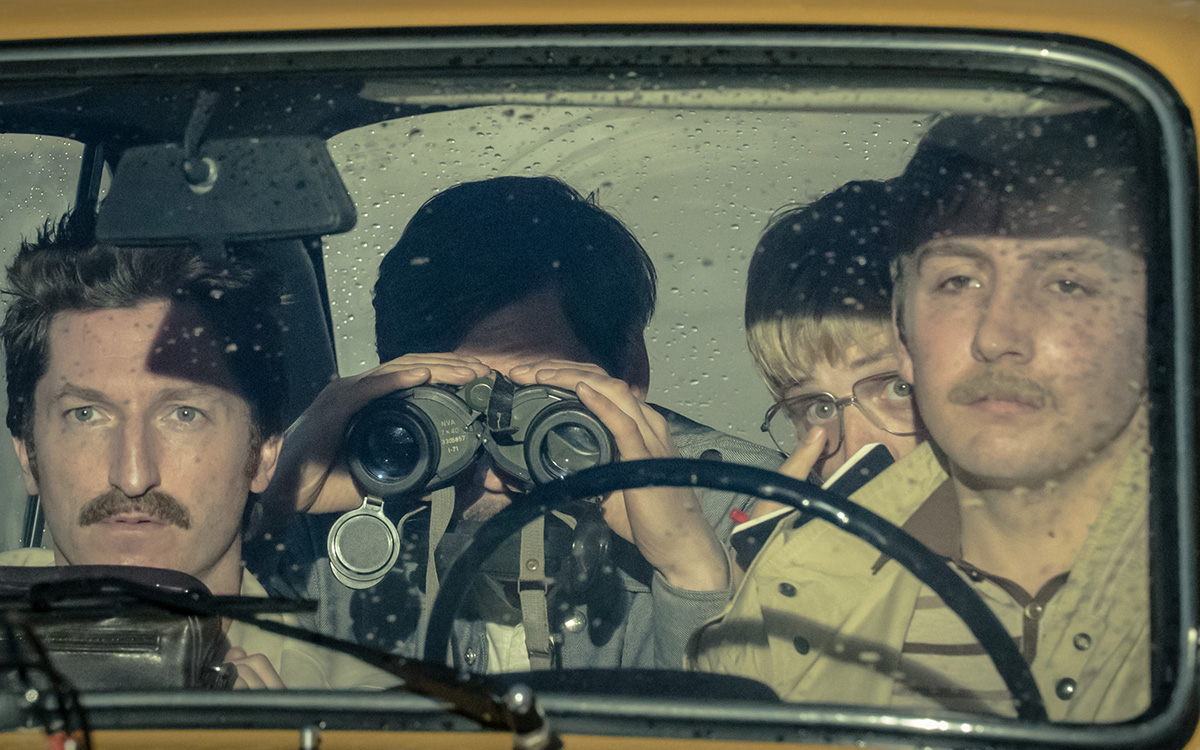 A still from A Stasi Comedy, one of the many films featured in the German Film Festival presented by Palace (image courtesy of Palace Films)
Everybody else is in high spirits, ready for a veritable festival of Ostalgie – the term that has come to describe the cult of nostalgia for aspects of daily life in the former East. Someone has even brought along a jar of Spreewald Gurken, the brand of GDR pickles that found unlikely global fame via another East German comedy, Wolfgang Becker's Good Bye, Lenin! (2003), which is also screening in the festival. Without doubt, Haußmann is keen to make fun of anything, including himself and his part in the politics of remembering Germany's recent past. Subjective camera angles place us right in the midst of the lively domestic scene, where the family sits down with the amenable, if fastidious, archivist (Tom Schilling) to peruse Ludger's past. Intimate photographs of Ludger and Corinna's first sexual encounter are met with some surprise by the group, but it is the discovery of a love letter addressed to the young Ludger, from a woman unknown to Corinna, that throws the party into chaos. Having established its dramatic framing, the film jumps back to the start of Ludger's story. The coming-of-age narrative then becomes an increasingly absurd psychedelic trip into the countercultural Prenzlauer Berg artist scene, as his two lives, both the Stasi agent and dissident writer, become entangled.
Haußmann's first two films in his comedy trilogy won praise for their refusal to submit to a grey, sombre representation of life in the former East. The lively Sun Alley (Sonnenallee, 1999), like A Stasi Comedy, is a film about youth. This was followed by the successful NVA (2005), riffing on a similar tune, this time characterising the National People's Army as a military farce. While many critics rejoiced in a refreshingly free-spirited approach to the most recent German dictatorship, there were voices of dissent. After all, the trivialisation of the crimes of an illegitimate state is surely no laughing matter.
Unperturbed, Haußmann seeks to take things up a notch in his latest feature by depicting the fearsome Stasi as a collection of bumbling incompetents. Ludger's fellow operatives more closely resemble Hergé's hapless policemen, Thomson and Thompson, than the meticulous and feared Sword and Shield of the Party. Certainly, this characterisation will not be to everyone's taste. Haußmann's approach to the past is personal; he grew up in the GDR, where his father was under observation and blacklisted for employment for ten years. A Stasi Comedy conveys the sense that Haußmann is revelling in the freedom to produce films in which the dictatorship is not remembered as pure misery. Perhaps this robs the Stasi of the power it once held – and will continue to hold if we only remember East German lives as restricted and depressing.
A Stasi Comedy has a chaotic narrative that pivots between love story and spy-comedy. Clichés abound. From Detlev Bucks' overly officious Obermeister Horkfeld, through to the heady undercurrent of sexual desire within the hippy squat, the gags come thick and fast. Ludger's double life begins to resemble a fever-dream, but when the plot threatens to meander, the tension never completely relaxes to the point where we lose interest. A costume ball held for Erich Mielke (Bernd Stegemann), head of the Stasi, is perhaps the peak of the film's delirium.
Fans of the Oscar-winning The Lives of Others (Das Leben der Anderen, 2006), with its detailed depiction of the Stasi's cruel methods, will be disappointed if they are expecting something similar. This film's main purpose is to entertain, and Haußmann uses farce and slapstick, with strong performances from the talented cast helping to propel its off-beat drama. The absurdity of life under the paranoid Stasi is rendered fantastical. At the beginning of A Stasi Comedy, the archivist reminds us that 'heroes are only people'. Haußmann argues that the same is true of villains.
---
A Stasi Come (Palace Films), 115 mins, is screening nationally as part of the German Film Festival from 9–25 June.