Film
The Tragedy of Macbeth
Shakespeare by way of Brecht in Joel Coen's new film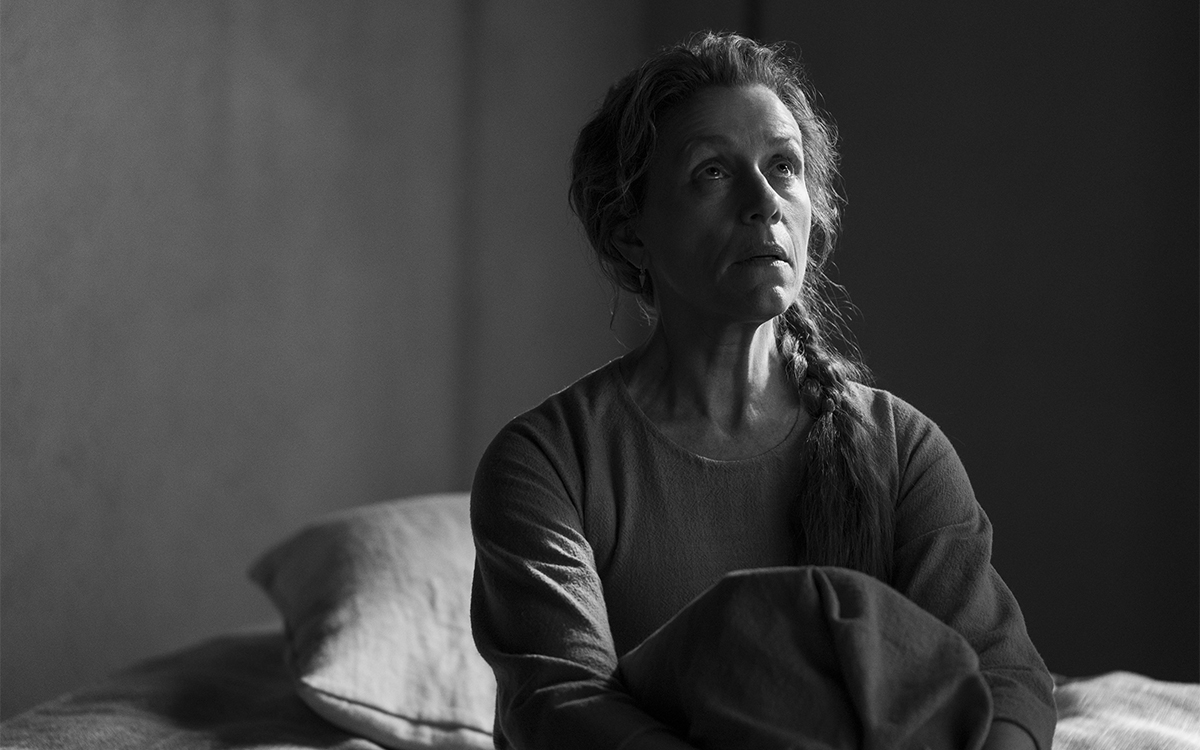 Could Macbeth be Shakespeare's most innately cinematic play? Even in its brief stage directions and off-stage action, it conjures up daring battlefields, horrible massacres, spine-tingling witchcraft, wandering spirits, duels on castle ramparts, and a moveable forest. Every few years another filmmaker tries their hand at it, Orson Welles (Macbeth, 1948), Akira Kurosawa (Throne of Blood, 1957), and Roman Polanski (Macbeth, 1971) notable among them. 2006 gave us Geoffrey Wright's best-forgotten Dunsinane-does-Underbelly version, while Justin Kurzel (director of Snowtown and the recent Nitram) injected his terrific 2015 version with rousing battle sequences and a blockbuster-ready, musclebound Thane of Glamis. Now, not long after Kurzel's film, comes The Tragedy of Macbeth from Joel Coen, working without his brother Ethan for the first time in decades. Where Kurzel's version aimed for historical realism and cinematic virtuosity, Coen's adaptation is faithful above all else to Macbeth's original medium: the theatre.
Shot entirely on interior soundstages and photographed in luminescent black-and-white, this Macbeth makes no pretence of suspending anybody's disbelief. The action takes place against what are obviously backdrops and on equally obvious sets, adorned with little or no props or furniture, surrounded by a wall of fog that acts almost as the wings to a stage. Characters deliver their asides beneath harsh spotlights, at times directly to camera. The Scottish court is made up of a diverse range of ethnicities, ages and accents, and the costuming is period-appropriate but deliberately vague. Coen blocks and shoots his actors in stunning, symmetrical tableaux, underlining their performativity at every turn – this is Shakespeare by way of Brecht, and it works. The key to any good Shakespearean adaptation is finding a stylistic mode that enhances the text without overwhelming it (only the rare example, such as Baz Luhrmann's Romeo + Juliet (1996), manages to have it both ways). With The Tragedy of Macbeth, Coen has built a beautiful, barren stage, then left it for his actors to fill.
At sixty-six years old, Denzel Washington makes a brilliant Macbeth, the distinctive rumble of his voice lending new and intriguing textures to the dialogue. He is particularly captivating in the film's first act, as he agonises over the plan to assassinate King Duncan (Brendan Gleeson), his every word elastic with indecision. This Macbeth is not a hot-head. Casting the role younger – as with Michael Fassbender in 2015 – makes it easy to view his lust for power as youthful recklessness, whereas Washington is older, wiser, and slower – a man who ought to know better, and a man with more to lose. In his 'If it were done when 'tis done' soliloquy, we're given more than just a career soldier plotting his next move; we can feel the weight of the hard-won life he is now preparing to betray. Coen has chosen to restore 'The Tragedy of…' to the title, and it's Washington's uniquely poignant performance that fulfils that title's promise.
Opposite Washington is the formidable Frances McDormand as Lady Macbeth, whose wry delivery of 'Who would have thought the old man to have had so much blood in him?' is truly one for the ages. Coen, who is married to McDormand, has remarked that this is a 'post-menopausal Macbeth', and indeed, the casting of older actors lends a wistful finality to the Macbeths' childlessness, and an added bitterness to the slaughter of the Macduff children. It also implies a much longer marriage, with established power dynamics and a shared world-weariness. The truncation of Shakespeare's texts often has the effect of accelerating the plot and hastening characters toward their fate; here, Washington and McDormand's lived-in chemistry goes a long way toward authenticating Lady Macbeth's perilous sway over her husband.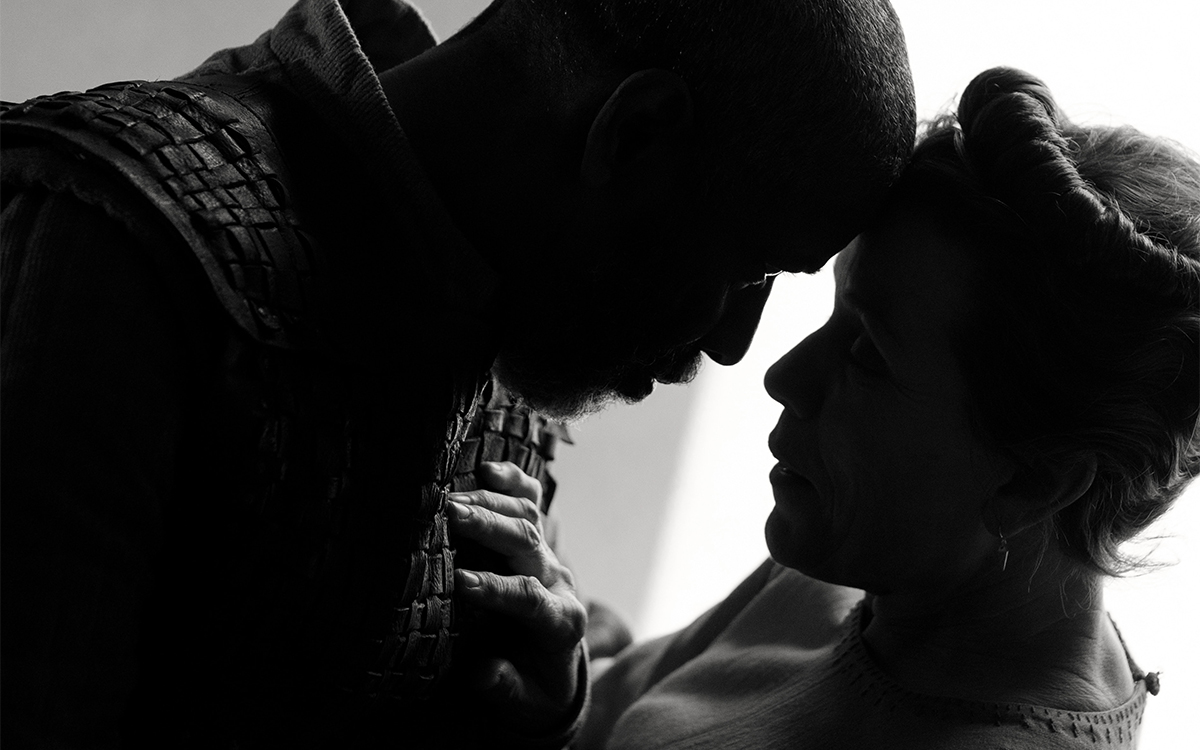 Denzel Washington as Lord Macbeth and Frances McDormand as Lady Macbeth in The Tragedy of Macbeth (A24/Apple TV+)
Rounding out the cast are Alex Hassell as the messenger-turned-manipulator Ross, Bertie Carvel as Macbeth's confidant Banquo, Corey Hawkins in a heartfelt and convincing turn as Macduff, and Harry Melling as heir-apparent Malcolm. Then there's Kathryn Hunter as the Witches – all three of them. Hunter is a legend of the London stage, a Shakespearean veteran, and the first woman to play the part of King Lear professionally. She embodies these wayward sisters as pure elemental chaos, speaking in a croaking lilt, contorting her limbs, perching vulture-like upon castle parapets, and pulling severed fingers from her lips. If Coen had hoped to add further theatrical clout to this meta-theatrical production, he surely found it in Hunter.
Cinematically, this version most closely resembles Welles's. There is something distinctly Old Hollywood about the monochrome imagery, painted sky, 4:3 frame, and freshly-starched medieval outfits. Within the castle walls, Stefan Decant and Nancy Haigh's set designs intersect with Bruno Delbonnel's masterful cinematography to evoke 1920s German Expressionism, a world of deep cloisters, empty courtyards, and towering ceilings, filled with angular, sinister shadows. This, coupled with the uncanny spatial effect of the soundstages, creates an eerie, artificial vacuum. When King Duncan stands beneath the night sky, waiting to receive Macbeth, the star-studded ceiling seems much closer and lower than the heavens ever ought to; Coen reminds us time and time again that these are all but players, strutting and fretting their hour upon the stage.
Macbeth himself is ancestor to our modern-day antiheroes – Tony Soprano, Walter White et al. – once-decent men curdled by cursed opportunity. His arc is also prototypical of a number of the Coen Brothers' previous films, from Blood Simple (1984) and Fargo (1996) to No Country For Old Men (2007), so it's no surprise that, for his first outing without his lifelong collaborator, Joel Coen has chosen to mine this rich and reliable ore. The Tragedy of Macbeth is bold in its minimalism and refreshing in its purity; this is a familiar tale, but in the right hands, it bears repeating.
---
The Tragedy of Macbeth is available to watch in cinemas from December 26, and on Apple TV+ from January 14.