Theatre
Fun Home
Musical theatre that knows no boundaries
Sydney Theatre Company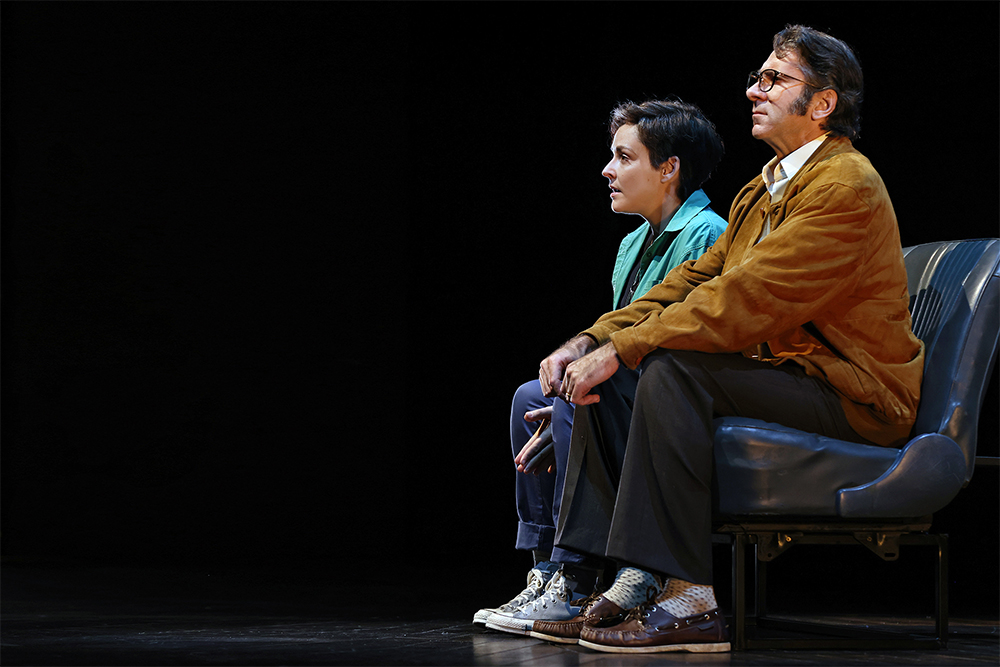 Fun Home is not your average musical. Based on Alison Bechdel's hugely influential 2006 graphic novel of the same name – which contrasts her coming out as a lesbian with her gay father's closeted, unhappy, and ultimately self-destructive life – Hello, Dolly! it ain't. But in the clear-eyed, compassionate, and understanding hands of playwright Lisa Kron and composer Jeanine Tesori, it became a multi-award-winning, much-performed success.
The novel couldn't have been taken up by a more appropriate pair. Kron has written several autobiographical monologues. In 2.5 Minute Ride, she juxtaposes a family trip to an Ohio amusement park with a journey she took with her septuagenarian father to Auschwitz, where his parents were murdered. She steers her audience through the worst moments with an unsentimental, sardonic honesty, but finds light in the darkness and manages to end on a high note both hard-earned and authentic. All of these qualities she brings to Bechdel's story.
The award-winning Tesori is one of the most versatile composers in her field. From a close collaborative relationship with Tony Kushner to Shrek The Musical, she has covered the territory. As she has said: 'Musical theatre, which is a brilliant art form, knows no boundaries in what it can do and we really cannot condescend to it.'
Fun Home is a play that reminds us that memory doesn't work in a neatly linear way. As the adult Alison works on her novel, different moments from her childhood and young adulthood appear in seemingly random fashion. We are presented with a young Alison, one who cannot understand the underlying tensions in the family and is only dimly aware of her 'difference', and a teenage Alison who has to go through the agonising rituals of accepting her sexuality and then coming out – rituals that her father, Bruce, was never able to bring himself to perform. The adult Alison is a permanent presence who becomes not so much a narrator as a commentator; her observations are prefaced by the word 'caption'.
Bruce runs the local funeral home and teaches English in their Pennsylvanian town, but his real obsession is renovating and redecorating houses. He and his wife, Helen, attempt to convince their community and their children that they are a normal, happy family, but the underlying tensions mount and lead to the inevitable conclusion. Or is it inevitable? Alison has to face the fact that her coming out may have triggered Bruce's final suicidal breakdown.
All of this sounds relentlessly grim, but the miracle of Fun Home is how much joy and humour it manages to find in this story.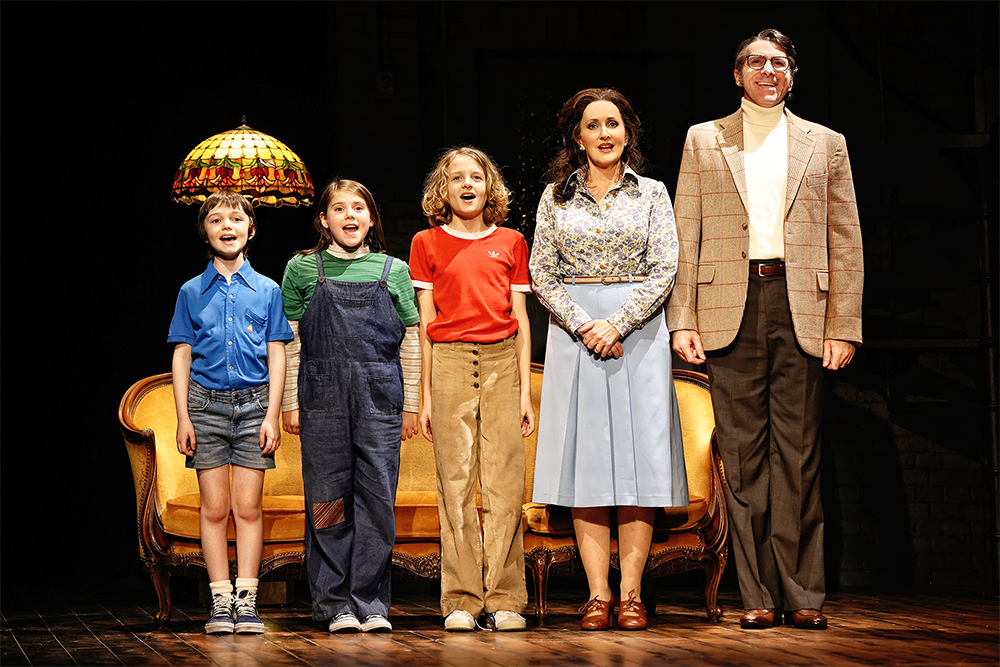 Gilbert Bradman, Mia Honeysett, Jensen Mazza, Marina Prior, and Adam Murphy in Fun Home (photograph by Prudence Upton)
Once again, the Sydney Theatre Company has pulled out all stops and put together a remarkable team of cast and creatives. Director Dean Bryant and musical director Carmel Dean are in complete control of Kron and Tesori's complex, challenging work. We are always aware of where we are in the intricately shifting time scheme. Designer Alicia Clements moves seamlessly from the over-cluttered family home to a bleak New York apartment. Only in a pivotal scene in a diner is it not made completely clear where we are supposed to be.
The three Alisons are nicely contrasted. Lucy Maunder's adult version, looking more like the American political commentator and gay icon Rachel Maddow than the actual Bechdel, uses dry humour to try to distance herself from her past but finds herself drawn into it. In the scene in which she usurps the place of her teenage self, taking a last car ride with her father, she is extremely moving. Maggie McKenna's teenage version is heartbreakingly funny and vulnerable. She makes the number 'I'm Changing My Major', sung after her first sexual encounter, into an explosion of jubilation and liberation. Mia Honeysett, opening night's young Alison, is an energetic mixture of determination and confusion. She tackles her big number, 'Ring of Keys', which deals with her reaction to her first sighting of an out butch lesbian, with a glorious blend of wonder and identification. It is a pity, though, that for whatever reason in 'Welcome to the Fun Home', the cod advertisement for the funeral parlour that the kids dream up, a lot of Kron's clever lyrics were lost.
Adam Murphy's Bruce covers his underlying insecurity and despair with a brittle vanity and sense of superiority. In a telling scene, he encourages young Alison to draw but then rejects her work as not artistic enough. He genuinely wants the best for his daughter, but it has to be his idea of best, not hers. Murphy gets the conflicting aspects of his character and builds to a volcanic final breakdown.
It might seem that at first Marina Prior is somewhat underused as Helen, but she becomes more prominent as the play progresses. Her bitter revelation to her astounded daughter of Bruce's gayness cuts deep. But she really comes into her own with the desolating 'Days and Days', in which she sums up her wasted life. It ends with the bleak advice to her daughter: 'Don't you come back here / I didn't raise you / to give away your days / like me.'
Fun Home takes an unhappy story but somehow manages to turn it into a celebration of the human spirit. STC has done it proud.
---
Fun Home (Sydney Theatre Company), directed by Dean Bryant, is being performed at the Roslyn Packer Theatre from 27 April to 29 May 2021. Performance attended: May 1.
This reviewis supported by the Copyright Agency's Cultural Fund.