Opera
Ernani
A sumptuous display of Verdi's fifth opera
Opera Australia
George Bernard Shaw tartly suggested that 'the chief glory of Victor Hugo as a stage poet was to have provided libretti for Verdi'. Hugo's fifteen dramas are not well known in the English-speaking world and live on mainly through the many operatic reincarnations of the plays. Most prominent in popular culture, though, is the adaptation of Hugo's novel Les Misérables, the blockbuster musical. The first successful operatic adaptation of a play was Gaetano Donizetti's Lucrezia Borgia of 1833, which introduced a strong strain of realism into Italian opera. Undoubtedly the most successful of all the Hugo operas is Rigoletto (1851), Verdi's version of Le roi s'amuse, still one of the most performed operas in the repertoire. Hugo later admitted that the opera was 'better' than the play.
Hugo's Hernani, premièred in 1830 and a typical example of the French Romantic drama of the early nineteenth century, features characters torn by conflicting emotions and moral impulses, operating in highly melodramatic plots. Hernani is a revolutionary work, chafing against the constraints of the contemporary theatre; Hugo was intent on exposing social injustice often tinged with religious fanaticism, as well as the exploitation of women by family.
Disturbances marked the first performances at the Théâtre-Français in Paris; some objected to Hugo's flouting of the formal principles and traditional tone of neo-classical French tragic theatre, including his lack of linguistic restraint. Hugo's supporters – these included young avant-gardists such as Théophile Gautier, Hector Berlioz, and Honoré de Balzac – were identified by the flamboyance of their attire, symbolic of their desire for 'freedom' from the constrictions of the past, and designed to 'scandalise the philistines'. Fist fights broke out in the auditorium, and students gave private performances: all adding to the general unrest in Paris that culminated in Kind Charles X being swept from power and the installation of the new more liberal democracy.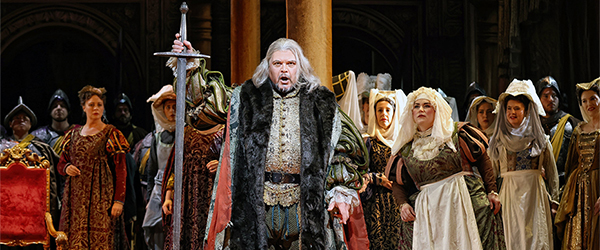 Vitalij Kowaljow as Don Ruy Gomez de Silva and Jennifer Black as Giovanna in Ernani (Prudence Upton)
Verdi insisted to his inexperienced librettist, Francesco Maria Piave, that they follow the play as closely as possible, an attitude new to Italian opera. It's certainly a plot that strains credulity. Set in the Spanish court in 1519, Don Carlo, king of Spain, is a rival of Ernani, a notorious bandit and aristocrat in disguise, for the love of the beautiful noblewoman Elvira, who is the fiancé of her uncle, Don Ruy Gomez da Silva. Through a series of often unlikely events and sudden changes of fortune, Carlo finally grants the hand of Elvira to Ernani. However, Ernani had undertaken to rescue Elvira after she had been abducted by Carlo, and has sworn to surrender his life when he succeeded, giving da Silva a horn to announce when he should die. Da Silva duly sounds the horn and Ernani stabs himself.
The opera was a huge hit when premièred in Venice in 1844. The original plan had the title role sung by a contralto, as required by the theatre, but Verdi soon moved towards the increasingly popular configuration of soprano, tenor, baritone, and bass. Like so many operatic premières, this one was plagued by difficulties, including the perennial problems with the censor. Ernani was a crucial development for Verdi in its move away from religious to secular themes, as well as from the large-scale public choral scenes typical of the highly successful Nabucco (1842) and I Lombardi (1843) that had recently premièred at La Scala. In Ernani, Verdi explores the private, psychological spaces memorably inhabited by his later characters; Ernani was written with the more intimate surroundings of Venice's La Fenice in mind. This opera served notice to the rest of Europe that Verdi was the new force in Italian opera.
Ernani requires four excellent principals. The three fundamental male vocal protagonists of later Verdi operas – the heroic, ardent, lyrical, and sometimes despairing tenor; the noble yet often devious baritone; and the implacable, rock-like bass – are firmly established in this opera. Ernani is the first in a long line of Verdi tenors, culminating with Otello, who are characterised by doubts and inner conflicts. While retaining some of the lyricism of Donizetti and Bellini, these roles have increasingly declamatory demands, requiring voices with dramatic heft. Diego Torre, excellent in Opera Australia's prematurely aborted run of Attila in 2020, has a lighter voice than is sometimes cast in the role, but his tone is clean, warm, and attractive, with a warmly Italianate timbre, and he did full justice to this somewhat two-dimensional figure.
Verdi 'invented' the so-called 'Verdi baritone'; a voice type requiring baritonal elegance and suavity already in vogue, but with an extended upper range incorporating tenorial lyricism and penetration, as well as the tonal weight to convey authority or malevolence. Many of Verdi's most interesting characters are baritones. Vladimir Stoyanov was an excellent Carlo. Perhaps the most interesting character in the opera, he is given several arias charting his development, which were sung with the burnished tone and smooth legato of the true Verdian, perhaps only lacking a little brilliance at the very top of the range. His voice is warm and supple, capable of impressive soft singing, evidence of great musicality.
Don Ruy Gomez da Silva was Vitalij Kowaljow, immediately striking in his brief opening aria, 'Infelice! ... e tuo credevi', one of best-known moments in this tuneful opera. Possessor of a dark, powerful voice with an attractive, grainy quality, Kowaljow has a seamless legato and the vocal weight and imposing stage presence to convey the emotions of this unfortunate figure, combining nobility undermined by egotism.
Natalie Aroyan's remarkable performance of Odabella in Attila remains in the memory, but Elvira takes her to a new level in this most demanding repertoire. The voice has gained in substance, and Aroyan rode the concerted choral numbers with consummate and thrilling ease; it's a sound that fills the theatre but retains flexibility and beauty of tone, comfortably negotiating the florid music and wide vocal range. Aroyan has a commanding and engaging stage persona, and sounds vocally at ease in this repertoire – a wide variety of signature roles await her.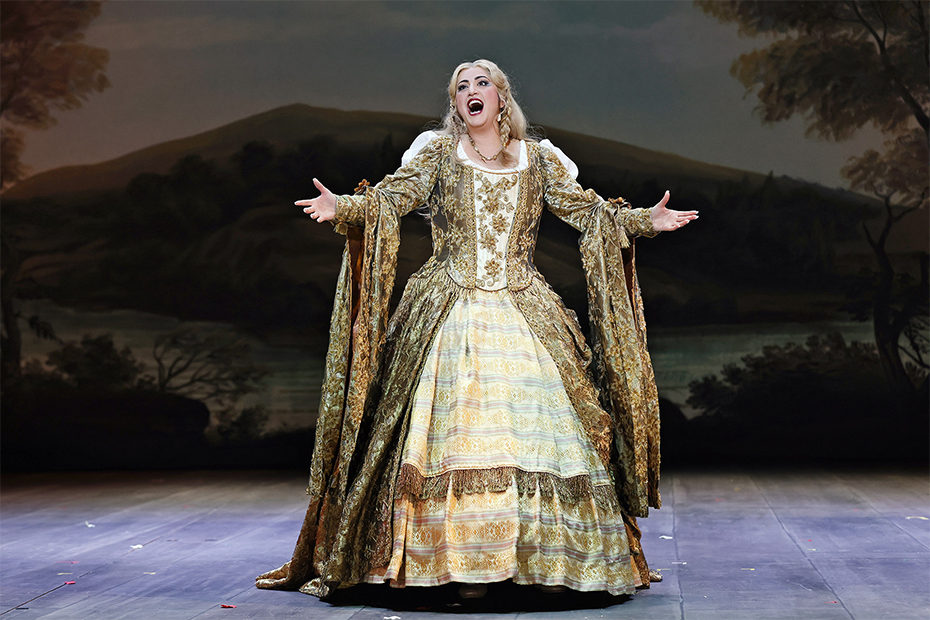 Natalie Aroyan as Elvira in Ernani (Prudence Upton)
The smaller roles, strongly sung by Jennifer Black, Simon Kim, and Luke Gabbedy, added much to the overall musical success of the evening. As always, the chorus was superb, providing a full and detailed soundscape. Conductor Renato Palumbo exudes Verdian élan and energy, allowing space for individual artistry to flourish. The orchestral sound is full, with a wide range of colours and effects, while the chorus punch above their weight in the volume stakes when necessary, simultaneously presenting a varied and interesting stage picture.
The performance is a co-production with La Scala, directed by Sven-Eric Bechtolf, and revived by Laura Galmarini. The principal directorial concept involves acknowledging, even emphasising, the often extreme melodrama of the story, meta-theatrically presenting the performance within an outer-performance frame; operatic characters intermingle with stage hands and other theatre workers as a small-town, nineteenth-century theatre company arrives to stage a production. Time frames blur, with different eras intruding into the sixteenth-century historical period of the opera, thus toying with the audience's perception of illusion and reality.
Does it work? Yes ... at times, but the approach is fraught with the possibility of banality; it is not always clear if, and when, the director is being ironic. For such a framing device to be effective, it needs consistency, and often in this production it becomes annoyingly intrusive for little apparent effect. The 'main' performance, however, is traditional and direct, with costumes to match the historical period. The mingling of time periods does allow the vivid imagination of designer Julian Crouch free rein, and the stage settings are detailed and attractive; the beautiful costumes by Kevin Pollard are nothing less than flamboyantly sumptuous.
Verdi's early operas are infrequently staged, but their profound influence on later opera should not be minimised. Shaw suggested that Ernani represented that 'ultra-classical product of Romanticism, the grandiose Italian opera in which the executive art consists in a splendid display of personal heroics, and the drama arises out of the simplest and most universal stimulants to them'.
Verdi is very well served by Opera Australia in this series of welcome performances. After the disappointment surrounding the truncated run of Attila and the abrupt end of live performance, there was a palpable sense of relief and joy that opera had returned to the Sydney Opera House. And if the concept of the production seemed at times to lack confidence in the contemporary relevance of Ernani, the full-blooded and committed musical performance made the strongest of cases for this swashbuckling work.
---
Ernani is being performed at the Joan Sutherland Theatre at the Sydney Opera House 2–13 February 2021. Performance attended: February 2.