Opera
Attila
Opera Australia
The fearsome figure of Attila the Hun (406–53 CE) has always had a bad press, yet in Verdi's opera of 1846 he emerges as the most sympathetic and nuanced character of a group of three other rather unlikeable, two-dimensional principals, all of whom plot his final demise. During the course of the opera, Attila emerges as a somewhat naïve, trusting character, and shows great respect for his avowed enemy, the Roman general Ezio. Yet it does not end happily for Attila, ultimately done in by the three of them; almost certainly not a historically accurate depiction.
Patronisingly, it was for many years the accepted view that Verdi's operas of the 1840s, written during the so-called anni di galera (years in the galleys) were drudgery and of poor artistic quality, with Verdi only achieving artistic maturity towards the end of the decade. These works are certainly formulaic in terms of dramaturgy and musical structure, but as in earlier nineteenth-century Italian operas by Rossini, Donizetti, and Bellini, what the individual composer is able to achieve within these formal constraints is crucial. Of course, our view of Verdi is indelibly coloured by what came later. Certainly, the early works are not masterpieces when compared with the middle and late period, but it's a hard-hearted opera goer who does not feel the blood warm and the heart race hearing excellent singers tackle this vibrant music.
Temistocle Solera's libretto was based on the 1809 play Attila, König der Hunnen ('Attila, King of the Huns') by Zacharias Werner, which Julian Budden describes as having 'sprung from the wilder shores of German literary romanticism', containing 'all the Wagnerian apparatus – the Norns, Valhalla, the sword of Wodan, the gods of light and the gods of darkness … It is an extraordinary Teutonic farrago to have appealed to Verdi.' But appeal it did, and the opera was premièred at La Fenice in Venice on 17 March 1846.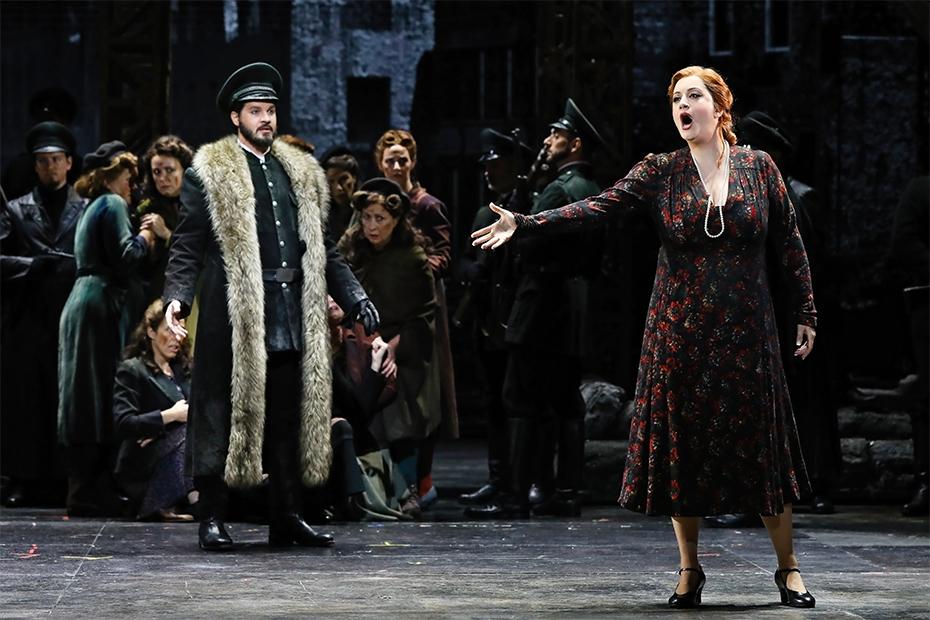 Taras Berezhansky as Attila and Nathalie Aroyan as Odabella in Attila (photograph by Prudence Upton)
The 1840s were fraught years not only in Italy but throughout Europe as 1848, the year of revolutions, approached. Italy was in constant political ferment, and there are moments in Attila that had an immediate visceral appeal to the punters in the stalls: the theatres had come to rival the streets of Italian cities as sites of political demonstration. The Huns of the opera were substitutes for the Austrians who ruled significant parts of Italy; a popular verse by Filippo Meucci called for the people to 'pluck out the last roots of the ferocious sons of Attila from Italy'. Attila enjoyed fifteen Italian productions within two years of its première, tremendous success that tapped into the Zeitgeist.
First seen in Milan in 2018, Opera Australia's co-production with La Scala – sadly closed now due to the coronavirus – is by the multi-talented Davide Livermore and conducted by Andrea Licata, both well known to Sydney audiences. Livermore's bleakly handsome production, with sets by Giò Forma and lighting by Antonio Castro, highlights the conflicts between the characters, but the opera itself is drawn in broad strokes with flimsy characterisation. Livermore's focus, understandably, is on the visual, with a succession of dazzling tableaux, suggesting the period when Italy changed sides in World War II and reprisals were frequent and brutal. There is a strong sense of stylisation underpinned by a balletic sensibility; frequently the stage picture suddenly freezes and then comes back to life.
Gianluca Falaschi's costumes have a few clichéd elements of all-purpose fascist black leather – thankfully without Nazi insignia. For much of the opera they are very effective, mostly in dark tones, though in Attila's feast they become a vivid riot of colour. The sets are a mix of ancient Roman ruins counterpointed with more recent evocations of a bombed and deserted city. LED screens are used; a particularly effective moment is the projection of Raphael's The Meeting of Leo the Great and Attila as Attila wakes from a dream.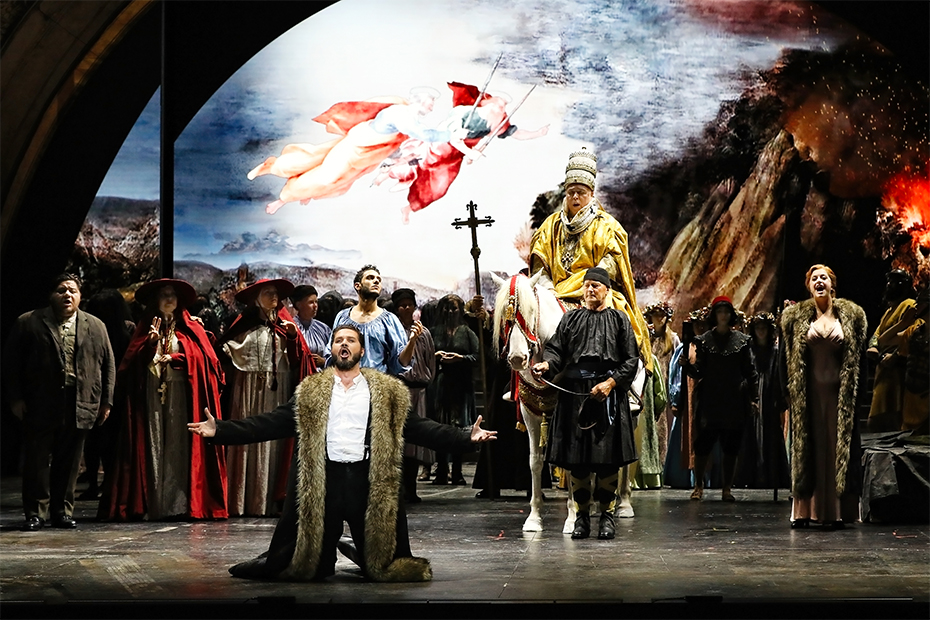 Diego Torre as Foresto, Taras Berezhansky as Attila, Gennadi Dubinsky as Pope Leo I on Frank Sinatra the horse, and Natalie Aroyan as Odabella in Attila (photograph by Prudence Upton)
Licata's conducting was assured after a slightly hesitant prologue – depressing news of the day seemed initially to subdue the auditorium and stage – but the Italianità soon emerged as the gloom was dispelled by vivid colours and energetic attack from the orchestra and by richly nuanced and imposing singing from the chorus – both secure pillars of Opera Australia's productions and success.
Attila demands fearless vocalism from its principals. The title role has been embodied by a succession of great basses, including Boris Christoff, Ruggero Raimondi, and Samuel Ramey. Ukrainian Taras Berezhansky, in time, looks set to take his place in this august company. He has a full, well-focused vocal tone and an imposing stage presence; the voice is still young, lacking some sonorous warmth, but bass voices take time to fully develop. There were several highlights in his performance, including his dramatic entrance astride a dark horse, but his expressive, nuanced, and dramatic expressiveness in the confrontation with Pope Leo at the end of Act I was memorable. His evocative vocal and textual articulation captured the growing terror of this seemingly implacable and impervious character as he prostrates himself to a higher power in the spine-tingling Verdian act finale.
As in many early Verdi operas, the soprano role, Odabella, is a notorious voice breaker: the dangers of the role are immediately apparent in the first aria in the prologue, 'Santi di patria' (sensationally recorded by Joan Sutherland in 1963), where the voice leaps well over two octaves while having to sail triumphantly over a pulsating orchestra. Natalie Aroyan's career has been carefully managed by Opera Australia. She has distinguished herself in important roles including Aida, Mimi in La Bohème, Amelia in Simon Boccanegra, Micaëla in Carmen, Desdemona in Otello, and Eva in Die Meistersinger von Nürnberg. Odabella takes her into new vocal territory, calling for dramatic vocal thrust coupled with flexibility. Yet her Act I aria could be by Bellini, requiring all the skills and finesse of true bel canto singing (accompanied by expressive solo instrumental playing). It is a voice of plangent beauty, with a darkish tone colour but enough bright 'ping' in the middle and upper range to sail across the orchestra and chorus in the big finales. She is also blessed with an attractive stage persona, creating an immediate sympathetic rapport with the audience.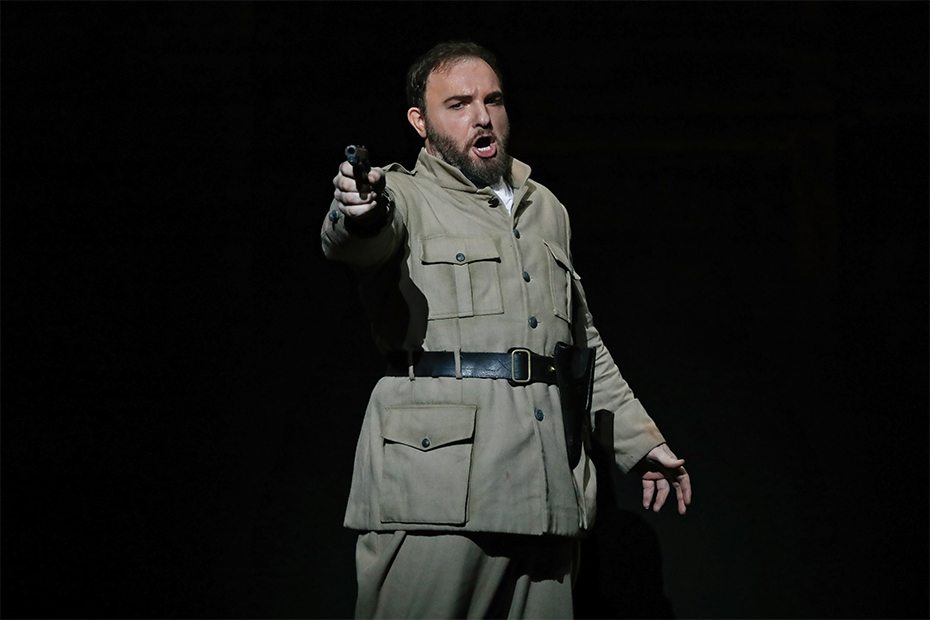 Simone Piazzola as Ezio in Attila (photograph by Prudence Upton)
Italian Simone Piazzola revealed a noble, burnished lyric baritone in the glorious, 'park-and-bark' opening prologue with Attila, a rousingly energetic baritone–bass duet typical of early nineteenth-century Italian opera. Ezio here has possibly the best line in the opera, 'Avrai tu l'universo, resti l'ltalia a me' ('You can have the world, but leave Italy for me'), set to a classic Verdian expansively rising phrase. This line, which has unfortunate current resonances, roused contemporary audiences to a frenzy with its unambiguous implication for the foreign rulers of Italy. 'Italia' is repeated fourteen times in this duet: an Italy that actually did not yet exist in political terms in 1846. Piazzola also has one of the best arias in the opera; it opens Act II, with its archetypal Verdi baritone cantilena. Piazzola did Verdi proud, demonstrating intelligence, musicality, and beauty of tone, even tossing off an unwritten but viscerally exciting high B flat at the end of the cabaletta that would be the envy of any tenor. Like Berezhansky and Aroyan, he is young; this is another voice to watch.
The tenor role, Foresto, is more limited in dramatic scope compared with the other three principals, but Opera Australia stalwart Diego Torres made the most of his opportunities, including a heartfelt romanza that opens the final act. He possesses a beautiful Italianate voice with a full, even tone and the ringing top required of a Verdi tenor, his years of experience evident in his musicality and impeccable sense of style. The smaller roles were vividly embodied by Virgilio Marino as Uldino and Gennadi Dubinsky as Pope Leo I, who made a spectacular appearance on a white steed.
Anyone who loves Verdi, and opera, cannot but be excited by the sheer verve, energy, and visual delights of the performance. One might argue that these early Verdi operas are not important enough to revive when there is so much other neglected repertoire, but Livermore's striking production, Licata's vibrant conducting, a fine quartet of principals, and Opera Australia's admirable orchestra and chorus make a completely persuasive case for the work to be given an outing. Viva Verdi!
---
Attila is being performed by Opera Australia until 28 March 2020 at the Joan Sutherland Theatre, Sydney Opera House. Performance attended: March 12.