Art
NGV Triennial 2020
Illumination, reflection, conservation, and speculation
National Gallery of Victoria
In Giambattista Tiepolo's The Banquet of Cleopatra (1743–44) – a jewel in the NGV's collection of eighteenth-century art – a dining table shows the Egyptian queen Cleopatra facing the Roman consul Mark Antony, her hand elegantly clasping a pearl earring that she is about to drop into a flute glass filled with vinegar, which she will subsequently drink. In doing so, the sheer value of the pearl will make Cleopatra the winner of a wager as to which of the two could stage the most extravagant feast.
This fable of ostentation and one-upmanship acts as a fitting symbol of the NGV Triennial, a survey exhibition of international contemporary art, design, and architecture hosted by the National Gallery of Victoria and inaugurated in 2017. The 2020 iteration outdoes its predecessor in its flourishes and opulence. Structured by four themes – illumination, reflection, conservation, and speculation – the Triennial features eighty-six projects by more than one hundred artists, designers, and collectives from more than thirty countries, and like the prized Tiepolo, displays similar grandiloquence.
The thematics of illumination and reflection dominate, with many of the works shimmering, glittering, or gleaming. Cerith Wyn Evans's C=O=D=A (2019–20) is a gigantic tangle of suspended neon tubes forming a three-dimensional drawing inspired by Japanese Noh Theatre in searing, incandescent light. Sabine Marcelis's Dawn XXXIII (2018) offers an abstracted image of the sun at dawn, a glowing neon-and-polyester resin disc. Stuart Haygarth's Optical (tinted) (2009) is a sparkling, faceted orb made from more than 4,500 prescription lenses hung from monofilament, casting shards of shadow and light.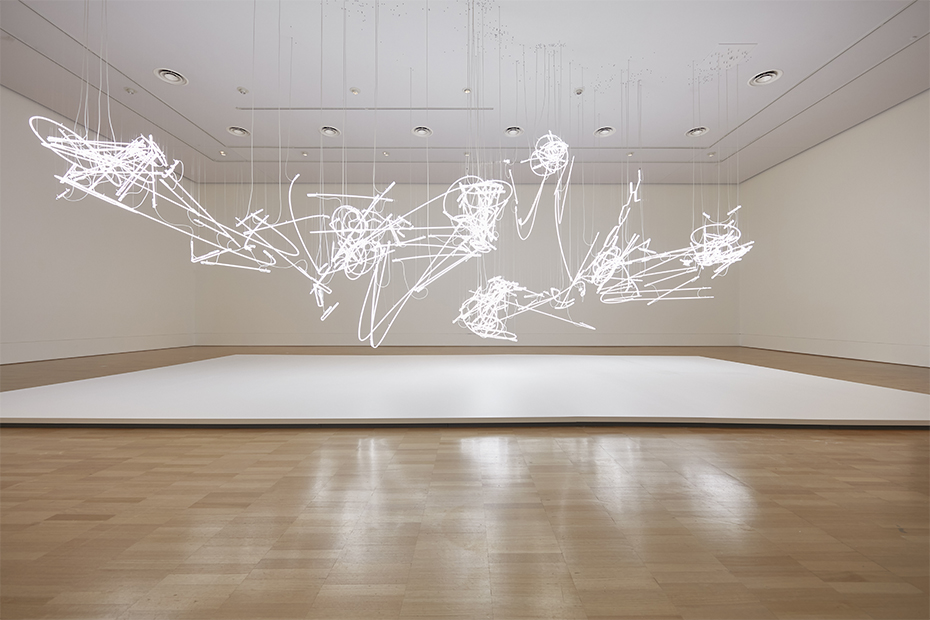 Installation view of Cerith Wyn Evans's work C=O=D=A, 2019–20, on display in NGV Triennial 2020 from 19 December 2020 – 18 April 2021 at NGV International, Melbourne © Cerith Wyn Evans, courtesy White Cube, London (photograph by Tom Ross)
Literal reflections occur in Alicja Kwade's WeltenLinie (2020), a room-sized rectilinear steel-and-mirror structure through which visitors step tentatively, negotiating real and virtual space; and in Angela Tiatia's Narcissus (2019), which reinterprets the ancient Greco-Roman myth as a silent slow-motion digital video of forty gesticulating individuals leaning towards a pool of water, each vying for a glimpse of their own reflection amid the tumult of jostling bodies.
The reflections tip into razzle-dazzle in Richard Quinn's cropped dress Look 2, ensemble (2020) – a glittery frou-frou inspired by nineteenth-century English costume, twinkling with diamantes, glass beads, and faux pearls. Diamond Stingily's In the middle but in the corner of 176th place (2019) echoes the gloss with her room of shelves stacked with 723 shiny plastic trophies, deflating the glitz by appending the souvenirs with pseudo-sentimental captions like 'I did the best I could with what I had'.
Bright-coloured underwater worlds are conjured in Hannah Brontë's EYE HEAR U MAGIK (2020), a catchy pop-music video projected on an enormous screen as an exuberant aquatic spectacle of swirling performers and rhythmic incantations celebrating Indigenous matriarchal empowerment, and in Indonesian collective Tromarama's Solaris (2020), an enormous shimmering LED curtain bisecting a hall of nineteenth-century paintings as a phosphorescent digital simulation of a marine environment off coastal Indonesia. Using real-time weather data, the streaming light depicts palpitating blooms of jellyfish in hallucinogenic colour.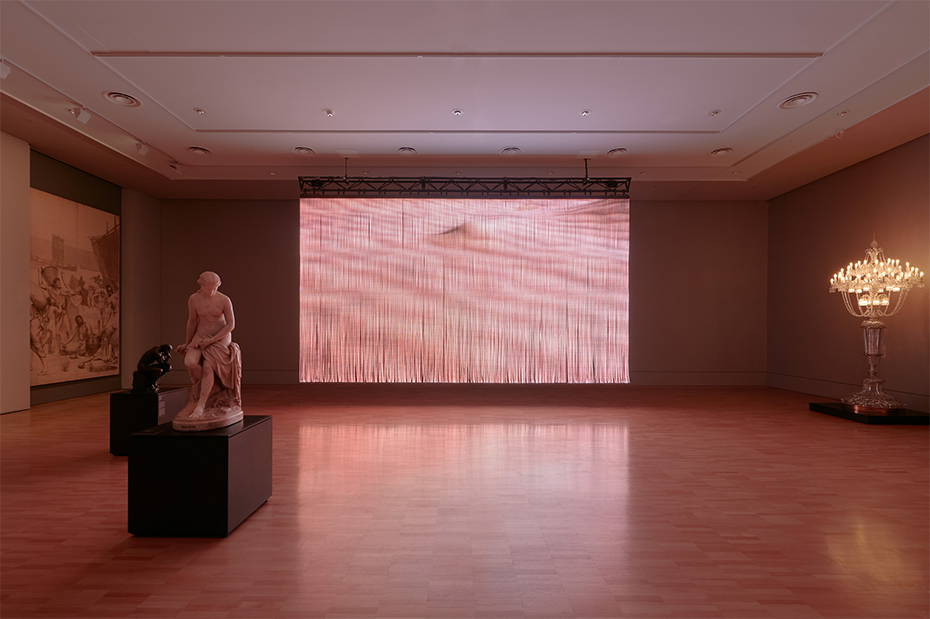 Installation view of Tromarama's work Solaris, 2020, on display in NGV Triennial 2020 from 19 December – 18 April 2021 at NGV International, Melbourne © Courtesy of the artists and Edouard Malingue Gallery (photograph by Tom Ross)
The Triennial's masterstroke is to insert many of the selected contemporary works, like Tromarama's, into galleries housing the NGV's permanent collection of seventeenth- to nineteenth-century European painting and decorative objects and twentieth-century design. This is a contentious curatorial move that will doubtless have dissenters, but it results in a cross-fertilisation of ideas and intents across epochs, genres, and media.
In certain pairings, the strategy chimes well. Faye Toogood's crystal furniture Roly-poly element table/Water and Roly-poly chair/Water (both 2016) sync wittily with the nearby vitrine of seventeenth- and eighteenth-century glassware. Toogood's translucent pieces are part of a tripartite body of work including largescale tapestries and hulking sculptural forms in cardboard and polyurethane resin, which collectively evoke different types of light, conveyed by the title Downtime: Daylight, Candlelight, Moonlight (2020). Yet the thirty-five hand-painted wall hangings forming part of this cluster, Candlelight scenography (2020), sit behind seventeenth-century Dutch and Flemish paintings from the NGV collection, positioning them as mere theatrical backdrop.
Two works stand out for their technical brilliance and conceptual provocations. Tabor Robak's Megafauna (2020) is an installation of psychedelic digital animations of machinic forms whose torsions pulse across banks of LCD screens, resembling componentry from a sci-fi vision of futuristic engineering. Refik Anadol's Quantum memories (2020) uses quantum computing and AI algorithms to translate a dataset of more than two hundred million nature-tagged internet images into a live-streaming projection on a 10 sqm LED screen as a seismic wave of compelling, transmogrifying forms.
On my second visit to the Triennial, the cumulative glitz and spangle were less impressive and more redolent of a mega exhibition enamoured with its own optical effects. The endless plays with illusion and illumination left me with the sense of wandering through a sprawling contemporary incarnation of a nineteenth-century phantasmagoria. If the Triennial can be summed up in one work, it is Jeff Koons's Venus (2016–20), a monumental stainless-steel blow-up of an eighteenth-century porcelain figurine, whose mirror-polished, pastel-tinted surface makes the goddess of love gleam like a silvery pearl. Sumptuous and rococo-esque, the Triennial revels in its own theatrical excess.
---
The NGV Triennial is showing at the National Gallery of Victoria from 19 December 2020 to 18 April 2021.