Art
Arthur Streeton in retrospect
A major summer exhibition at AGNSW
Art Gallery of New South Wales
The purpose of a retrospective exhibition is to reconsider, to come to fresh insights. Streeton, now at the Art Gallery of New South Wales, is the largest exhibition of the painter's works since his 1931 lifetime retrospective, which was also at AGNSW (the current offering is only twenty works shy of that show's massive total of 170). It's a feast, one that enables us to reassess the great man's art. And like all good retrospectives, it questions older certainties.
Arthur Streeton (1867–1943) was, until the emergence of the great Aboriginal Desert painters after the 1970s, undoubtedly Australia's most influential landscape painter. For more than a century, he was so celebrated for sweeping golden pastoral views that his high panoramic viewpoints have long been canonical, and emblematic, as the late Ian Burn argued, of Australia's dominant view of itself as a prosperous settler success. It is the complication of that venerable but troubling certainty that makes this exhibition important.
Streeton was prodigiously talented and immediately recognised by his older contemporaries Tom Roberts, Charles Conder and Frederick McCubbin, the leaders of the small band of avant-garde painters who espoused the new 'impressionism' in Australia. An energetic man, Streeton hit his stride early: his Still glides the stream and shall forever glide was purchased by the then National Art Gallery of NSW in 1890, when he was only twenty-three, a success that led to half a century of national celebrity. Now Streeton is once again working his early magic in Sydney. Exhibition visitors are clearly dazzled by the way his paintings transcribe seeing: the light, heat, and dust; the evening shadows; a white hot hill at Kurrajong in full summer; the closely lapping wavelets on Sydney Harbour seen from water-level, scrabbly foreshore bush.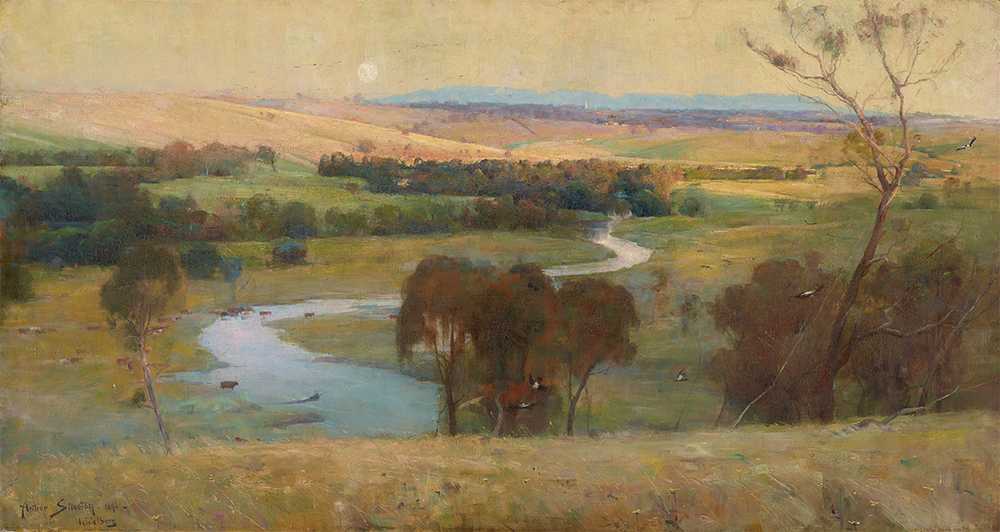 Arthur Streeton, Still glides the stream, and shall for ever glide, 1890, oil on canvas, later mounted on hardboard, 82.6 x 153 cm, Art Gallery of New South Wales, Sydney, purchased 1890 (photograph by Jenni Carter, AGNSW)
Leaving aside the furphy that these Heidelberg impressionists were the first to truly 'see' Australian landscapes, there is enormous pleasure in the rush of recognition that Streeton offers those familiar with his locations: the Melbourne-born painter is one of Sydney's great interpreters. And Streeton exported that Australian expertise: as art historian Roger Benjamin points out in his catalogue essay, Streeton had great success with 'an Australian approach to Venice, honed by painting his many waterfront scenes on the "blue and gold" of Sydney's harbours and beaches'. This is one of the exhibition's key insights: by 1908 Streeton had become a man of the world who profited from the financial acumen of his musician wife, Nora Clench, and knew how to play to his audiences' appetites, selling Sydney Harbour landscapes to Melburnians, Cairo vignettes to the orientalist taste, and the splendid Venetian canvases everywhere. This is not a naïve 'love of landscape' but a knowing consideration of how a professional artist interprets what is seen, and for whom.
For Streeton was a painter not only of the bush in intimate close-up and of pastoral plenty in large, often ponderous canvases, but of modern urban landscapes, an enduring fascination that is usually overlooked. His scrutiny of modern cities is registered throughout: Benjamin notes that in 1907 Streeton saw Venice as modern, only ten years after the Cairo scenes that had edited out contemporary detail, as Emma Kindred demonstrates in her lively essay. Later, as Hannah Hutchison argues, Streeton's modern accounts of 1920s Sydney detail the city's growth, with changes in roof-scapes and increasing settlement around the Harbour.
This new thinking for Streeton has been marshalled by Wayne Tunnicliffe, the exhibition's curator, catalogue editor, and driving intelligence behind this revisionist argument. Tunnicliffe has commissioned writing from both established and emerging scholars, and it is rewarding as well as comprehensive. I particularly enjoyed Jane Clark's authoritative account of the early Heidelberg paintings in situ, as fresh and immediate as the paintings themselves; and Andrew Yip's thoughtful text on Streeton's World War I service and 1918 battlefield paintings, which explores the artist's longstanding alertness to intersections of industry and the natural world, city, and bush. The great Fire's On (1891, AGNSW) is an early intimation of this keen interest, with its disturbing evidence of the death of a tunneller on the new railway through the Blue Mountains. Later, as Yip suggests about Villers-Bretonneux (1918), Streeton paints the devastated battlefield as 'a wound cut into the flesh of the earth as if it were a single living thing'.

Arthur Streeton, Circular Quay, 1892, oil on wood, 19.3 x 47.6 cm, National Gallery of Australia, Canberra, purchased 1959 (photograph by Jenni Carter, AGNSW)
This new (and revisited) research reveals Streeton as a touchstone for enduring and conflicted Australian conceptions of this country: the raw optimism; the constant ambivalence about global cultures and their influence; the hopes for authentic accounts of Australian life; the consistent imposition of an invader's point of view. Not so much a hero of Australian society, Streeton emerges as struggling to negotiate its complexity. In 'Australia Felix', for instance, Nick Yelverton points to the ambivalence of Streeton's place in the world, with the uncertainty of his artistic life in London for two decades from 1897, countered by local enthusiasm for his work reconfirmed by successful exhibitions in Australia in 1906–7, with Streeton imaging 'Australia' (or parts of it) to the young nation. Indeed, Hutchison points out that Streeton's 'big landscapes' were constantly shown in public collections, while his myriad paintings of Sydney Harbour were held privately, skewing attention towards the 'big national' theme that once was canonical of European 'ownership' of Australia, but is now thoroughly discredited.
Perhaps most timely, Tim Bonyhady's important research has established Streeton as an ardent campaigner for preserving natural spaces from as early as 1893, and has underscored his important advocacy in the 1920s and 1930s for forest conservation. The catalogue ends with Bonyhady's account of the prophetically titled Silvan Dam and Donna Buang, AD 2000 (1940), an image of ruined ring-barked wilderness: 'as we reap the consequences of ignoring the kinds of environmental warning Streeton expressed in both his writings and his art, his apocalyptic painting is proving even more frighteningly true'. (Writing in the summer 2020–21 edition of The Monthly, Bonyhady has also revealed Streeton's virulent racism in a recently uncovered 1895 letter to Sydney's Daily Telegraph, in which Streeton attacked Syrian hawkers in New South Wales. It's a disturbing reminder of pervasive colonial assumptions and their persistence.)
Altogether, this Streeton project is impeccable, barring one reservation about the publication: muddy illustrations mean (inter alia) that a detail pointed out by Benjamin is not visible to the naked eye. And a critical note about the exhibition's design, with its emphatic wall colours and lighting: why the often-descriptive wall texts? I admire interpretation, but so much 'value adding' is unnecessary. Streeton looked closely at the world, used his eyes; we should be encouraged, certainly in the first instance, to return the compliment.
Streeton is this summer's Sydney blockbuster – hugely enjoyable, celebratory, sensual. In the long term, though, Streeton offers a golden opportunity to consider how one signal artist navigated this country: painting the present, consolidating views about the character of the country – for better and worse – and, eventually, thinking about its future. Don't miss it.
---
Streeton continues at the Art Gallery of New South Wales until 14 February 2021. The exhibition catalogue is Streeton (Thames & Hudson and Art Gallery of New South Wales, $70 hb, 384 pp).