Although this not-to-be-missed offering from the National Gallery of Victoria has been billed as a 'two-part exhibition', it is a much more complex entity than that. In the words of the three lead curators – Cathy Leahy, Judith Ryan, and Susan van Wyck – it 'explores different perspectives on Australia's shared history in two complementary exhibitions'. I recommend you stay long enough to see both exhibitions on one day; but then you'll need to go back, ideally several times. (For Colony: Australia 1770–1861, on the ground floor, you can buy an unlimited-entry season pass. Entry to Colony: Frontier Wars, upstairs, is free.)
There are many hundreds of objects on display: extraordinary treasures from collections and archives across Australia, many of them fragile works on paper that rarely emerge from storage boxes; paintings, prints and drawings, maps, sketchbooks and journals, photographs, weaponry, funerary, and other cultural objects, clothing, metalwork, furniture, mixed media installations, video, and other contemporary artworks.
The seriousness with which the NGV has approached this ambitious and timely project is signified by the fact that the Director, Tony Ellwood, was head of the curatorial team, working with Assistant Director, Isobel Crombie, three Senior Curators, three further curators, historians, a consulting group of Elders and Traditional Owners and, locally, N'arweet Carolyn Briggs of the Boon Wurrung and Aunty Joy Murphy-Wandin of the Wurundjeri. Underpinned by decades of cross-disciplinary scholarship, extensive consultation, and concerted collaboration, it is a colonial art project very different from those of the 1970s (two hundred years since Captain Cook) or the various thoughtful but essentially celebratory bicentenary exhibitions held in 1988.
The gallery's website suggests that the two exhibitions deliver 'parallel experiences of the settlement of Australia'. This image of two separate trajectories, never meeting, is not a good metaphor. Indeed, the catalogue (edited by Cathy Leahy and Judith Ryan, with fifty-two contributors) opens with texts by the Worimi filmmaker Genevieve Grieves about her poignant artwork Lament, 2015, and Bidjara photographer Christian Thompson on his provocative Museum of Others series, 2015–16, before the introductory essays; while contemporary works and commentaries by rea, Michael Cook, and Julie Dowling appear as double-page-spread interventions in the essays on historical landscape painting and portraiture. The immediate effect is of interdependent complexity and multiple points of view.
Back to the exhibition spaces. Colony: Australia 1770–1861 is explicitly circumscribed by its date range, from Cook's landfall and 'possession' taking for the British Crown at Botany Bay (plus a little on the earlier Dutch voyages) to the NGV's founding in 1861. This seems a rather arbitrary end-date, given that Australia was arguably a colony until 1901, but it is clearly stated and the exhibition couldn't usefully have been bigger. (The years between 1861 and 1901 are quite well represented in NGV Australia's permanent collection galleries.) Down one side of the long entrance corridor stand thirty-four nineteenth-century south-east Australian Aboriginal carved wood parrying and broad shields, at once welcoming and a reminder that colonists arriving where the NGV is now were entering the land of the Wurundjeri People – and that everywhere in Australia is Aboriginal land. The exhibition is then arranged in a sequence at once chronological, geographical, and thematic: moving from the arrival of the First Fleet in Sydney Cove in 1788, to Newcastle, to convicts in Hobart, the Swan River, an interlude with silver, another with early photography, then into South Australia, the Port Phillip District, a desk case slightly oddly combining the Gold Rush with Thomas Baines in the Northern Territory, and finishing in Melbourne. Much of this material will be a revelation to non-specialist visitors.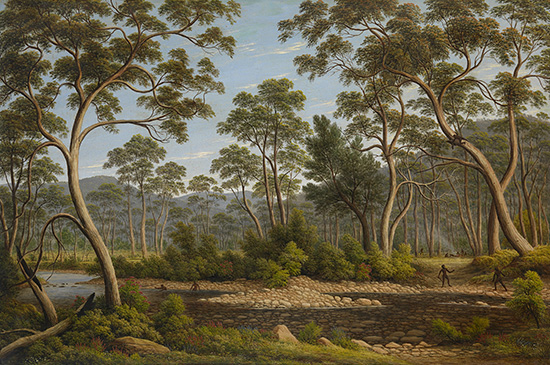 In contrast, Colony: Frontier Wars begins with E. Phillips Fox's romanticised and officially commissioned 1902 painting of Cook's 1770 landing, incorporated into a moving installation of 2001 by Tasmanian Trawlwoolway artist Julie Gough. The successive rooms in this exhibition are titled Terra Nullius, Stolen, Lament, Absence, Presence, and Desecration. Tragedy is omnipresent, but so are strength and survival. There is joy in Captain Harrison's colourful Corroboree at Coranderrk of 1890; unrivalled dignity in William Barak's suite of documentary watercolours. Downstairs, in Colony: Australia 1770–1861, there is an always implicit and discoverable message that our past, inextricably enmeshed in the present, creates our future. Here, in Colony: Frontier Wars, that information is overt, political, urgent, and sometimes shocking.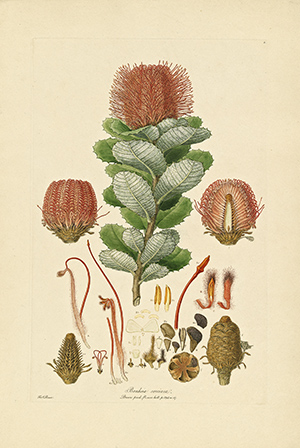 Dwelling in a continuum of time is a part of our evolved human biology, even if 'rules' about time are cultural. (Human societies conceive of temporal order very differently: horizontally and empirically in contemporary Western thought, for example; and, as I understand it, in a more vertically spatial 'everywhen' of time and place in Australian Aboriginal traditions). Neurophysiological research shows that memory and foresight are fundamentally linked within our brain structure, enabling both the accurate preservation and the compounding expansion of knowledge over successive human generations; that is, Homo sapiens' uniquely cumulative culture.
One of the reasons for having museums, and for making exhibitions, is that imaginatively and expertly created objects are among the best means through which we can try to understand how our present came to be. They speak for themselves in a way that even their creators may not have understood or intended. They can bear witness. They may challenge received wisdom and convenient beliefs. As an art historian and museum curator, I'm biased, but I honestly believe that it's no platitude to say 'a picture's worth a thousand words'. I could feel the excitement of natural history painters such as Ferdinand Bauer, John Lewin, and Harriet Scott, depicting 'a country of enchantments'; John Glover's pride in his Hobart house and garden; and Ludwig Becker's melancholy, looking across the twilit mudflats of the Yarra, so far from the European homeland he would never see again. A number of drawings of Aboriginal people carefully inscribed with the sitters' names, by Becker, Thomas Bock, Georgiana McCrae, and William Thomas, preserve universally human relationships that seem still alive and deeply felt. The work of contemporary artists is, of course, direct communication in the now.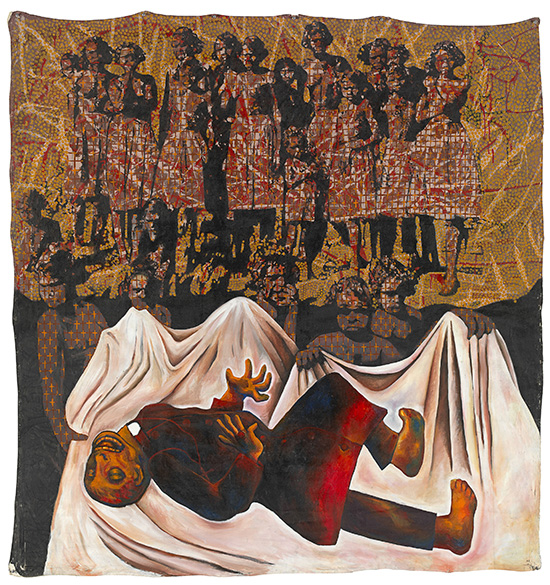 I came away from Colony: Australia 1770–1861 / Frontier Wars feeling optimistic. At a time when Australia is more multicultural than ever before, when conversations can be had and widely heard, and contradictory viewpoints shared, collaborative undertakings such this can make an enormous contribution to our future well-being. I'm with Myles Russell-Cook, NGV Curator of Indigenous Art. Although it may be two steps forward and two back for a while, he told Kerrie O'Brien of The Age, 'I have the utmost faith in Australia's ability to bring about positive change.'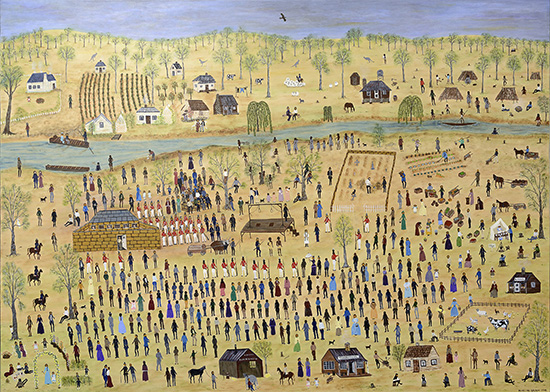 Colony: Australia 1770–1861 / Frontier Wars will be showing at The Ian Potter Centre: NGV Australia at Federation Square from 15 April to 15 July 2018.
ABR Arts is generously supported by The Ian Potter Foundation and the ABR Patrons.