Music
An evening of Charpentier
The return of Pinchgut
Pinchgut Opera
Hooray, operatic activity in Sydney is back! Well, perhaps not quite, but performances by one of Australia's most vibrant companies, Pinchgut Opera, occurred over the weekend. Worldwide operatic activity abruptly ceased in March when Covid-19 struck, and has only recently tentatively emerged from this enforced hibernation. Opera Australia is slated to reopen early in 2021, sooner than many other companies, while others such as the Vienna State Opera endured the frustration of resuming performances as the first wave of the pandemic subsided, only to be forced to close their doors as a second wave surged.
One benefit, if it might be so described, is that there has been a plethora of online offerings from the catalogues of many companies – a chance to explore esoteric corners of the repertoire as well as standard works. Live opera, that most expensive of performing art forms, remains in a parlous state, jeopardising the livelihoods of thousands, but it is encouraging that so many companies and festivals are announcing plans for 2021.
So there was a palpable frisson of excitement in City Recital Hall, scene of many a triumph by Pinchgut over the past couple of decades. It has brought a wide variety of neglected baroque works to Australian audiences. Marc-Antoine Charpentier's (1643–1704) David and Jonathan was a resounding success for the company in 2007, revealing the richness and variety of the music of this French baroque composer, who had the misfortune to live in shadow of Jean-Baptiste Lully, the dominant figure on the French operatic scene.
Charpentier studied in Italy, absorbing new musical trends in both opera and oratorio. Back in Paris, his reputation as a versatile and reliable composer grew, resulting in a prodigious output of sacred music. In 1698, he obtained the post of maître de musique of St Louis, the beautiful Jesuit chapel, a position he held until his death. Very little of his music was published in his lifetime, but he took great care with his manuscripts, bequeathing them to a nephew who published some of them and then sold the bulk to the royal library.
Charpentier had a particular interest in Christmas music: the Messe de Minuit is one of the best-known and loved examples. The use of carols in church music was a long-established European tradition, but unlike in England, French carols were often transformed into organ music. In the liturgy of the Midnight Mass, however, it was possible to perform these carols as part of the service, often including complex instrumental arrangements; but basing the whole mass on carols was unique. The half-hour work contains melodies that the contemporary congregation would instantly have recognised.
In Pinchgut's performance, a selection of music by Joseph Bodin de Boismotier (1689–1755) and Nicolas Chédeville (1705–1782) has been inserted into the mass. Of particular interest is the use of a musette in the instrumental ensemble. The smallest of the bagpipe family of instruments, it had associations with shepherds and the nativity. Expressively played in this performance by Simon Rickard – apparently an Australian première for the instrument – the musette has a sound very distant from a Scottish piper raucously belting out 'Scotland the brave!' It provides a soft and mellow texture that blended particularly well in several duets with Melissa Farrow's virtuosic performance on the baroque flute.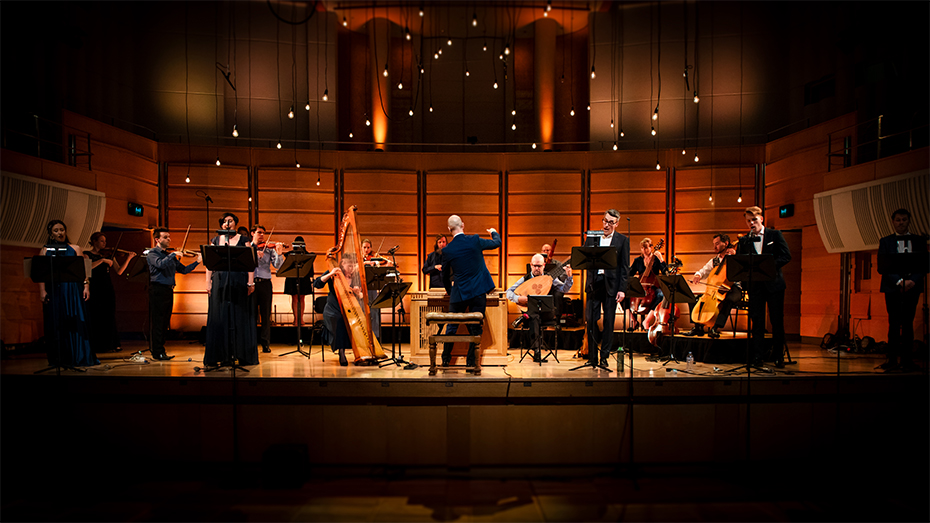 Pinchgut Opera performs Messe de Minuit (photograph by Lando Rossi)
This performance took place under current restrictions, with attendants wiping down music stands in between musical numbers as the musicians changed places – this seemed an effective use of the time that it often takes to tune a baroque ensemble between numbers. The performance was led by Pinchgut's artistic director, Erin Helyard. What is there to say about Helyard that hasn't already been said? He controlled the performance as conductor and organist with a firm hand, but one always has the sense of complete freedom enjoyed by the performers, both vocal and instrumental, created by a leader whose understanding of the music is deep and profound, with performance flair that is never flashy. It is music-making of the highest quality.
An excellent vocal quintet sang mainly in ensemble, but also had brief solo moments in which to shine. Chloe Lanksheare's beautifully warm and limpid soprano contrasted well with Anna Fraser's more robust tone, both sopranos possessing a wide range of colours that blended well in duet. Similarly, Eric Peterson's light and flexible tenor was a good foil to tenor Nicholas Jones's more full-bodied sound, while David Greco's incisive and sonorous baritone gave the ensemble weight and substance, his solo introductory musical statements particularly fine. The twelve-strong instrumental ensemble was uniformly excellent, providing a wide range of instrumental colour and dynamics, never overpowering the voices.
The concept of expanding Charpentier's mass with other works is imaginative; the well-chosen, often dance-inflected pieces provided much variation in musical texture, dynamics, and tempo. Charpentier's canticle for the Nativity, 'Nuit' (Night), was a beautifully hushed and moving moment, effectively enhanced by a subtle lighting design by Peter Rubie, flexibly adapted to the changing moods of the music. The festive light globes above the stage added a welcome touch of Christmas cheer. This was a most enjoyable concert with music making of high quality infused with a sense of joy and thankfulness on the return to performances before a physical audience. One looks forward to Pinchgut's imminent announcement of its 2021 program.
A little trivia to end. Charpentier's overture to his Te Deum is used as the signature tune for the Eurovision Song Contest. It is a delicious irony that someone who struggled for recognition during his life and was largely forgotten after his death now has music instantly recognisable by millions in Europe and beyond.
---
Messe De Minuit was performed by Pinchgut twice at the City Recital Hall on 5 December 2020.