Theatre
'Yee-haw'
A very traditional Oklahoma!
Black Swan State Theatre Company of WA
Musicals remind me of watching midday movies with my grandmother in the days of black-and-white television. Years later, the revelation that many of these films were actually in colour seemed antithetical to the moral certainties they depicted.
In Oklahoma!, Rogers and Hammerstein's first Broadway collaboration (1943), virtue triumphs over villainy, the good guy gets the girl, and the girl gets what every girl wants: marriage! What may not be common knowledge is that the musical is set in Indian Territory the year before Oklahoma became a State of the Union (1907). With echoes of terra nullius, Native Americans might as well be non-existent; the conflict is between crop farmers and cattle ranchers who decry the fencing of 'our' land. Who better to personify this wide 'white' land than the virginal Laurey, who is caught between two men vying for her affections? Will she choose swaggering cowboy Curly or glowering farmhand Jud – amiable or predatory masculinity? To exasperate her would-be lover, she flirts with Jud's volatile affections without counting the consequences. Curly may not be the perfect match, but Laurey's options are limited.
Contemporary productions can approach Oklahoma! in one of two ways, either as full-blown extravaganza reproducing the lush original or ironically, standing the cardboard characters of musical theatre metaphorically on their heads – mocking or questioning the outdated mores of the storyline; stripping back set and costume design to feature the songs and music; updating choreography (I'm imagining Pina Bausch); taking the 'yee-haw' out of the production. The possibilities are endless. The current Black Swan production essays a few new ideas but falls short of any real innovation. It seems to have aimed for a crowd pleaser, a revival not an adaptation. Unfortunately, the result has a touch of suburban repertory about it.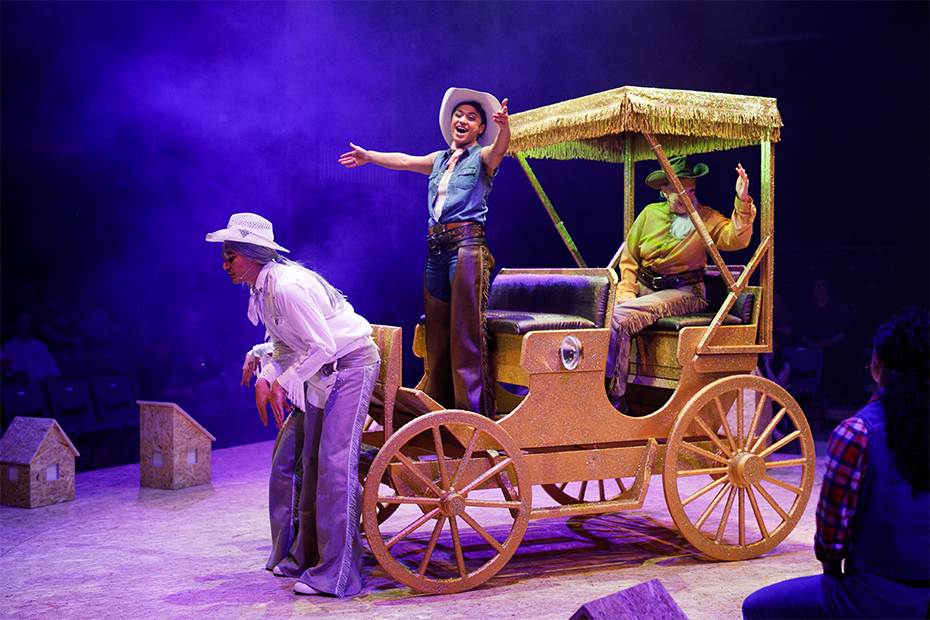 Emily Havea in Oklahoma! (photograph by Daniel J Grant)
The major transformation is to the Heath Ledger Theatre: four banks of tiered seating now surround a square particle board stage with a revolving central section that brings animation and movement to the circumscribed arena. Dollhouse-sized buildings, several lit from within, evoke a sparsely populated landscape. Later, buildings will be lifted and the set reconfigured; objects will descend from on high. There are several surprise moments I won't reveal here: suffice to say that dreams and nightmares are imaginatively realised.
Another surprise is the casting of Tongan-Australian performer Emily Havea as Curly. Director Richard Carroll has brought to Oklahoma! the cross-dressing aspect of his east-coast success Calamity Jane (Hayes Theatre Company, 2018–19). He claims that having a female actor portray Curly adds a queer aspect to the love triangle and to Laurey's choice, 'giving it […] more intrigue and complexity'. That complexity was lost on me. Havea's chiselled features, broad shoulders, and male posturing are convincing. She brings a sweet harmony to 'People Will Say We're in Love', her duet with Stefanie Caccamo's Laurey. Curly's usual baritone is not consciously missed.
After the performance, I rewatched Fred Zinnemann's 1955 film version and was surprised by the similarities between the two. Admittedly, Caccamo is more tetchy than dewy-eyed as Laurey – her irritation with Havea's strutting Curly, totally understandable – but Andy Cook's taciturn and hulking Jud Fry is hardly the representative of conformity and repression that Carroll suggests in the program notes. I found myself identifying with Jud's outsider status, pitying him and wondering what trauma lay behind his inarticulate brutality. His confrontation with Curly in the ghastly smokehouse is the most inventive scene in an otherwise conventional production. The sequence is filmed backstage and projected onto a lowered fringed curtain. Violence is embodied in the red-lit carcasses, the menacing swing of Jud's meat cleaver, and the fractured images of the men wavering with the movement of the fringes. After Curly's nasty attempt to incite Jud to suicide, the 'Pore Jud is Daid' number comes as a hymn to Jud's sorry existence.
Musical director Victoria Falconer and the three talented multi-instrumentalists who make up the band deserve special acknowledgment. They give Hammerstein's libretto a feisty accompaniment with an adaptation that invokes the folk music of the 1900s and brings, on at least one occasion, a distinctly contemporary flavour to the production. The 'Kansas City' number becomes a potted history of twentieth-century dance routines, performed with athletic exuberance by Axel Duffy as the fetchingly naïve Will Parker.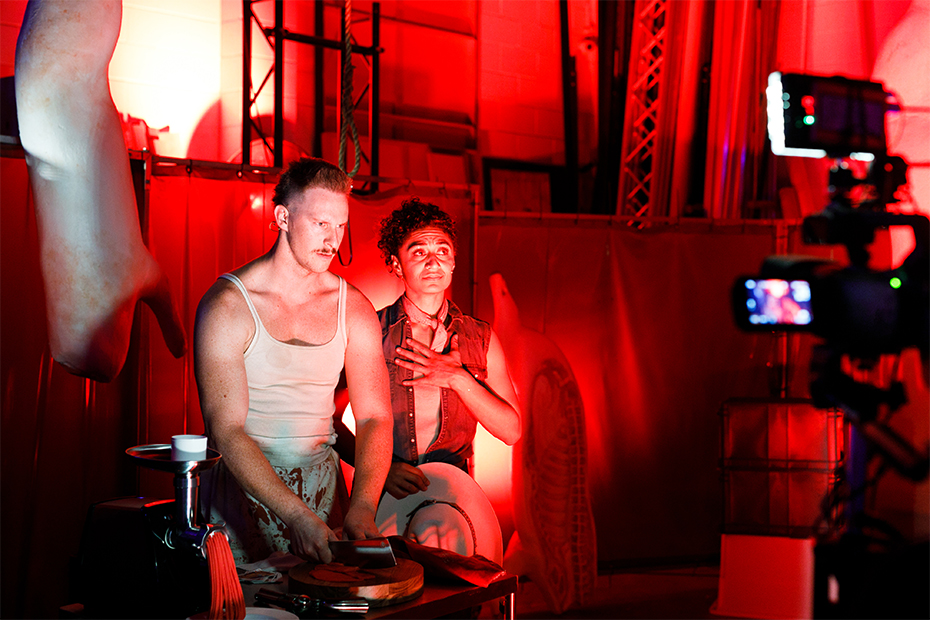 Andy Cook and Emily Havea in Oklahoma! (photograph by Daniel J Grant)
Also worth mentioning are Laila Bano Rind, who gives Ado Annie a Marilyn Monroe makeover, sassy and provocative beneath her dim-witted façade, and Cameron Taylor whose Persian peddler Ali Hakim is an odd mix of Borat and Groucho Marx. The rest of the cast make a decent job of singing in Americanese, but their hokey Southern accents occasionally falter in dialogue. Not everyone will find the slips into local intonation irritating.
Despite several miraculous costume changes, including Laurey's centre stage transformation behind a glittering gaggle of Priscilla-wannabes, other costume choices seem niggardly – Laurey's frumpy knee-length frock in the second act, for example. After the exuberance of the first act, the finale is a letdown: the action devolves into incoherence, and the title number is not the rousing ensemble piece you might expect. Perhaps the designers had exhausted their ideas and the performers had run out of energy, as well they might.
Unless you are an unabashed devotee of musical theatre, Oklahoma! will require a suspension of critical faculties. Go to Black Swan's production for the fun of it, secure one of the cushions supplied to pad the uncomfortable seats, but don't expect it to be other than anachronistic.
---
Oklahoma!, produced by the Black Swan State Theatre Company of WA, continues at the Heath Ledger Theatre, State Theatre Centre of Western Australia, until 20 December 2020. Performance attended: December 2.