Music
The Sound of History: Beethoven, Napoleon and Revolution
Adelaide Symphony Orchestra
Towards the end of last year, in advance of the 250th anniversary of the birth of Ludwig van Beethoven, a US-based musicologist caused a stir by suggesting that we should mark the occasion by following Chuck Berry's advice and let Beethoven roll over, at least for a year. The declining social capital afforded to such 'classical' music across the West has not, it seems, stopped some music academics from continuing to be embarrassed by the prominence we give to this particular dead white guy. If nothing else, however, the 'excuse' of an anniversary gives an artistic planner an opportunity to promote canonical composers and works without controversy and indeed, as was the case for this concert at the Adelaide Festival, to explore why such music might still hold significance for us.
In Beethoven's case, that significance cannot be explained simply by exploring the innate qualities of his music alone. To that end, it was a clever idea for Brett Dean to invite his close friend Christopher Clark, the distinguished scholar of modern Germany and Regius Professor of History at the University of Cambridge, to serve as an expert commentator on Beethoven's music, and to call it 'The Sound of History: Beethoven, Napoleon and Revolution'.
In the end, Brett Dean was unable to participate, the composer and conductor having become one of the more prominent Australian victims of the coronavirus. His role was taken at short notice by fellow distinguished composer–conductor Richard Mills.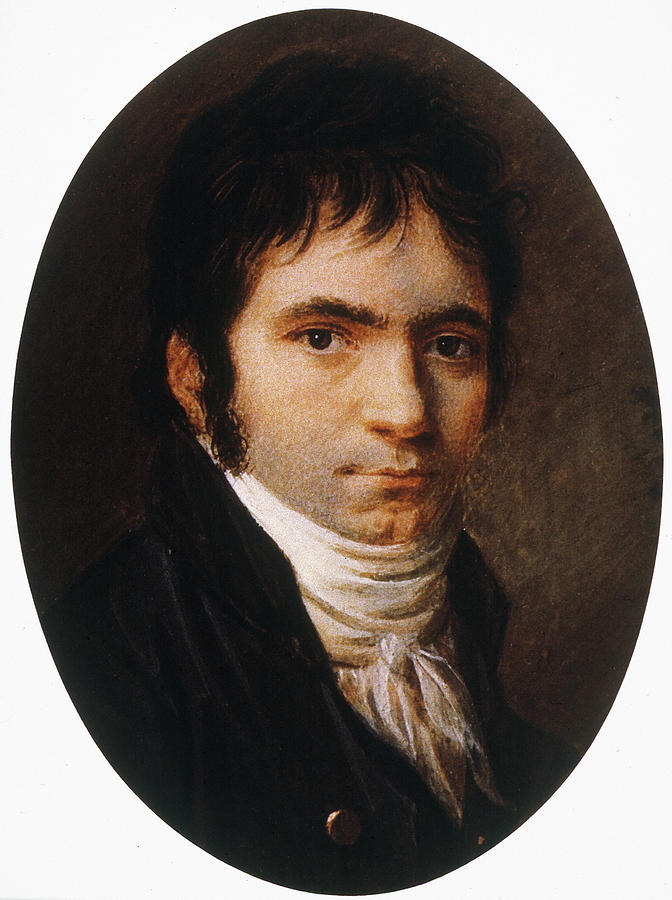 Ludwig van Beethoven, miniature, 1803, by Christian Horneman
The first half of the evening centred around the so-called Heiligenstadt Testament, the letter Beethoven wrote (but never sent) to his brothers during a period of recuperation he spent in a small town outside Vienna, when he was also coming to terms with his growing and irreversible hearing loss. This letter has exerted a tremendous influence on not just how we view Beethoven the man, but how we hear and interpret his music, outlining as it does a prototypical Romantic narrative frame that leads the listener from an imagined state of suffering and despair, via creative acts of personal courage and resolve, to one of redemption and transcendence.
Christopher Clark's discussion was punctuated with tantalisingly brief musical excerpts from Beethoven's Piano Concerto No. 1, as well as his first two symphonies and the Septet Op. 20. These early pieces were to become some of Beethoven's best-known and most frequently performed; thus already during Beethoven's lifetime we can see evidence of a growing gap between music that was popular and music that was venerated.
The discussion concluded with a performance of Brett Dean's own compositional response to Beethoven's state of mind at this time, his Testament (originally composed for twelve violas, and here presented in its later arrangement for full orchestra). It is a clever and moving work that also benefited from the solid performance it received from Mills and the Adelaide Symphony Orchestra. Dean offers up a series of sonic analogies to the mental and physical distress that Beethoven describes in the Heiligenstadt Testament, which are themselves punctuated by ghostly premonitions of themes from one of the works Beethoven was to compose in the years to come: the slow movement of his String Quartet No. 7 (Razumovsky), Op. 59 No. 1.
Beethoven's own reaction to his growing disability may have in turn encouraged his sense of identification with contemporary heroic figures, above all Napoleon. This possibility became the focus of the concert's second half, which concluded with a full performance of the Symphony No. 3, Eroica (a work that was originally entitled 'Bonaparte'). For Beethoven scholar Maynard Solomon, the Heiligenstadt Testament comes to serve as this work's literary prototype, one 'compounded of heroism, death, and rebirth'.
What we hear is an epic voyage of tonal discovery, one that vanquishes previously held conventions concerning the scale and scope of the symphony as a musical genre (pointing instead towards Bruckner and Mahler) and that foregrounds Beethoven's extraordinary ability to develop, change, transform, and transfigure musical material. As Clark acknowledged, this fresh approach to musical form also mirrors new ideas circulating in Beethoven's time about history itself; both come to be seen as fundamentally dynamic processes. Although not named by Clark, the greatest exponent of this view of history was, like Napoleon, a near-exact contemporary of the composer, Georg W.F. Hegel (1770–1831).
All this makes the Eroica quite the musical challenge for an orchestra and conductor to meet. Perhaps understandably given the external circumstances, the affective power of the first three movements in particular were occasionally marred by a sense of instability in tempi or ensemble. But the symphony was nevertheless brought to an appropriately assured and rousing conclusion. Mills was well supported throughout by leader Natsuko Yoshimoto and from some terrific solo work by members of the woodwind and brass sections. Video projections delivered behind the orchestra, usefully applied during Clark's addresses, were here more of a distraction.
A curious omission by Clark was any mention of the clear link between the final movement and that music Beethoven had written earlier for a ballet, The Creatures of Prometheus. The myth of Prometheus, who incurred the wrath of the gods for stealing fire in order to benefit humankind, but who also suffered for it, was arguably re-envisioned by Beethoven through the twin filters of the European Enlightenment and the French Revolution to become an archetypal model of modern heroic existence. Thus this symphony becomes inexorably entwined with not just the personality but also the age that forged it. Or, as Friedrich Nietzsche later penned in Beyond Good and Evil, in such music we can hear both the 'twilight of eternal loss and eternal extravagant hope – the same light in which Europe lay bathed when it dreamed with Rousseau, when it danced around the Revolution's Tree of Liberty and finally almost worshipped before Napoleon'.
---
The Sound of History: Beethoven, Napoleon and Revolution was presented by the Adelaide Symphony Orchestra at the Adelaide Town Hall on 7 March 2020.