Theatre
Crunch Time
Ensemble Theatre
David Williamson is a giant of Australian theatre. Crunch Time – his final play before retiring – comes after fifty years of cutting critiques of Australian culture with much focus on Australian masculinity, heterosexual relationships, and family drama across unique and surprising milieux.
The Removalists (1971), his second and best-known play, responded to the violence, domestic and institutional, that he saw latent in Australian masculinity. Ian Turner's 1972 introduction to the play asserts that 'Australia was born in violence' (referring to colonial genocidal attitudes) and remembers watching a white-collar man at the footy 'address himself to the umpire: "You fucking poofter commo mongrel Jew bastard" and then get on with his drinking.' despite the seriousness of his subject matter, Williamson has demonstrated a sharp, wry humour that is emblematic of the white Australian character he is so intimate with. Don's Party (1971) was a hit, and its humour and character studies colour much of Williamson's oeuvre.
In 1995, Williamson addressed the debate about the value of the classics in a postmodern era with Dead White Males. A satire about high-minded egocentrics and human nature, it features one of the writer's favourite archetypes: a horny, hypocritical man. In January 2020 the Griffin Theatre Company gave the world première of Family Values, which examines political attitudes around LGBTQ+ and refugee communities. Here, Williamson rallied to protect the human rights our country is guilty of violating. Lee Lewis, artistic director of Griffin and director of that production, wrote in the program: 'This play is not perfect but it is necessary.' This might be said about much of Williamson's writing; it's imperfect, but perfection is boring and unrealistic. It is in imperfections that Williamson flourishes, and in Crunch Time we see different elements of his strengths and the flourishing of an imperfect family.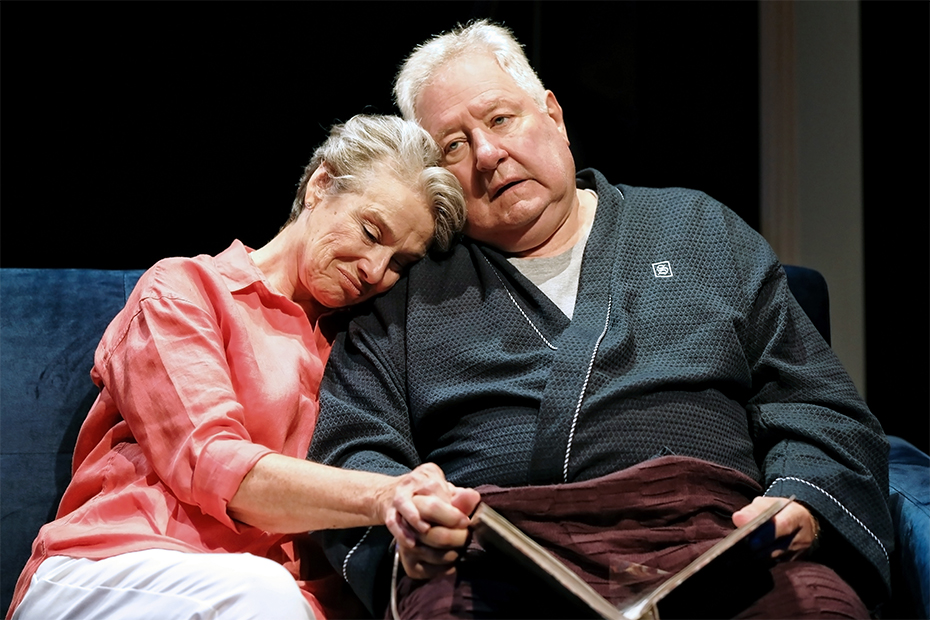 Diane Craig and John Wood in Crunch Time (photograph by Prudence Upton)
Crunch Time follows a scorned son and his dying father's wish to make amends. Steve (John Wood) is the ageing patriarch. Helen (Diane Craig) is his wife and the patient mother who sacrificed her career for the family. Their elder son Luke (Guy Edmonds) is a nerdy engineer, while Jimmy (Matt Minto) is well-tailored and charismatic. Luke's wife Lauren (Emma Palmer) is a money-hungry bully, and Jimmy's wife Susy (Megan Drury) is high-achieving, self-possessed, and 'hot'.
In the opening scene, Jimmy tells Steve that he and Luke can no longer work together and that one needs to go. Against Helen's sound advice, Steve sends Luke a letter dismissing him, and Luke decides to cut communication with his parents. Fast forward seven years: Steve is diagnosed with aggressive pancreatic cancer, and he wants Luke to come back into the fold. The family members fight to have their need for dignity and honesty.
Mark Kilmurry's direction and the cast's mostly strong performances underwrite the show's success. Although the characters are cut from archetypal moulds, the performers bend and expand them into rich individuals with whom the audience can empathise. Guy Edmonds fully embodies Luke's metamorphosis from an anxious man capable of little more than self-denigration into someone comfortable with his ordinariness. John Wood as the blustering patriarch is disarmingly real when he acknowledges his inadequate parenting, but he pleads to for some positive recognition. Matt Minto's Jimmy cultivates a rigidity that goes well with his braggadocio, and he enhances the audience's joy when Susy eviscerates him. Megan Drury's poise and precision are highlights of the production. Lauren feels underwritten; here, Kilmurry's direction and Emma Palmer's performance are similarly under-developed. Delving into her irredeemable characteristics might enliven this character. Diane Craig's Helen is most surprising and outstanding. While understated, she is the epitome of maternal strength around which the rest of her family spar. Helen has sacrificed a promising career as a cellist. Design choices like classical music during scene changes and an actual cello resting upstage throughout the play foreground this character's importance.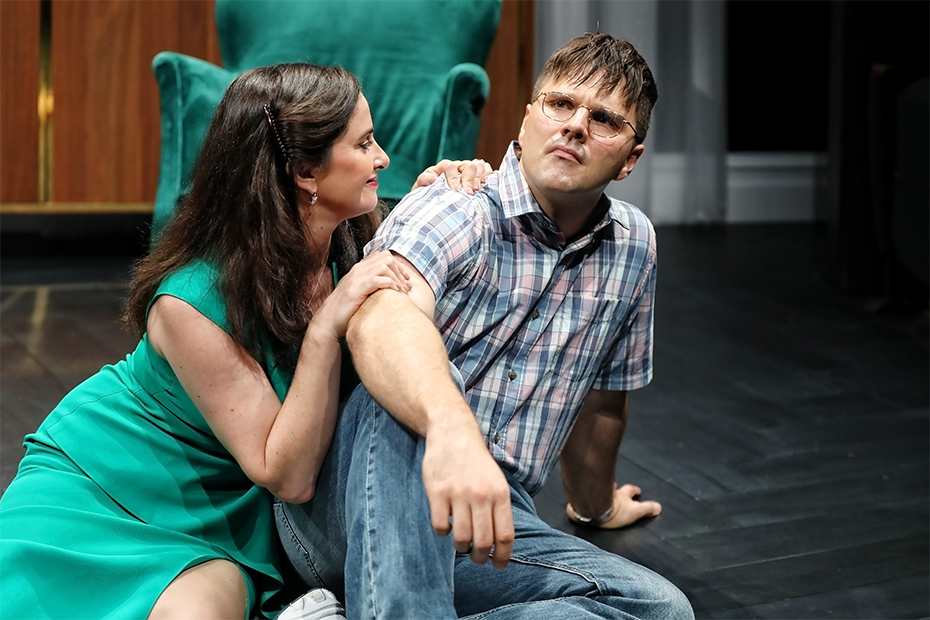 Emma Palmer and Guy Edmonds in Crunch Time (photograph by Prudence Upton)
The narrative showcases an unexpected balance between wit in the first act and sentiment in the second. Williamson's wry humour ingratiates the family with their audience and punctuates their combat. His need to address big issues like a fragmented family confronting death entails a certain sentimentality. While the tonal shift is not easily palatable, the core of the story remains cogent enough to be a sincerely good piece of theatre.
During the curtain call, David Williamson joined the cast and received a standing ovation. Director Mark Kilmurry thanked him for pioneering an Australian voice on our stages. This 'real' Australian voice should be recognised along with with Williamson's sensitivity to social and cultural issues across different times and places, and his intimacy with certain types of Australian masculinity and family dysfunction.
Crunch Time is a heartening story executed finely by the team at Ensemble Theatre. It is well worth seeing.
---
Crunch Time continues at the Ensemble Theatre until 9 April 2020. Performance attended: February 19.