Music
Sir Andrew's Messiah
Melbourne Symphony Orchestra
'Sir Andrew's Messiah' it was: the conductor's affectionate choice (Andrew Davis had soloed in Messiah as a boy), and his own orchestration, of Handel's masterwork for his farewell concert as the Melbourne Symphony Orchestra's chief conductor. Sir Andrew, who has caught an Australian habit, will return in 2020 as Conductor Laureate. Handel (who didn't rate a mention on the MSO's concert program cover) is perennial, so his return, and return, to Australian concert stages, churches, community singalongs, and recording studios is more guaranteed than rain.
You'll get no complaint from me about that. Handel's great oratorio yields something new on every hearing – in music and in resonance. This time, under Davis's baton and in James Clayton's bass thunder, there was an agitating appositeness in Handel's treatment (and his librettist Charles Jennen's choice) of the timeless Psalm 'Why do the nations so furiously rage together?' and 'Why do the people imagine a vain thing?' NATO … media degradation … political heads in encroaching desert sands …
Andrew Davis has been popular with both the MSO's musicians and with Melbourne audiences throughout his tenure (not the inevitable lot of chief conductors), so it was predictable that this performance should be greeted with an enthusiasm that paralleled the infectious zest of Davis himself. He danced through the evening's conducting, his hands a filigree of direction to his massed resources – more than two hundred in the combined choir and orchestra. And yes, there was a hint of the Proms about the occasion (Davis has taken the MSO successfully to the Proms), and a herd surge as the audience rose for the Hallelujah Chorus (we like sheep?) while the four soloists stood awkwardly impassive, facing the audience. I was reminded of a more spontaneously anarchic Melbourne Town Hall performance in 2014 when the soloists turned to join in, and bass-baritone Teddy Tahu Rhodes's back quivered with uninhibited exertion.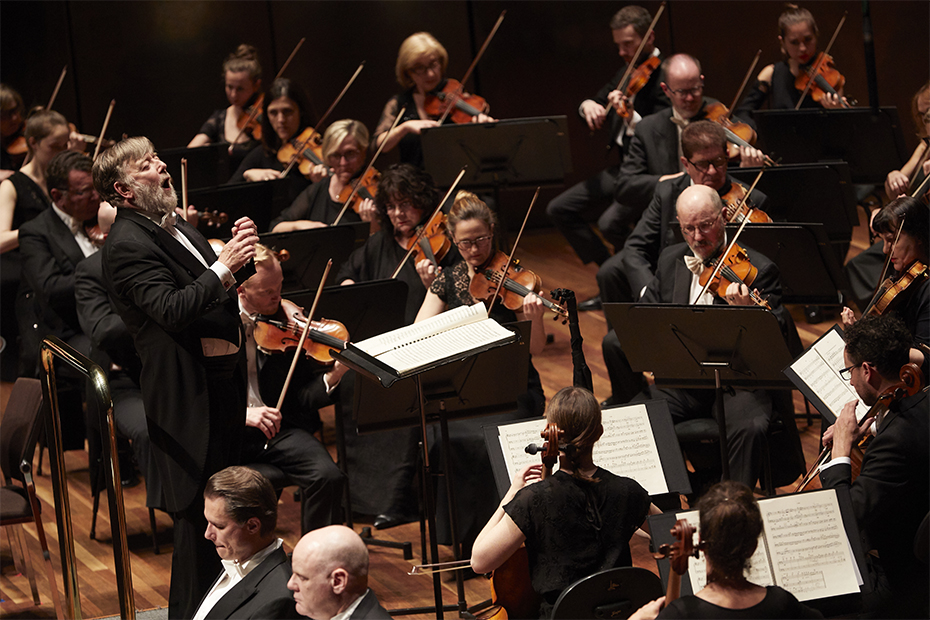 Andrew Davis and the Melbourne Symphony Orchestra (photograph by Laura Manariti)
Davis's sangfroid during this performance was admirable, given that 'his' Messiah, like so many Messiahs over time, was not without its hitches. Mezzo-soprano Catherine Wyn-Rogers had to cancel at the last minute, afflicted with laryngitis, and Fiona Campbell flew in just in time for the dress rehearsal. Campbell sang the truncated version of 'He was despised', omitting 'He gave his back to the smiters' and the da capo. Davis also chose to omit the (conventionally optional) 'O Death where is thy sting?' duet between alto and tenor towards the end of the oratorio. The latter omission is understandable for reasons of timing and audience endurance, but the earlier alto aria is one of the work's most searing glories, and I mourned its partial absence.
Handel wrote his Messiah (in a breathtaking twenty-four days) for the vocal and instrumental resources of his times. There is no definitive text; Handel himself changed and rearranged parts to suit the occasion and the singers (alto or counter tenor, for example) he had available. Mozart amplified the orchestration; more than a hundred years later, Ebenezer Prout produced the edition with which most singers are familiar. Treatments of the work have swollen and shrunk according to fashion (Davis is sharp about Eugene Goossens's 'overblown' orchestration). In the 1970s, period instruments returned, notably under the direction of John Eliot Gardiner, and restraint again characterised many performances and recordings, though not George Solti's Messiah (1985 recording), with Kiri Te Kanawa's glorious soprano soaring effortlessly over Solti's 'modern' orchestral instruments.
Davis's ambition in undertaking his own orchestration mirrors, in some ways, the motive of many of his predecessors – to adapt to the resources and circumstances of his times. 'My sole aim,' he notes, 'was to clothe the work with all the colours available from a modern orchestra; as a result I have used such instruments as alto flute, oboe d'amore, harp and some percussion including marimba and even sleigh bells in the Hallelujah Chorus.'
Colours? I did wonder, as the snare drum distracted me during the tenor's Air 'Thou shalt break them with a rod of iron', whether any more colour was needed, given the intrinsic power and imagery of the music and text. Sometimes Davis's introductions were personal and whimsical: tambourines in 'The Lord gave the word: great was the company of the preachers', reflecting Davis's memories of Salvation Army certitudes; and sleigh bells, a crimson-tinselled seasonal rattle in the famous Chorus. Habit (and a paucity of monumental Christmas music – Easter gets all the best works) has turned the Messiah into a Christmas tradition, and induced a kind of amnesia among audiences about the actual words of Charles Jennens's inspired libretto, which seams together ancient and universal tropes of birth, death, and redemption. And in English, so no excuses!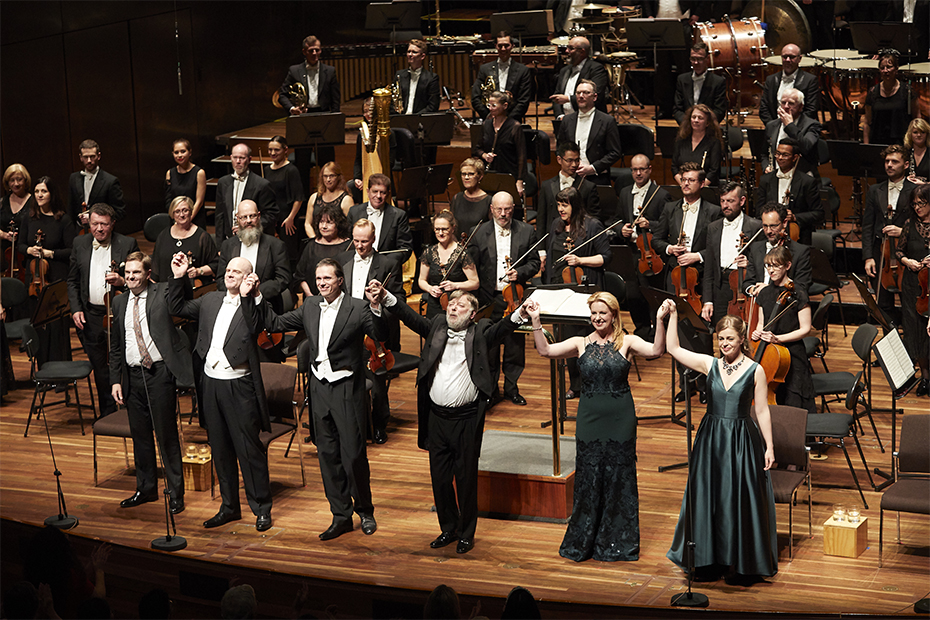 Warren Trevelyan-Jones, James Clayton, Topi Lehtipuu, Andrew Davis, Fiona Campbell, and Siobhan Stagg performing with the Melbourne Symphony Orchestra (photograph by Laura Manariti)
But the work – words and transcendent music – has absorbed centuries of honourable attempts to expand, adapt, and colour it, and will go on doing so, with little harm done, and much laudable passion invested. So I read the more splenetic reviews of Davis's orchestration and Messiah recordings with a more anthropological than musical bias – how little tolerance we have for change or experiment.
The MSO did its conductor proud during this celebratory performance, as did the MSO Chorus, dramatically disposed across three sides of Hamer Hall, giving a precision and separation to the parts. Davis always choreographs his chorus deftly. And chorus master Warren Trevelyan-Jones had his singers well schooled in the complexities and sonorities of the score. It's rare not to have one's attention drawn to a shrillness in the soprano part or raggedness in Messiah's melismatic passages and fugal intricacies, but not so in this performance. Davis set a cracking and sometimes bouncy pace for many of the choruses (too cracking at times?), but the choir responded. And if there was a little more ritenuto drama in the endings of many of the choruses, that was the conductor's choice, and the chorus followed his baton with admirable discipline.
Less successful than the balance between orchestra and chorus was the interplay between the four soloists and orchestra. After the sombre, grave opening of the Sinfony, tenor Topi Lehtipuu brought a sensitive articulation to 'Comfort ye my people' and to the Air, 'Every valley shall be exalted'. Indeed, his interpretation throughout was intelligently alive to the text, and moving, particularly in the tenor Accompagnato 'Thy rebuke hath broken his Heart' (nothing Christmassy about that). But his pure voice was no match for the concerted sound around him. Mezzo Fiona Campbell had a related intensity of tone and delicacy of interpretation, but this was not a chamber performance, it was a full-blown Messiah, and the vocal and dramatic demands – the 'refining fire' – of the alto part are daunting. The circumstances of Campbell's abrupt insertion into the role may explain some of the restraint (or constraint) of her performance.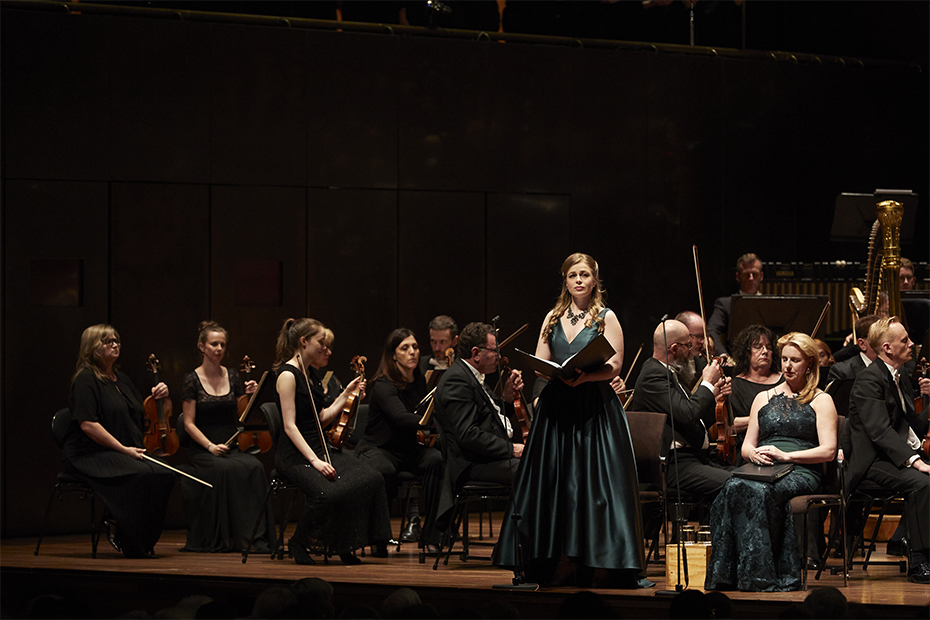 Siobhan Stagg and Fiona Campbell performing with the Melbourne Symphony Orchestra (photograph by Laura Manariti)
Siobhan Stagg's vivid and accomplished soprano was more successful in asserting itself. Her voice has loft and amplitude, equal alike to the pyrotechnics of 'Rejoice greatly' and the pastoral legato of 'Come unto Him all ye that labour'. You sense she has power in reserve. Her singing, in both low and high registers, of the late Air 'I know that my Redeemer liveth' had the transcendent lift one hopes for in a Messiah performance.
Bass James Clayton had a comparable vocal and dramatic authority (and a perfect showcase for both in the Airs Handel gives to the bass soloist). His 'The trumpet shall sound', with its silvery trumpet echo, consummately played by Owen Morris (principal trumpet), was one of the highlights of the evening.
When the applause finally died down, my neighbour turned to me and said, as if to a friend, 'That really was wonderful, wasn't it?' 'Yes', I said, because the experience did have its aspects of wonder. If I came home to subside into my preference for smaller-scale performances (one by the Czech Collegium 1704, conducted by Václav Luks, with the compelling French Mezzo Delphine Galou, was the perfect transition), it was not to retreat from Andrew Davis's lavish conception of Handel's masterpiece, but to recognise just how capacious this great work is, and how we find ourselves written in it, in all our folly, nobility, and aspiration.
---
Sir Andrew's Messiah was performed at Hamer Hall, Arts Centre Melbourne on 7 December 2019.