Film
By the Grace of God
Sharmill Films
'By the grace of God, the statute of limitations has expired', pronounces Cardinal Philippe Barbarin (François Marthouret), the Archbishop of Lyon, at a 2016 press conference. He is, of course, referring to the historical child abuse crimes committed by Father Bernard Preynat (Bernard Verley). The press corps is understandably shaken. A journalist rises, indignant: 'Excuse me, do you realise how shocking that is?' Barbarin tries backpedalling, to no avail. The words are etched in history, signifying a rare moment of truth nestled among the lies, prevarications, and confidentiality agreements that the Catholic Church has often deployed to salvage its tainted reputation. Yet these tactics have had the opposite effect, further plunging the Church into a profound legal and moral crisis.
Barbarin's Freudian slip, which provides the film's title, serves as a reminder of the institutional conditions that enabled – and enable – such unspeakable crimes against children. In this regard, By the Grace of God is not only concerned with exposing Preynat, sympathising with his many victims, processing the effects on their relatives and friends, and ruing the Lyon Catholic Church's response. Its messages and evocations transcend the real-life narrative of the film, resonating with the same sort of clerical crimes in the United States, the Philippines, Argentina, Ireland, and Australia.
Where Spotlight (2015) was laden with procedural detail, and Calvary (2014) struck a deeply personal note, By the Grace of God blends these two aesthetic approaches in grappling with this harrowing subject. Alexandre Guérin (Melvil Poupaud) is a forty-year-old professional who has five children with his loving wife, Marie (Aurélia Petit). He may have lived an untroubled life but for the fact that he was abused by Preynat thirty years prior. When Guérin discovers that Preynat remains in the priesthood, he breaks his silence, first going to the Archdiocese of Lyon for assistance. 'So what are you going to do about Preynat?' he asks. The Church – particularly Barbarin – expresses ostensible distress at the news but does little. Guérin is left with no choice but to lodge a legal complaint against the Church, which the Lyon police duly act upon.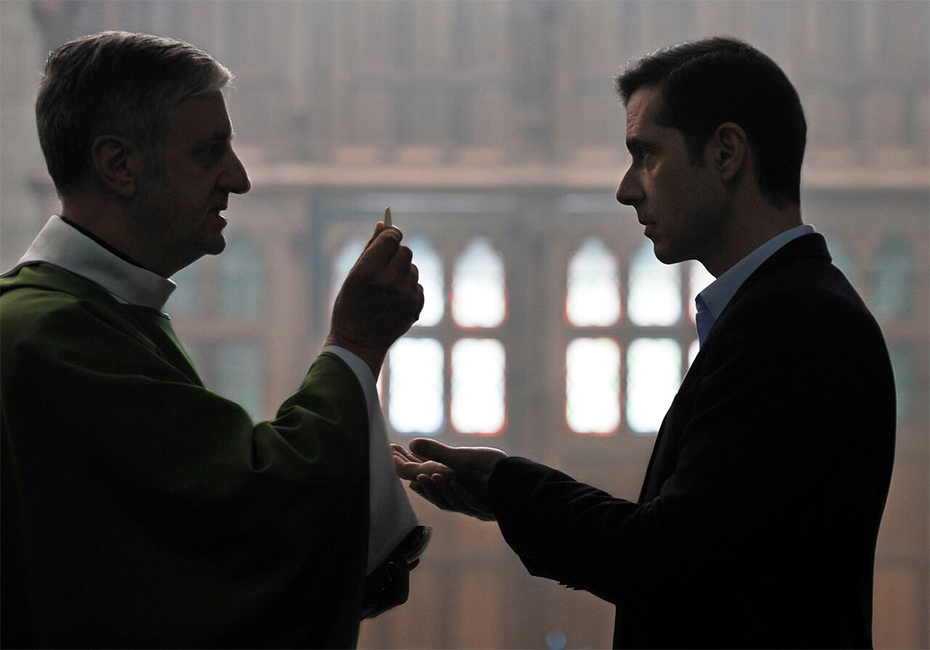 Melvil Poupaud in By the Grace of God (photograph via Sharmill Films)
The detectives are led to two of Preynat's other victims, François Debord (Denis Ménochet) and Emmanuel Thomassin (Swann Arlaud), both of whom, unlike Guérin, have abandoned the Church. Along with several other men, they come to form 'Lift the Burden', a group designed to apply maximal public pressure on Preynat and the Church at large, while granting them a space in which to heal from their shared, though distinct, experience of trauma.
Writer and director François Ozon tells the story through these three individuals by alternating between their perspectives, weaving together an array of of emotions that the men feel: pain, inner torment, resilience, and hope. Ozon's use of multiple protagonists accentuates a crucial truth about victimhood: that each person's experience is their own. Guérin remains a believer, seeking change from within, whereas Debord is a committed atheist who demands a fundamental restructuring of organised religion. Thomassin, the youngest and most damaged of the trio, is unable to hold down a job, even suffering from seizures at the thought of his abuse. There are also similarities. The three men have lived for many years in silence, and their suffering has caused fracture and disharmony in their personal relationships; with their mothers and fathers, spouses, friends.
Ozon's natural, unforced direction accords the men, and their families, humanity, which Preynat and the Church had taken away when they were children. His camera is unobtrusive, preferring to capture the events and feelings that unfold instead of dictating them. The scenes depicting the 'Lift the Burden' meetings assume a documentary-like quality, as its members throw around ideas and plot ways to expose the Church's massive failings. Ozon acts as a facilitator, employing his artistic talents to illuminate the collective and individual stories of these characters.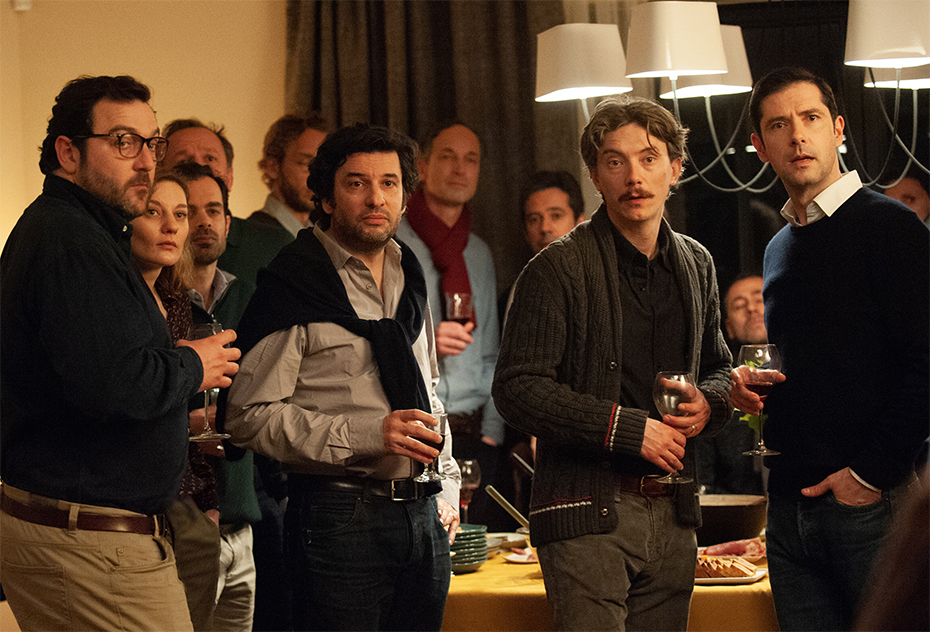 Swann Arlaud, Éric Caravaca, Melvil Poupaud, Julie Duclos, and Denis Ménochet in By the Grace of God (photograph via Sharmill Films)
By the Grace of God is quite a departure from Ozon's usual filmmaking. The auteur is notoriously hard to pin down – perhaps unlike his contemporaries in Ken Loach, Sofia Coppola, and Quentin Tarantino – leaping across genres, themes, and milieus with mixed results. Films like 8 Women (2002), Swimming Pool (2003), and Double Lover (2017) seem cold, analytical, ironic, distant; marked by a kind of postmodern sensibility. In a way, they feel like repositories for Ozon's vast knowledge of cinematic rules, rebellions, and traditions. By the Grace of God could not be more different. There have been glimpses of a more mature Ozon, first in his 2000 film Under the Sand, and more recently with Frantz (2016). Aged fifty-two, with more than twenty years of 'provocateur' filmmaking under his belt, Ozon appears to be evolving as a director. In a way, By the Grace of God seems to represent the apotheosis, and antithesis, of the bulk of his work.
At the time of the film's French release, Barbarin and his aide, Régine Maire (Martine Erhel), had been tried in French courts. Since then, Barbarin was convicted, and Preynat defrocked by the Church's ecclesiastical court. His public court case has not been scheduled. This legal process might give the real-life Guérin, Debord, Thomassin, and many others some closure, a sense that justice, if belated, has been delivered. But it offers no panacea. Nothing will reverse or undo such evils, the film gestures. Yet art itself, with its cathartic capabilities, can help victims heal, and ensure that this scourge is eradicated from the face of the earth, particularly when it is as direct, moving, honest, and sensitive as François Ozon's beautiful film.
---
By the Grace of God (Sharmill Films), 137 minutes, written and directed by Francois Ozon. In cinemas from 28 November 2019.