Almost Human: A biography of Julius the chimpanzee by Alfred Fidjestøl
Hachette, $32.99 pb, 241 pp, 9780733642791
Biography
Almost Human: A biography of Julius the chimpanzee
by Alfred Fidjestøl
The biography has long been reserved for human subjects. It is a genre largely predicated on the idea that only humans live lives sufficiently rich and complex to be worthy of sustained examination. Countless books have centred on different kinds of animals, yet few have fallen within the biographical category. Most are found in the children's, zoology, or fiction shelves at bookstores.
Alfred Fidjestøl has shaken, though perhaps not toppled, these assumptions with Almost Human, the tale of a likeable but hapless Norwegian chimpanzee named Julius. It spans over forty years of Julius's life, dedicating much space to his turbulent childhood. Fidjestøl recounts, in distressing detail, how Julius's mother, Sanne, neglected him. 'Julius appeared starved; he grew silent and seemed nearly dead', he writes. Two senior staff members at the Kristiansand Zoo, Billy Glad and Edvard Moseid, were forced to intervene and brought Julius home to live with their families. For Julius, those were wonderful times, as he indulged in the pleasures of cake, painting, and companionship. However, his bonds with the human world meant that his reintegration into the chimpanzee community would prove difficult.
In following years, Julius's existence was marred by dysfunction and alienation. He was victimised by the community's alpha male leader, Champis, fathered babies who died as infants, and made repeated attempts to escape from the chimpanzee enclosure. Simultaneously, Norwegian media spun false, romanticised narratives about him.
Even apart from its subject, Almost Human is not a conventional biography. Fidjestøl takes some liberties with the form, drawing on a wealth of information concerning chimpanzees and other animals, including Jane Goodall and Frans de Waal's work, enhancing readers' appreciation of non-human life. Almost Human is an unashamed act of animal advocacy, at a time of mass endangerment and extinction.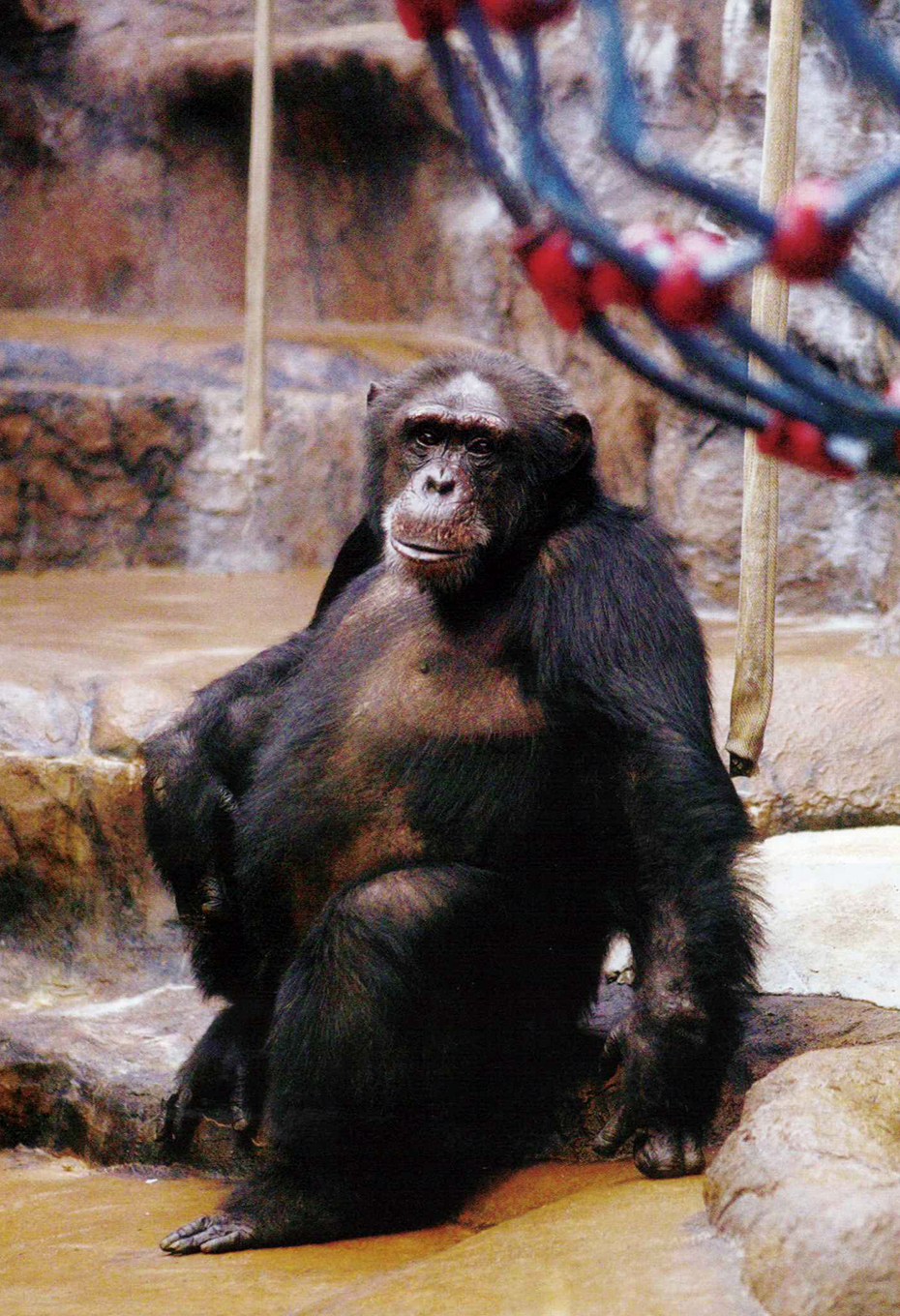 Julius, almost 45 pounds overweight (photograph by Nicolai Prebensen/VG/NTB Scanpix)