Theatre
Packer & Sons
Belvoir St Theatre
You would have to be living under a rock the size of Uluru not to be aware of the reassessment of the masculine sense of dominance and entitlement that is sweeping the Western world at the moment. From an American president who has openly boasted of assaulting women to a member of the royal family who, in an interview about his relationship with a notorious paedophile, blithely ignores the damage that this man and his cohorts inflicted on young women, we have seen a stunning lack of empathy towards the less powerful and well connected. In the business world, some consider this to be a requisite for success. It has become something of a truism to claim, as does Jon Ronson in his controversial book The Psychopath Test, that a high percentage of CEOs have psychopathic tendencies.
But what of those young men, destined from birth to control large corporations, who start life as ordinary, vulnerable children? In the case of the Packer children, they have to be 'toughened up'. To quote Oscar Hammerstein, they 'have to be carefully taught' to suppress any signs of vulnerability, to hide emotion and to be constantly aggressive. Their world, in Kerry Packer's estimation, is dominated by big gorillas. To succeed they must be the biggest and most belligerent in the jungle.
This unremitting pressure to 'succeed' has also taken its toll in the sporting world. In today's Sydney Morning Herald, there is a quote from Maurice Duffy, a mindset coach, about the cricketer Steve Smith that could be taken as the underlying theme of Tommy Murphy's new play, Packer & Sons. Speaking of Smith's relationship with Cricket Australia, Duffy says, 'Steve doesn't necessarily fit into that culture the way they were looking for. The burden and what was expected of him to behave in a certain way was obviously pushing him in certain directions that perhaps he was uncomfortable with and struggling with.' For Kerry, the world he was destined for became a natural fit. But Duffy's words could easily apply to his brother, Clyde, and his son, James Packer.
Nobody could accuse Murphy of a lack of empathy. In plays like Holding the Man (2006) and Mark Colvin's Kidney (2017), he has shown understanding of, and compassion for, people in extreme circumstances. Now he has taken on the ultimate testosterone-fuelled world of the Packers.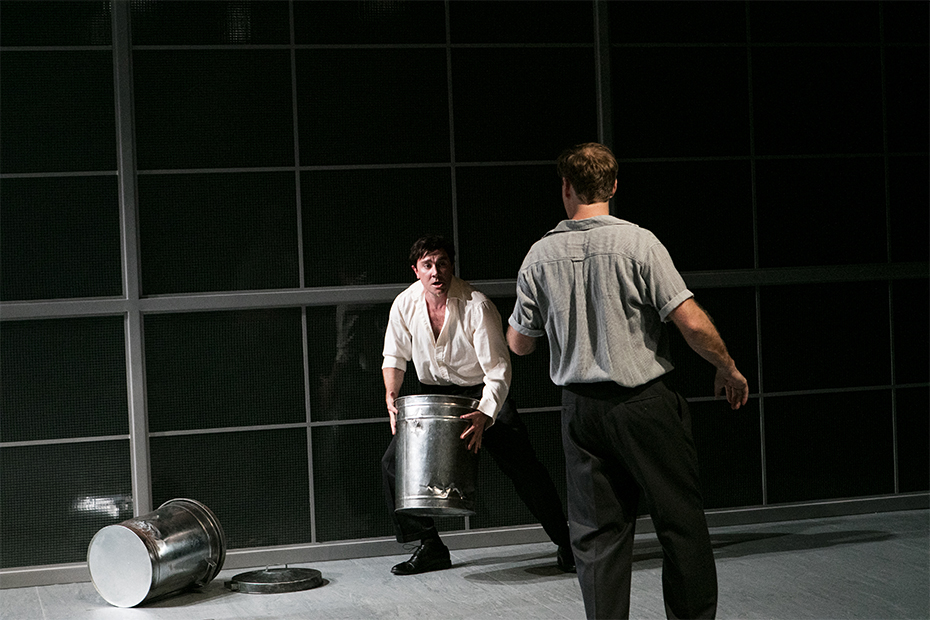 Josh McConville and Anthony Harkin in Packer & Sons (photograph by Brett Boardman)
When the apparently mild-mannered Frederick Packer arrived in Hobart in 1852 to take up the position of organist at St David's Cathedral, he would have been amazed to learn that he was to be the founding patriarch of one of Australia's leading media dynasties.
Murphy doesn't take us that far back. He covers the period from Sir Frank's dominance to James's One.Tel disaster in 2001. We get to see Frank's continual denigration of 'fatty' Clyde, his rebellion and ouster, and 'dumb-dumb' Kerry's rise to prominence as he moved the company from print to television. The father–son relationship is then repeated with James's attempts to emerge from his father's shadow and bring the company into the digital world. This gives us plenty of dramatic and amusing moments, but by limiting his play to business dealings and omitting his characters' private lives, what we get is a series of incidents rather than a deeper exploration of these men's characters.
Kerry, for example, goes from being a falling-down drunken mess in one scene to a cunning ruthless manipulator in the next. We see the result but not the process. Murphy succeeds better with James, because James is openly vulnerable. One of the most telling scenes occurs between James and his close friend and One.Tel business partner, Jodee Rich. One.Tel has just acquired a GSM operation and the two are celebrating. But the only way these two can express their affection for each other is by a juvenile wrestling match.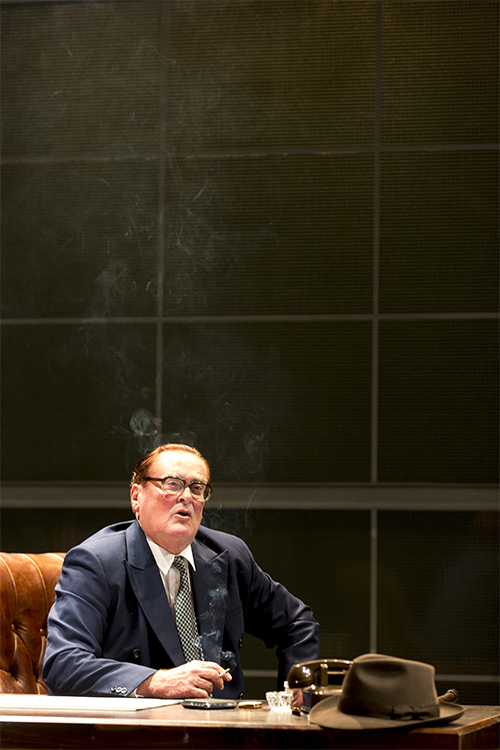 John Howard in Packer & Sons (photograph by Brett Boardman)
Other than a slight opening-night uncertainty with the lines, Belvoir has done Murphy proud. The play covers various locations and eras, and Eamon Flack's deft direction makes sure that the audience is always aware of where and when the scenes occur. Romaine Harper's design, Nick Schlieper's lighting, and Alan John's music are all effective, and Nigel Poulton has given us some alarmingly realistic fights and has presumably choreographed the amazingly limber Josh McConville's drunk scenes.
With his size, his natural dominance, and the sense of danger he brings to the stage, John Howard is ideal casting for Sir Frank and the older Kerry. Murphy and Howard make us feel an amused, if somewhat terrified, respect for the man. McConville nicely differentiates the young Kerry and James. Brandon McClelland is a self-important Clyde who finds himself completely out-maneuvered by the brother he disastrously underestimated. There are no weak links in the cast, although one might quibble that the great John Gaden is seriously underused.
At the play's end, standing in the wreckage of the One.Tel disaster, James echoes the cry of Saul Bellow's Eugene Henderson: 'I want, I want.' In Henderson the Rain King, the eponymous protagonist is a rich, successful man who realises that there is something vital missing in his life. By the novel's end he has found it. It is to be hoped James will too.
---
Packer & Sons is being performed by Belvoir St Theatre from 16 November until 22 December 2019. Performance attended: November 20