In Joanna Murray-Smith's play Fury, a successful couple with a teenaged son are visited one evening by the deputy headmaster of his private school. Joe, he informs them, is in trouble. At first Alice (Danielle Carter) and Patrick (Joe Petruzzi) cannot countenance that their darling Joe has done anything wrong. He is gentle and sensitive and plays the cello, and, as would be expected of the son of a neuroscientist and a novelist, highly intelligent. When they discover what the crime is, they are utterly flummoxed; Joe (played with pale intensity by Sean Rees-Wemyss) and his friend Ethan have defaced the local mosque and broken some of its windows. This serves like a stone thrown into a pond; the ripples continue to spread, affecting the lives of the boys, the school, but it seems, most of all, the parents.
We are in familiar Murray-Smith territory, a satirical and often savage look at the morals and values of the middle class. Her middle class is Melbourne's lefty intelligentsia, but it could easily be the equivalent in Birmingham or Baltimore. Wherever they are, they're going to have their humanistic, liberal ideals winded and wounded by a big fat illiberal punch to the guts.
Alice and Patrick, fleshed out in an over-dense opening scene, seem immediately familiar; maybe it's a mirror being held up to the audience. Maybe we know these characters from a hundred other similar scenarios. They are self-congratulatory yet critical of each other, absorbed in their own successes. Alice retains a feminist fury that her brilliance has taken twenty-five years to be acknowledged by the patriarchy, while easy-going but uneasy Patrick courts complacency as a refuge. He proclaims: 'The great thing about being our age is that we don't need to change our minds about anything … The whole point of middle age is being an apology-free zone. So long as you're bombastic about it, people will admire you for it.' Ding dong, there goes the door bell. That delusion is immediately punctured, as we knew it would be.
And of course, when shaken, other values appear in Fury; an amoral protectiveness, a fear of social embarrassment (Alice is about to receive a humanitarian prize for her medical research; what will people think if this gets out?), an alacrity at playing the blame game, even if it tears the scab off a superficially happy marriage.
Alice and Patrick have brought up their son to think for himself and to debate the big ideas of the day. They are horrified to discover that this independence of thought hasn't produced a mini-me version of themselves, but an angry young adult with views they find abhorrent. 'I don't believe all religions are equally valid. You raised me to think for myself and that's my belief,' says Joe.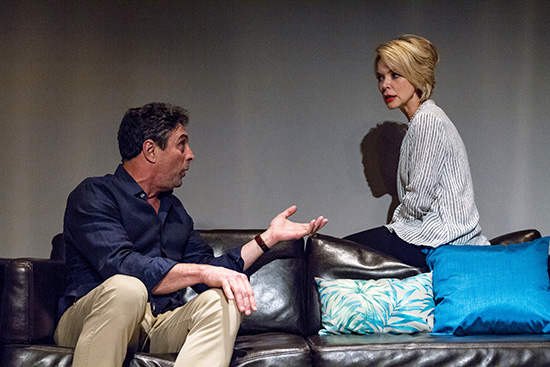 Joe Petruzzi and Danielle Carter in Red Stitch Actors Theatre's production of Fury (photograph by Teresa Noble)
Seeking explanations in a class system they would normally disavow, they decide that working-class Ethan, at Joe's school on a football scholarship, is the likely instigator. What would be more natural than that the lower orders have bigoted views?
Ethan's parents Annie and Bob, played by Shayne Francis and Chris Connelly, do indeed part company with Alice and Patrick on numerous issues, one of which is how best to parent a child. A father has to call the shots, says Bob, and all this liberal-minded idea of treating children like intelligent rational beings is 'nuts'. Nevertheless, two very different forms of parenting have resulted in the same action, a hate crime that is mortifying for their parents and an inconvenient embarrassment for Joe and Ethan's school.
The sharpest scenes in the play are between Joe and Warren the deputy principal, played with crisp disdain by Dushan Philips. He is not interested in Joe's views, he says, or his feelings. The boys have brought shame on the school and its shiny reputation is all that matters. 'Appearances are everything,' he explains. 'Appearances are all anyone has time for. No-one's interested in your soul.' And he has a dead-behind-the eyes piece of advice for Joe, if he's to succeed in life. 'Make a decision to be normal. Once you've mastered normal, you can nuance it into interesting-normal. Too interesting is just irritating.'
This is Fury's Victorian premiêre, and the plot has been substantially reworked from its first outing in 2013 for the Sydney Theatre Company. Directed by the STC's then co-artistic director Andrew Upton, the original version featured a young journalist but no vice-principal, and Joe's hate crime competed with a plot line about a secret in Alice's past, which has since been excised. The Red Stitch production is directed by Ella Caldwell and Brett Cousins; it's a simple, rather static play and there is no explanation as to why two directors were deemed necessary or even desirable. Scene changes are signalled by a set of curtains on rails, and the set, by Chloe Greaves, is suitably minimal; a sofa, a desk, a cluster of gins, and whiskeys on a table. The drama comes from the biting dialogue, the hand-wringing and darts of recrimination in Alice and Patrick's case, a simpler, less forgiving view of bad behaviour from Annie and Bob.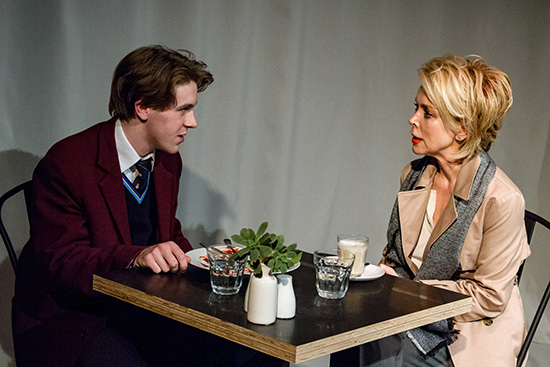 Sean Rees Wemyss and Danielle Carter in Red Stitch Actors Theatre's production of Fury (photograph by Teresa Noble)
It is good to see Joe Petruzzi back on stage at Red Stitch in another Murray-Smith; eight months ago he gave a searing performance as a father in her play American Song, another exploration of the parent–child bond and an act of violence that shakes it, and liberal values, to the core. In that play he was a man, who, despite being out of his depth, was nonetheless reaching for a philosophy he could believe in. American Song had grandeur and questioned the values of a nation. Fury is about the values of a class and lacks anything as vaulting as a blueprint for living a truthful life.
Fury by Joanna Murray Smith will be performed at Red Stitch Actors' Theatre until 1 July 2018. Performance attended: 6 June.
ABR Arts is generously supported by The Ian Potter Foundation and the ABR Patrons.