Film
Judy and Punch
Madman Films
The fictional town of Seaside is 'nowhere near the sea', state the opening credits of Judy and Punch. Fine, but where or even when this film is set remains a puzzle throughout. The two titular characters, puppeteers Judy (Mia Wasikowska) and Punch (Damon Herriman), speak with an Irish lilt. The rest of the townsfolk – who come bedecked in grimy pirate shirts and motley, corseted gowns – possess an array of Scottish and English accents. The film opens with the medieval spectacle of three accused witches being stoned to death, and yet Seaside also boasts a uniformed police constable. Enough eucalypts are glimpsed in the background to alert any attentive viewer to the fact that, wherever Seaside is meant to be, this film was shot in Australia – in Eltham, Victoria, as it happens. Yet no reference is made to Australia at any point.
This temporally anachronistic and geographically inconsistent melange might have worked if first-time feature director and writer Mirrah Foulkes had made it a deliberate feature of the script. Given that Judy and Punch is Foulkes's attempt to critically examine the storytelling conventions of Punch and Judy puppet shows, a more overt and reflexive sense of Seaside's storybook nowheresville would have greatly aided the film. Instead, we seem to be expected to take as given its far from seamless blend of eras and locations. The result is befuddlement rather than surety.
The story begins with Judy and Punch, who are married and have a young child, returning to Seaside with their puppet show. Mr Punch, as he is deferentially referred to, is a celebrated puppeteering talent, and not one given to humbleness. 'I'm an artist, it is not for me to question my gift,' he says to Judy when she ventures to ask him if their act has become too 'punchy'. Violence, we are quickly made to understand, permeates the marriage as well as the stage show; Punch is a frequent and volatile drunk, and the couple's previous absence from Seaside was an involuntary exile brought about by his aggressive behaviour.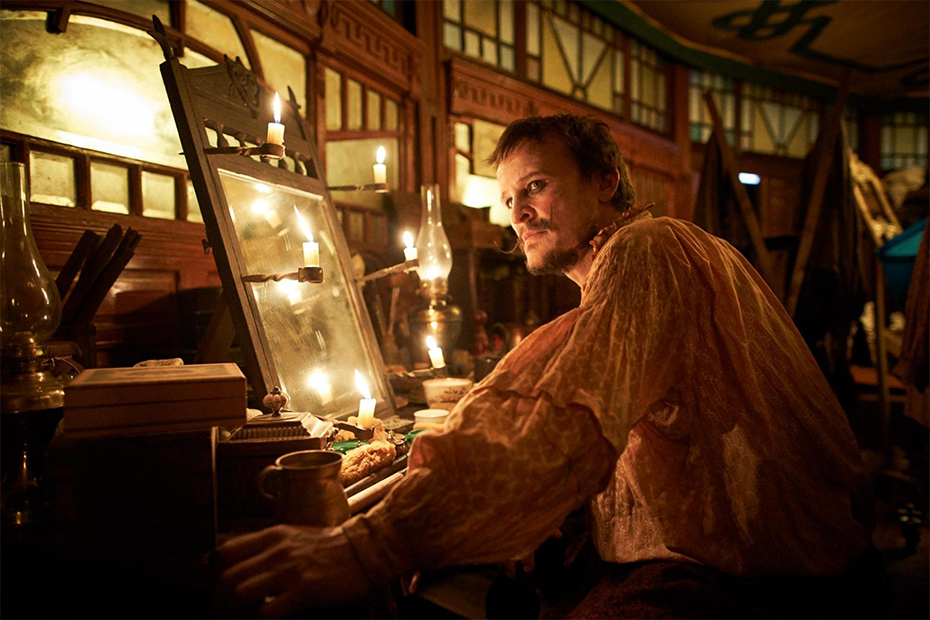 Damon Herriman as Punch in Judy and Punch (photograph via Madman Films)
If only a film about puppeteers had involved more puppetry! The Punch and Judy show, in those few scenes where it features, is wonderful to see, and the trompe l'oeil effect of a stage performance happening within a film only adds to the enchantment. Yes, we're meant to question why the stories always end with the Punch character beating up Judy, and for laughs, but the dubious gender politics can't take away from the visual intrigue of puppetry itself. The human Judy appears to sense this, too – it's clear that she takes pride and satisfaction in her skill as a puppeteer, bringing her own living energy to these otherwise inert objects.
But soon – too soon – the plot turns away from Judy and Punch's craft to their relationship. A sudden, dreadful event, played out as something in between a slapstick joke and a magical illusion, sets in motion the rest of the film's narrative. The tonal shift here is badly handled: what should be tragic is merely bizarre. Nor is either lead actor really given enough to work with. Wasikowska shows early hints of defiance that later bloom into full-scale rebellion, but vengeance becomes too much the sum of her character, and of the plot. Herriman is almost literally a cartoon villain: one wonders how Punch ever gained a wife in the first place.
Surrounding these two are the townsfolk: Benedict Hardie as the well-meaning but ineffectual police constable, Derek; Tom Budge as the two-faced bully Mr Frankly; Terry Norris and Brenda Palmer as elderly servants Scaramouche and Maid Maude. It is the latter two actors who best succeed at bringing a three-dimensional aspect to their characters. Physically frail but morally upstanding, Scaramouche and Maid Maude bear the weight of events.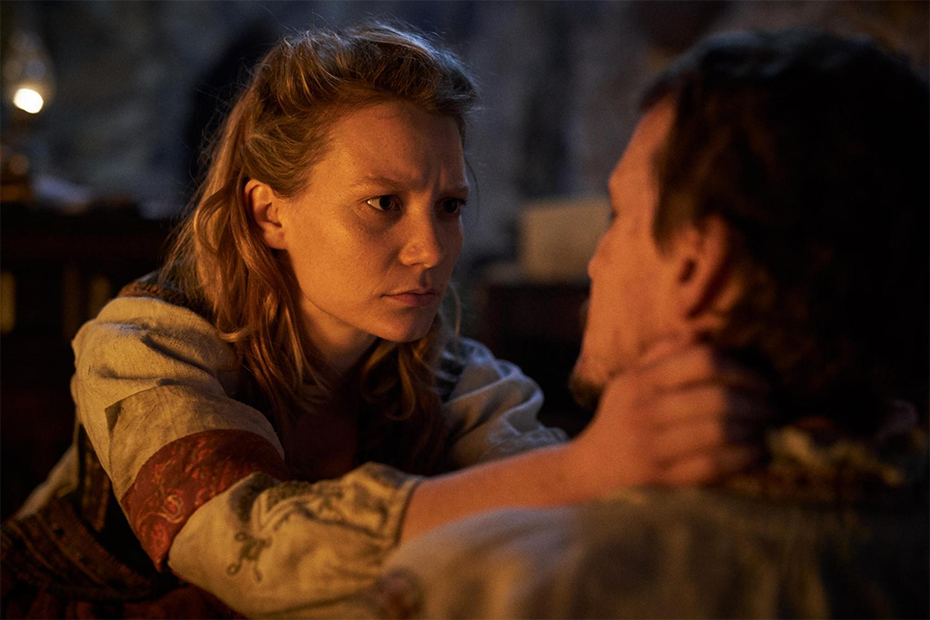 Mia Wasikowska as Judy in Judy and Punch (photograph via Madman Films)
This is, ultimately, a kind of morality play in which the wicked are punished and the wronged live to clear their names. These ends are never really in doubt, which means that much of the film becomes, for a viewer, a matter of waiting to see just how the resolution will be staged. When it does come, it's violent but also anti-climactic. The sense that we're watching events occur outside a real time or place distances us from them. The film's main achievement is in visual design: the insalubrious yet elaborate costumes, the rich colour scheme of reds and golds, and the various tents, caravans, and cottages all add up to a world that feels claustrophobic in its enclosed, small-town parochialism, as it's meant to.
Which means that a 'heretic's camp', as it's called – a picaresque gallery of outsiders and eccentrics, perched on Seaside's outskirts – must generate the film's concluding, creaky moral lesson that difference is strength and that the bullied will triumph. Well, it's a nice story.
---
Judy and Punch (Madman Films), 105 minutes, written and directed by Mirrah Foulkes. In cinemas from 21 November 2019.